Is there a glass ceiling for women in Singapore business?
As part of BBC World News' 100 Women Season I spent some time taking a detailed look at women in business within Singapore.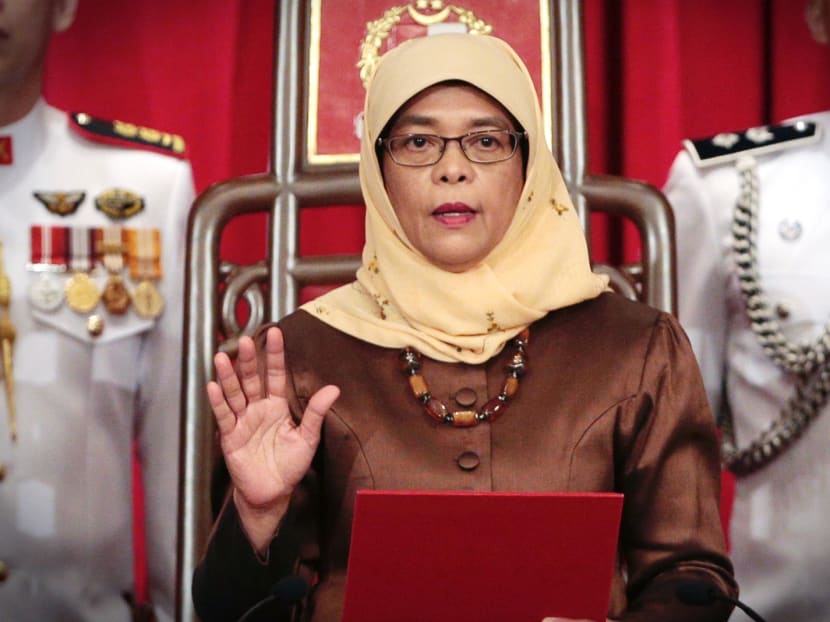 As part of BBC World News' 100 Women Season I spent some time taking a detailed look at women in business within Singapore.
Talking to prolific members of the business community, I set out to investigate whether there is a glass ceiling within Singapore business and consider whether the business world is as progressive as Singaporeans would expect.
Singapore now has its first female president in Madam Halimah Yacob. But the reality for the majority of women is quite different, especially in business.
Singapore lags behind other financial hubs such as Hong Kong and London with just 9.7 per cent of women on company boards in 2016. It even underperforms neighbouring Malaysia, Indonesia and India.
The numbers make for even more dire reading when it comes to salary discrepancies.
Female directors of listed companies earn little more than half of their male counterparts according to a study by the National University of Singapore Business School's Centre for Governance.
For most rich and middle-income countries, within which Singapore should belong, women earn 85 per cent of men's salaries.
Singapore may have become a country that many others in the region look to emulate, but this is one factor that should not be copied, say some of the city's most prolific business women.
One of them is Claire Chiang, co-founder of Banyan Tree Holdings, the luxury hotels and resorts chain she started with her husband in 1995, and a supporter of women rights.
She was also among the first two women allowed into the Singapore Chinese Chamber of Commerce & Industry in the 1990s.
Even today, she acknowledges that the chamber, an important influence in the city, is very male.
"We still have a long way to go for unlisted companies and those operating mainly as family businesses in the Chinese speaking business sector," she said in an email interview with me.
"We are behind the regional neighbours and this has to do with the smaller number of women at the management band in the first place."
Lavinia Thanapathy, the President of PrimeTime, a professional and business women's association, blames an 'unconscious bias' in Singapore, which she says starts at the workplace.
"Companies and public bodies are led by male boards, interview panels for senior roles are almost always all male with sometimes a token woman from HR, departments are headed by men and we are surprised that women don't get a look into leadership?" she said.
"There is a lot of denial from the government and from business that there is any problem that needs addressing," she added.
"After 50 years of equal education for boys and girls in Singapore, there are only two female cabinet ministers and our participation on boards hovers around 10 per cent."
So what is the alternative? What can women do?
Ms Chiang wants younger women to "get over it".
"Recognise it exists and move on. Just do it, to be good in what we do as women, to perform and show, then lead by example."
Ms Trina Liang, the president of the Singapore committee for UN Women and Managing Director at Templebridge Investments, say that more women are doing just that.
"A generation ago, it used to be that the majority of Singaporean women tended to shy away from taking career risks, and therefore women tended to dominate in 'safe' careers in the civil service such as teaching and nursing... however I see this attitude changing rapidly with a new generation of Singaporeans."
Even as women make their own opportunities and carve out their niches in business, the reality is that the corporate world needs to play catch up. And it literally pays to do so.
Several reports by a number of different research and financial firms say it makes good economic sense having women on boards because they increase a company's return on investment.
One by Credit Suisse last year found that companies in which women made up at least 15 per cent of senior management were 50 per cent more profitable than those where fewer than 10 per cent of senior managers were female.
Could Singapore's business communities be losing out?
The growing number of regional countries that have surpassed Singapore in the number of women on boards got there by implementing quotas, something Singapore's commitment to meritocracy has not allowed.
According to Junie Foo, Co-Founder of BoardAgender, an initiative of the Singapore Council of Women's Organisation, having to appoint women for the sake of meeting a fixed quota can smack of tokenism.
"An individual's capability and fitness to serve on the board is the primary focus, irrespective of gender," she said.
"What is required is the availability of more platforms and opportunities for corporations to be exposed to these women candidates and not exclude them from the selection process."
What BoardAgender is seeking instead, according to Ms Foo, is to make diversity target setting within firms a part of the Singapore Code of Corporate Governance.
The aim is to adopt a target of at least 20 per cent female board representation in companies by 2020. But it's a lofty target she says as "to even reach 11 per cent, we would need another 75 more women directors," she noted.
That choice lies with Singapore's companies.
Research clearly indicates the benefits to the bottom line when women are on boards and in positions of leadership.
The current lack of women in those roles in Singapore could ultimately lose them money, and that's a fact most firms would choose not to ignore.
ABOUT THE AUTHOR:
Sharanjit Leyl is a BBC World News presenter and producer. For more details on BBC World News' 100 women season please visit bbc.com/100women.