They suffered burnout, but the game these young Singaporeans created kept them going
SINGAPORE — In pursuit of their dreams to be game developers, a group of young Singaporean entrepreneurs here set up their own company that they named Joysteak Studios, ready to produce their first video game.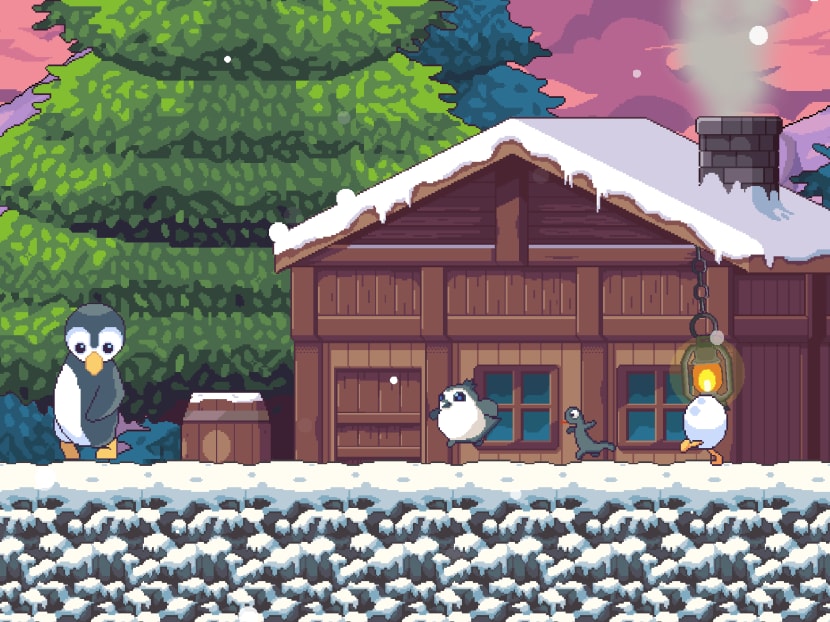 SINGAPORE — In pursuit of their dreams to be game developers, a group of young Singaporean entrepreneurs set up their own company that they named Joysteak Studios, ready to produce their first video game.
Then they ended up burning both ends of the candle — or joysticks, if you will.
At the midway mark, they found that their grip on their health and well-being was slipping and they needed a reboot.
Mr Tan Kang Soon, 26, who founded Joysteak Studios with Mr Muhammad Hanif Ghazali, 27, and another friend, said: "It's like driving on mud. The wheels are turning, but it feels like you are always at the same spot and not moving."
Despite their exhaustion, their tenacity is seeing them through: Their game, called Songbird Symphony, is set to launch late July on a number of platforms such as PlayStation 4, Nintendo Switch and Steam.
This is done under United Kingdom-based publisher PQube, which distributes games for PlayStation 4, Xbox One and Nintendo Switch.
In Songbird Symphony, an orphaned chick called Birb goes on a journey in search of its origins.
It is a musical adventure featuring vibrant graphics and rhythm gameplay mechanics, with an almost Disney-esque vibe.
At different stages, Birb faces challenges that are music-based. Players have to manoeuvre the controls along to beats or emulate the beats presented.
PRESSURES, EXPECTATIONS, ANXIETY
It was in 2017, fresh after graduation from the National University of Singapore that Mr Tan and Mr Hanif sought to make good on their dreams to create their own games.
They have had this idea since they attended Temasek Junior College together in 2009.
"Back in college, we just knew that we wanted to be in the games industry, not so much of we are going to have a start-up yet.
"But then later on, we had an internship at SUTD (Singapore University of Technology and Design). We had more experience making games and thought of how to do it in a company setting," Mr Tan told TODAY.
Almost a year into developing the game, one of the founding members — a friend they met at SUTD — left Joysteak Studios.
This was in the midst of a burnout period that they later realised "we were all experiencing", Mr Tan said.
By then, the team had re-written the game's programme twice.
"It is a very relevant topic in the games industry nowadays — on the working hours of the developers. I think this applies to the indie games industry as well. Especially in Singapore when we shy away from talking about issues like this," Mr Tan said.
While there were pressures from family and friends who were excited to see the game's completion, Mr Tan and Mr Hanif said that it was mainly their passion and eagerness to complete the game that contributed to their eventual burnout.
They worked in their studio located in Pixel building at One-north and had another meeting space at Mr Tan's house in Tampines.
The team had worked close to 13 hours a day, from 8am to around 9pm daily.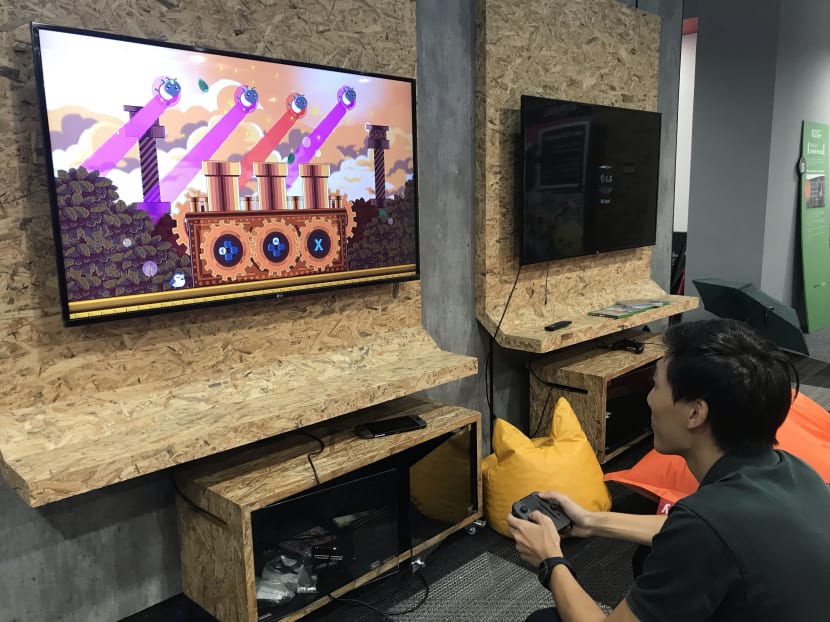 "It was really quite a bad feeling and I felt like quitting and there's no money coming in… We are all mainly driven by passion rather than money, (but) we also get anxious," Mr Tan said.
He admitted that they lost their vision for a while.
"I just thought to myself, maybe it's time to quit. Maybe it's time to grow up."
When asked what pushed them to press on, they revealed that it was the story of the game itself, how the protagonist Birb exuded a sense of optimism and enthusiasm.
It mirrored the passionate and wide-eyed vision of the team in the early days.
"Birb's story reminded me of why I was even doing this in the first place," Mr Tan said.
The game not only revived its own creators but helped to relieve stress for its players as well.
When one of their friends tried the game, he told them that it helped him "calm down when he was feeling anxious".
Mr Tan said: "It really warms me to see that the game helps people overcome their own anxieties."
This further reminded him of why he had to keep the project going.
At around the time they felt burnt out and their co-founder had left, Mr Chue Sai Hou, 28, also a game developer, joined them, drawn by the game's wholesome appeal.
Mr Chue said: "I just decided I wanted to make something before I turn 30."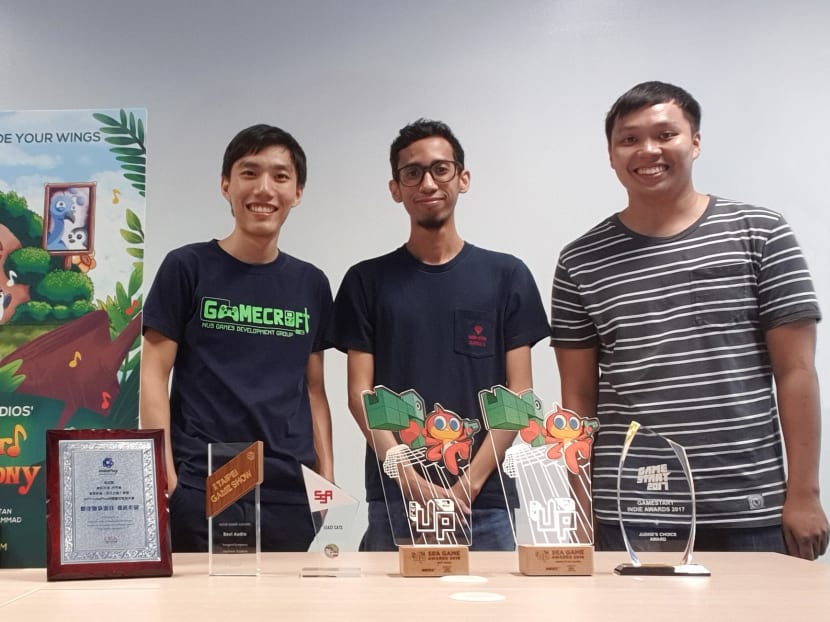 Mr Hanif, the in-house sound designer and writer, said that the game's storyline took shape after a while, as they drew from the "darker times" of their work journey.
Birb also goes through moments of doubt and wanting to give up, but eventually makes a positive turn.
"As creative people, it is very easy for our emotions, our moods to manifest themselves in our work," Mr Hanif said.
REJECTIONS
In working towards signing with PQube game publishing house, Mr Tan revealed that it took a lot of effort and they had countless rejections.
They had no success finding a publisher here.
"So we went to overseas trade shows in Shanghai, Taipei and too many countries. And we sent emails everywhere.
"We faced a lot of rejections and some of the feedback were really, really, very harsh, like, nobody thought a group of fresh graduates with no proven track record from Singapore, such a small place, could compete with international studios."
PQube approached them after they got some exposure from trade shows they attended.
"We were turned down many, many times, but in the end, the game speaks for itself," Mr Tan said.
With the publishing deal, the team got some funding, though it is "nothing near to a full-time salary".
Before that, they survived on "whatever" they have saved up from their past internships or part-time jobs.
Looking back, Mr Hanif said that two years was quite a long time and there are "a lot of things" riding on this.
While they are anticipating the launch of their game next month on various international gaming platforms, they are also thinking that this could be either their first of many projects or their very last. The team does not know what is next for Joysteak Studios.
Mr Tan said he is not even sure if they have completely recovered from the burnout. "Perhaps it takes time. But as the project is nearing its end… we are probably starting to feel the passion again."