A third of security officers in S'pore face abuse, with older officers experiencing it more: Survey
SINGAPORE — About a third of security officers here are at the receiving end of abuse, with older security officers receiving more than their younger peers, a survey has found.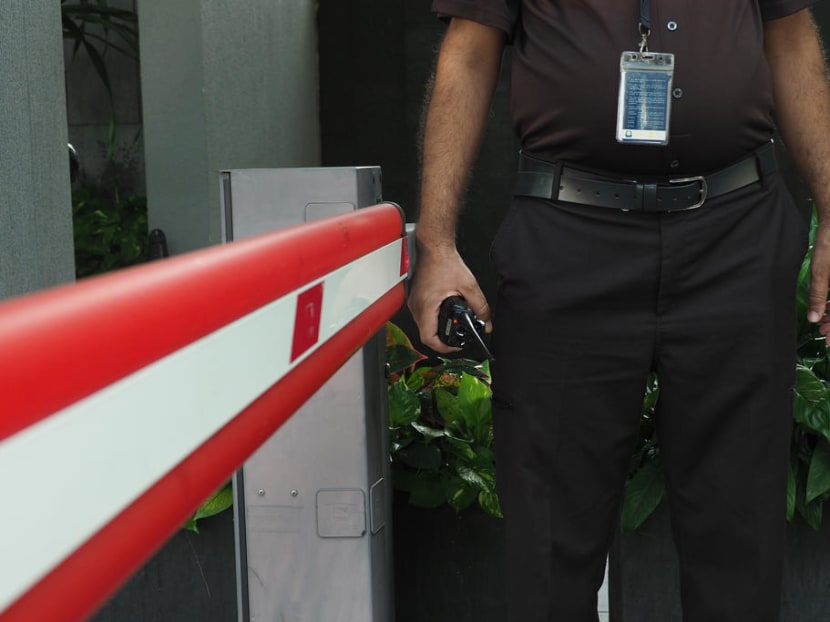 SINGAPORE — About a third of security officers here are at the receiving end of abuse, with older security officers receiving more than their younger peers, a survey has found.  
The survey, which was conducted by the Singapore University of Social Sciences (SUSS) and the Union of Security Employees (USE), polled a total of 707 security officers between January and February this year. 
USE, which released the findings of the survey on Wednesday (June 17), said that the survey was conducted to better understand and track the level of wages, welfare and work prospects in the security industry, especially in light of initiatives that have been rolled out to uplift the industry.
These include introducing a progressive wage model for security officers in 2016 where pay is pegged to skill level, as well as the security industry transformation map in 2018, which restructures the industry to be less reliant on manpower through the adoption of technology.
A THIRD OF SECURITY OFFICERS HAVE EXPERIENCED ABUSE
The survey found that about one-third, or 32 per cent, of security officers had experienced some form of verbal or physical abuse.
It also found that the older the security officer, the more likely he or she were to receive abuse. 
For example, 15 per cent of those aged 29 and under reported some form of abuse. In contrast, this figure jumped to 38.5 per cent for those aged 70 and above.
Most of this abuse was verbal, with 12.2 per cent of male security officers and 6.6 per cent of female officers saying that they faced verbal abuse once every few months. 
Respondents also indicated that most of the abuse came from members of the public (21.2 per cent), followed by contractors (8.6 per cent) and residents of condominiums (7.4 per cent). 
Speaking at a virtual media briefing on Wednesday, Mr Steve Tan, the executive secretary of USE, said that while the union has been tracking cases of abuse anecdotally, the study was an opportunity to find out what the "real level (of abuse) is".
Mr Tan said that while USE has advised security officers who are abused to lodge a police report, it also hopes to improve the situation by educating the public. 
Decals have been put up at guard posts to remind people that security officers should not be abused and they have also started a campaign for people to share positive experiences with security guards. 
President of Security Association Singapore, Mr Raj Joshua Thomas, said that the survey findings confirm anecdotal evidence that the association has received informally. 
This includes the case of an Eight Riversuites condominium resident, Mr Ramesh Erramalli, who was caught on video last year verbally abusing a security officer at his condominium over a parking dispute, said Mr Raj. 
Mr Raj said that most of the time security officers are abused because they are tasked to enforce in-house rules that do not have legal penalties. 
"In this regard, members of the public try to flout these rules by being aggressive towards security officers. This is the main cause of abuse."
"We are heartened that the Ministry of Home Affairs announced in March 2020 that laws will be introduced to specifically provide protections for security officers," he said. 
WAGES STILL LOW
The survey also found that while the median basic income of security officers had risen over the last two years, their median household income was still at the lower end of the spectrum when compared with other service and sales workers.
Security officers reported earning a median basic salary of S$1,420, which is slightly higher than the S$1,300 reported by the Ministry of Manpower in its wage practices report two years ago. 
However, when it came to the median household income, security officers are at the lower range of S$3,000 to S$3,999. The range for the service and sales workers category, which security officers fall under, was between S$4,500 and S$4,999 in 2015.
Mr Tan attributed this to the reluctance of companies to pay more when contracting security agencies.
Those engaging security agencies tend to evaluate contracts based on the number of security officers required for a place, rather than the quality of services provided by the agency, said Mr Tan.
As such, the cheapest contracts are chosen.