First 'productive' coffee shops employ tray-return, floor-cleaning robots
SINGAPORE — A tray-return robot that circles the coffee shop for patrons to return their trays to, a floor-cleaning robot deployed to assist the cleaning crew, plus self-ordering kiosks can now be found at two coffee shops here.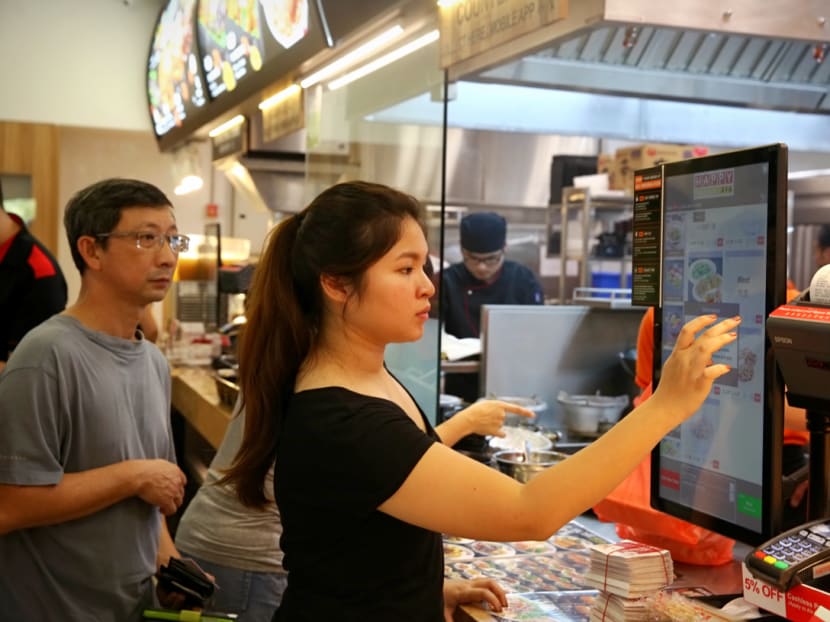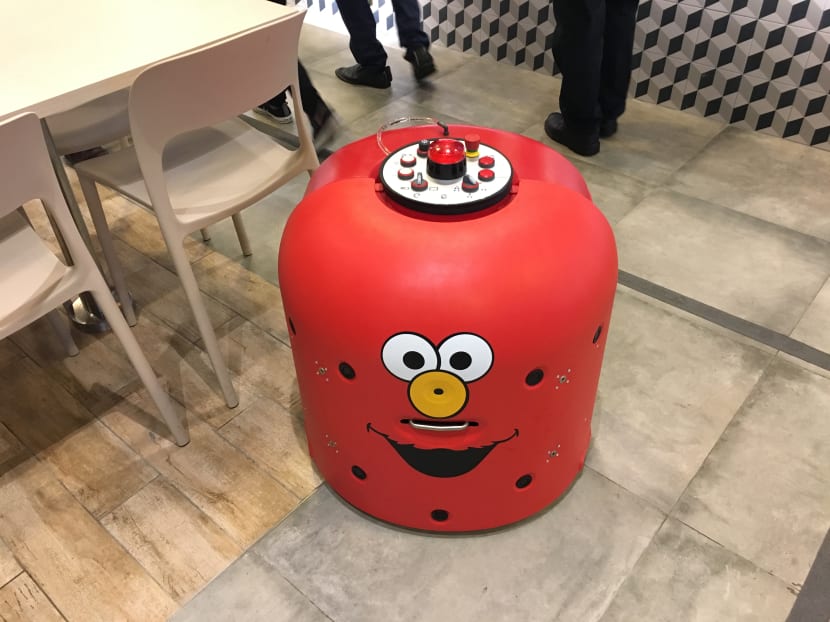 SINGAPORE — A tray-return robot that circles the coffee shop for patrons to return their trays to, a floor-cleaning robot deployed to assist the cleaning crew, plus self-ordering kiosks can now be found at two coffee shops here.
With the launch of the first manpower-lean coffee shops in Tampines and Choa Chu Kang, three more sites in Bukit Batok, Punggol and Yishun will be put up for tender from the third quarter of this year.
Senior Minister of State (Trade and Industry) Sim Ann announced this on Sunday (May 21) as she launched the "productive" coffee shop in Choa Chu Kang, called as such for the use of technology in both back-end and front-of-house operations.
FoodTastic in Choa Chu Kang is run by Chang Cheng, while Happy Hawkers in Tampines, also launched over the weekend, is run by Koufu.
Both employ a raft of technology-driven initiatives. For example, once the racks on the tray-return robots — one each for halal and non-halal dishes — at Happy Hawkers are filled, they head to the washing area so cleaners can take over.
At FoodTastic, besides the floor-cleaning robot, automated dish-sorting equipment help in the clean-up tasks.
Orders and payment, including by cash, credit and debit cards at both coffee shops are made at self-service kiosks. At Happy Hawkers, each stall has a kiosk, but customers can order food from any stall at any of them.
At FoodTastic, a centralised ordering kiosk greets customers as they enter. Thereafter, customers collect their orders once their number flashes on screen. In both coffee shops, diners can also order by using a mobile phone application.
Both operators won the tender in September in a new bidding process under the food services' Industry Transformation Map.
To encourage operators to look at innovative ways to optimise their use of manpower and space, equal weightage is given to both rental bids and productivity initiatives.
Spring Singapore chief executive Poon Hong Yuen said: "Coffee shop operators would have to revamp the traditional business model and use technology to improve operations. The transformation of coffee shops would not only ensure sustainability, but also improve the working conditions of staff."
Coffee shops and food courts now employ over 20,000 workers, or 13 per cent of the food services workforce.
The drive towards a more productive operating model is crucial, given the tightening labour market and "changing job aspirations among locals", said Spring and the Housing and Development Board.
Chang Cheng managing director Ricky Kok said that FoodTastic cost $1 million more to build because of the new technologies, but that the long-term benefits included leaner manpower, reduced by almost 50 per cent.
Koufu chief operating officer David Yang said its new coffee shop cost "around 70 per cent more" to build. But with the productivity measures in place, the non-halal kitchen needs 10 staff at most, instead of 16 to 18 workers, he added.
Choa Chu Kang and Tampines residents TODAY spoke to generally welcomed the new coffee shops, but noted potential teething problems.
Tampines resident James Quek, 35, said the ease of ordering from any one kiosk "is a welcome change" that cuts down on queueing time at more popular stalls.
However, some residents, like Mdm Sarah de Souza, 49, felt that the concept might not suit her elderly parents, who are in their 70s. The Choa Chu Kang resident said they might have difficulty understanding how to use the self-ordering machines.
Others, like Mr Kok Boon Sin, 60, worried that the higher cost of technology would be passed to consumers.
Both operators gave the assurance that prices will be affordable for the general public. Prices for the dishes are benchmarked against coffee shops in the vicinity. Spring's Mr Poon added that "productivity in the long term would (bring costs down)".
At the launch of Happy Hawkers on Saturday, Environment and Water Resources Minister Masagos Zulkifli, who is also a Member of Parliament for Tampines, noted some of the feedback.
But he added: "As we grow the food and beverage trade, some of the things we are very used to — people clearing our trays, people taking our orders — aren't going to be available any more.
"Because the people who do these kinds of jobs are going to be nonexistent, or we've to bring in foreign workers to do that."
With three new sites up for tender, Koufu and Chang Cheng say they are keen to try for another branch.
Koufu's Mr Yang said the company is also looking into turning existing coffee shops into "productive" ones but has to study various factors, such as power load and rental first.