Thriving, not surviving: What Singapore's seniors want for a quality life
SINGAPORE — What makes a good life in one's retirement years? For Singapore's seniors, the simple luxuries that would make life not just bearable but truly worth living include the occasional trip to Indonesia or Bangkok, a bluetooth speaker and hair dye.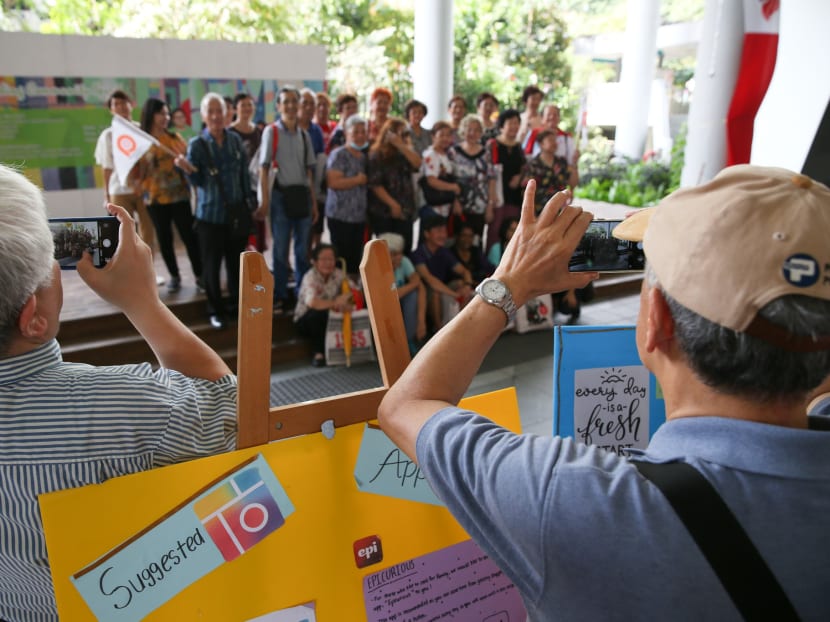 SINGAPORE — What makes a good life in one's retirement years? For Singapore's seniors, the simple luxuries that would make life not just bearable but truly worth living include the occasional trip to Indonesia or Bangkok, a bluetooth speaker and hair dye.
A report published earlier this week has garnered much discussion for its finding that people in Singapore aged 65 and above and living alone need about S$1,379 a month to meet basic standards of living.
The researchers came to this conclusion after conducting focus group discussions with more than 100 people, most of whom were aged 55 and above, about the items they felt they would need to have a quality life in old age.
As the researchers note, the findings reflect "the lived realities and ordinary habits of people living in contemporary Singapore". The items included in the budget are what the general public can agree on as basic or minimum, neither extravagant nor inadequate.
"Budgets should enable older adults to thrive rather than just stay alive," said the report.
TODAY takes a closer look at some of the items that the focus group participants said they would like to have in their golden years, and how the researchers compiled these into a harmonised budget.
Household goods:
Who says older people are not into tech gadgets? Those surveyed said life is much better with music — and a S$69 bluetooth speaker would do the trick.

Since they are at home a lot, their house has to look good. They would like to have an annual budget of S$150 for expenses such as the maintenance of altars, plants and festive decorations.

Safety comes first. A S$43.90 fire extinguisher that can last three years is a necessity, they all agreed.
Personal goods:
A S$9.90 bottle of hair dye that lasts for six months keeps them looking as good as they feel.

Good hair, they care: It would be nice, the participants said, to go for an S$80 hair perm at the neighbourhood salon once in a while.

A nice smile is important at any age. Denture cleanser costs S$8.50 per pack and lasts for a year.
Transport:
Times of emergency: Taxi trips are needed in the event there is a medical emergency or when they have too many goods to carry home by public transport. The seniors said a S$50 monthly budget for taxi rides would suffice.
Clothing:
They would like to go for social events, and to show up looking respectable and presentable. For the women, they noted that an annual budget of S$100 to spend on jewellery would be nice. Those wearing headscarves would also like to purchase up to four new ones a year.

The men didn't have much to ask. Some said they would like to buy new sarongs annually, which can be used to dry oneself after a shower, or to wear at home. Researchers said each piece sells for S$10 at Mustafa Centre.

Clothes for festivities: Festivities come once a year and it is perhaps the only time they can dress up, some said. An annual budget of S$100 for ethnic costumes is what they asked for.
Social participation:
Those surveyed said older people need to take a break from the stress in Singapore, especially as some are still working into their 60s. So, a S$500 budget covering flights and a room in Indonesia or Bangkok for two to three days could help them relax.

Chinese elders have to give hongbaos (red packets with money) during Chinese New Year. Those who are single said that a S$300 budget is enough, while couples said that S$500 would suffice. In Chinese customs, a couple gives one combined hongbao.
Food:
Elders have to take care of their diet. A 1kg uncooked rolled oat that costs S$10 at NTUC FairPrice and a S$12.50 olive oil spread are among the food items they would like to buy.

Eating is a social activity. They go out from time to time. A nasi lemak set costs S$2.20, while two pieces of prata cost S$2. These were included in the budget, too.
Healthcare:
Health is wealth: Dental check-ups twice a year at a polyclinic costs S$16.80.

And it costs S$14 per visit to the polyclinic doctor three times a year.

Those who need dentures have to fork out a tidy sum. A denture for an arch costs S$707 at the polyclinic. Two arches costs S$1,414.
Housing and utilities:
Such expenses are inevitable. Fire insurance, utilities (estimated at S$43.30 a month) and service and conservancy charges ($31.50 a month) were also included in the budget.
HOW DATA WAS COLLECTED AND COMPILED
Researchers said they went through six stages to identify the seniors' needs. The study involved 103 participants who took part in 12 focus groups. Each group has an average of nine people.
Stage 1: Focus group discussions were held with participants to discuss in general terms what they think are their basic needs and the basic standard of living in Singapore today.
Stage 2: Researchers came up with four types of elderly households and held discussions to construct detailed lists of items for each household types.
Stage 3: Experts are roped in to advise. For instance, researchers consulted food and healthcare experts to determine if the older persons' nutritional needs are adequately met and to discuss a healthcare budget.
Stage 4: Pricing the items. Researchers used the lists of items and went window shopping at neighbourhood shops and hawker centres to check out the prices of goods. They also went online to check out some items and the prices. "We were careful to price only items from shops that participants agreed were easily accessible to most people," they said.
Stage 5: Checkback groups were created to clarify items where there was no consensus or where there was not sufficient information to find the items in shops. Subsequently, researchers began to "harmonise" the list — to ensure differences between men and women, or between single and partnered households were "real differences of needs" arising from gender or household size.
Stage 6: The final groups are shown the budgets category by category to address any unresolved differences. The decisions made at this stage are used to amend the budgets for a final time.