Time has shown Pofma was the 'right step', hasn't curtailed public debate: Janil Puthucheary
SINGAPORE — More than two years after laws to regulate fake news were passed, Senior Minister of State for Communications and Information Janil Puthucheary said that it is "clear" that the legislation does not curtailed criticisms or civil society's involvement in public debate.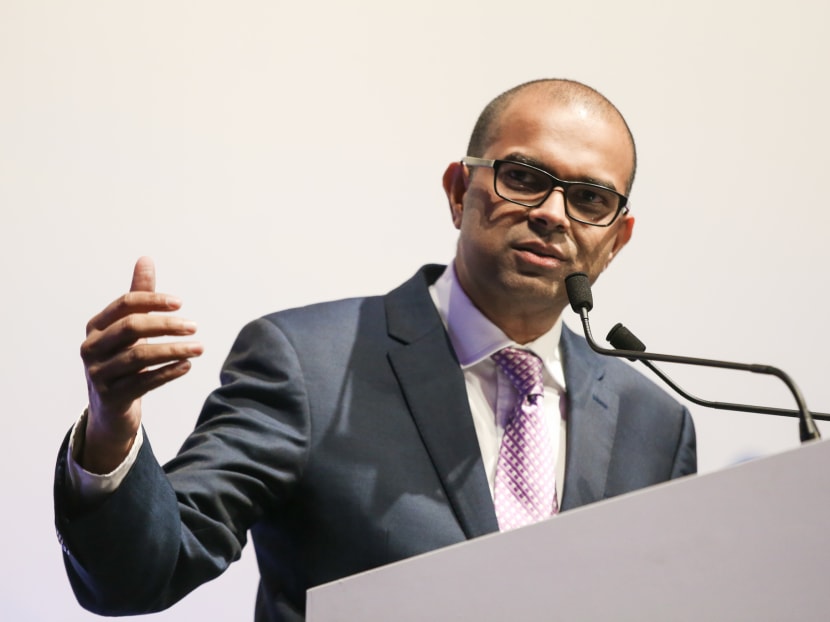 The Protection from Online Falsehoods and Manipulation Act (Pofma) does not curtail criticisms, Dr Janil Puthucheary said
The Senior Minister of State for Communications and Information said it was "the right step" to take to enact the anti-fake news law
The public now actively writes to the Pofma office to flag falsehoods
However, legislation is just one out of three main strategies to fight disinformation, he said
Nurturing an informed public and growing a fact-checking ecosystem are two other important strategies
SINGAPORE — More than two years after laws to counter fake news kicked in, it is "clear" that the legislation does not curtail opinions and criticisms or civil society's involvement in public debate, Dr Janil Puthucheary said.
Referring to the Protection from Online Falsehoods and Manipulation Act, the Senior Minister of State for Communications and Information added: "Those who have received Pofma orders have continued to air their views online." 
He noted that the public is even actively writing to the office that administers this legislation, to flag potential falsehoods or to check on an issue. 
"This involvement from the public in the process is a reason why we think we made the right step," Dr Puthucheary said.
He was speaking at a conference on tackling disinformation in Southeast Asia on Thursday (Jan 27), which was organised by Black Dot Research, a market and social research agency which offers fact-checking services.
There were criticisms from academia, civil society activists and members of opposition parties when the law was first drafted and put up for debate, chief among which was that it would further curtail freedom of speech in Singapore. 
The law was passed after a marathon two-day parliamentary debate in May 2019, and came into effect five months later. 
Dr Puthucheary acknowledged these criticisms, but noted that the law has been helpful in Singapore's fight against the Covid-19 pandemic, which has also become an infodemic given the fear-mongering over vaccines. 
He noted that the majority of Pofma cases relate to misinformation about Covid-19.
When a correction direction is issued under the Act, a clarification by the Government has to be inserted alongside the original online post that contained falsehoods. 
"The merits of that correction add to the robustness of the immunity that we are trying to build in the public. The public can read both the falsehood and the facts in the Government's clarification, as well as the commentary around the matter, and make up their own mind," he added. 
"We believe in our approach — to counter falsehoods and false narratives circulating online by providing more facts."
THREE STRATEGIES
Having said that, legislation is just one part of the Government's three-prong approach to fighting disinformation, he said. 
Besides legislation, it is important to nurture an informed public that can sensibly evaluate information, given the tendency of consumers to cherry-pick information that is aligned with their own beliefs. 
"We cannot and do not want to rely on Pofma alone. It is a 'response' mechanism," Dr Puthucheary said. 
To build a more informed citizenry, the Government needs to proactively communicate and put out accurate information in a timely manner across various platforms. 
"This reduces the space for misinformation, especially during Covid-19," he added.
Community groups and individuals also play a key role in addressing misinformation. 
"People trust the facts when it comes from personal, trusted intermediaries — such as family members or friends. These relationships can help to address the anxieties and concerns in this time of a flood of misinformation, especially those that are sophisticated and play on emotions, fears and passions."
The third strategy would be to encourage the growth of a fact-checking ecosystem, Dr Puthucheary said. 
Fact-checking is resource-intensive and often a challenging task for people to work on alone. 
Therefore, he hopes to see more collaboration between fact-checkers and other organisations, especially technology companies that have the resources to provide and create capabilities to detect falsehoods on their platforms.
"They could also provide trusted fact-checkers with access to data for more robust identification of falsehoods," Dr Puthucheary said. 
"Tech companies can and should also amplify the work done by fact-checkers on their platforms, given that most people who saw the original falsehood may not see the fact-check or clarification." 
However, he added that tech firms need to be sensitive to local context and values as they go about fact-checking misinformation, and they would require the native population of a jurisdiction or country to make judgement calls. 
Singapore has been an early mover in combatting online misinformation through various strategies, said Dr Puthucheary, but the tactics and narratives of such misinformation are also changing and becoming more sophisticated.
"Governments in the region and across the world are updating their regulations and strategies to tackle misinformation. We also need to continue to learn from their experience, too."
Dr Puthucheary said the Government looks forward to the "development of a robust and mature fact-checking ecosystem in Asia in the future". Meanwhile, it was encouraged to see Black Dot Research as a "pioneer in the local fact-checking scene, partnering with multiple stakeholders" including the media and schools to promote fact-checking in Singapore. 
According to Dr Puthucheary, Black Dot Research has published around 500 factchecks since Jan 2019 and are working with schools to conduct training on fact-checking and to evaluate education curriculum in this area. It also has a radio segment on CNA938, and is involved in community initiatives including mentoring university students.
"We look forward to more of Black Dot Research's contributions in this space," Dr Puthucheary said.