'Tinder' for jobs? App allows users, firms to swipe for a match, cuts recruitment time
SINGAPORE — Billed as the "Tinder for jobs", a mobile application is aiming to cut the time jobseekers take to score a match with potential employers by linking them directly with the managers they may be working for.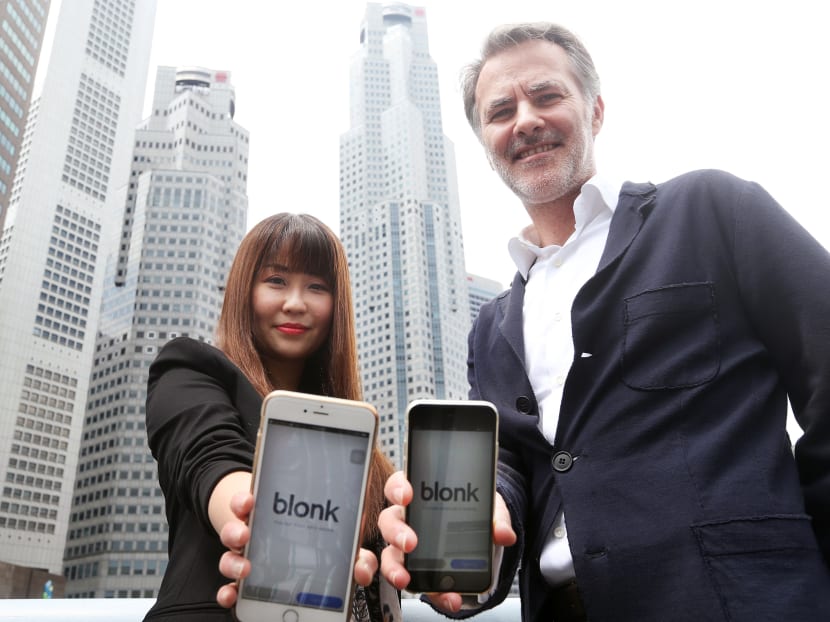 SINGAPORE — Billed as the "Tinder for jobs", a mobile application is aiming to cut the time jobseekers take to score a match with potential employers by linking them directly with the managers they may be working for.
Using a concept akin to that of dating apps like Tinder, Blonk allows users and employers to swipe and start a conversation if both sides have the "chemistry" for one another.
A prototype of the app was developed in Silicon Valley by three Stanford University students in 2014. It was acquired in 2016 by former headhunters, Mr Vincent Maillard, 50, and Ms Lynn Tan, 42, who made significant technological improvements to the app.
The duo were intrigued by the possibilities of technology and how a "love-matching" concept could be applied to make recruitment more efficient.
After the 2016 acquisition, the pair took the app, which was then serving California, to France in that same year, and brought it to Singapore at the start of 2017.
It has about 200 organisations on board now, of which a third — or about 60 — are in Singapore. These include Singapore Airlines (SIA) subsidiary SIA Engineering Company, health and nutrition conglomerate FMC, tyre manufacturer Michelin, and NTUC LearningHub.
Mr Maillard, a French national who was managing director of a human-capital consulting firm in Singapore from 2008 to 2013, told TODAY on Sunday (Oct 28) that he and Ms Tan banked on their network of clients and marketing campaigns, among other things, to build Blonk's employer base. Ms Tan, a Singaporean, was a colleague of Mr Maillard's at the same firm.
FREE FOR JOBSEEKERS TO USE
Since the start of 2017, Blonk has placed about 30 to 40 users into jobs here, ranging from sales positions in the aviation sector to business-development roles in the automotive industry, said Mr Maillard. Internationally, it has had about 5,000 matches which led to about 100 users being recruited.
Asked about the low recruitment rate, Ms Tan explained that the firm offers employers two different services: Talent matching, based on a monthly subscription model, and digital search, where firms pay a fee for every hire.
Recruitments are tracked only for the latter, which means the number of successful placements would be more than 100, she said.
The firm declined to reveal its fees.
Users have to enter details such as their name, email address, and the industry and country they wish to work in before they can start swiping through jobs. The service is free for jobseekers, who can choose to complete their profiles by uploading a resume, video or a short statement about themselves when they chance on openings that interest them, said Ms Tan.
Mr Maillard said that the app's value is in shortening the pre-selection process by bringing the decision-makers together.
Instead of going through multiple intermediaries, such as headhunters or recruiters, Blonk encourages a direct conversation between the jobseeker and his or her prospective supervisor. This obviates the need for hiring managers to sift through a string of resumes.
Based on the preferences laid out by jobseekers and prospective employers, the app's algorithm presents hiring managers with 10 candidates weekly.
Ms Tan said the direct connection is important, as the hiring manager needs to "feel the fit" and be the "first to swipe". Human resources (HR) professionals can play a supporting role.
About seven in 10 employers on the platform are hiring managers, she added.
Nevertheless, Mr Maillard acknowledged that the "slow changes" within the HR community in placing the hiring manager at the centre of the recruitment process could be a constraint.
Still, the pair said users can typically expect a match in a week or two, and to secure a job in a month. This is shorter than typical headhunting processes, which could span three to six months, said Ms Tan.
Asked about user feedback, Ms Tan said some firms which had been trying in vain for half a year to recruit candidates were "pleasantly surprised" by the platform's speed and effectiveness.
Within two weeks, they found suitable candidates and met them the week after. Applicants were recruited by the fourth week.
Unlike other job sites where applicants may be met with silence, jobseekers on Blonk found the ability to interact with the hiring manager "gratifying", said Ms Tan.
As users and employers swipe through their prospective matches, the app's algorithm also learns about their preferences and proposes other options.
Ms Anita Yang, 36, a business development manager with Michelin Singapore, applied for her current role via Blonk in May last year. She landed a first interview with her supervisor within a week and received a job offer about three weeks after that.
"It is easy to use, especially when it comes with matching," she said, adding that the app recommended other openings pertinent to her skills while she was waiting for Michelin to get back to her.
Blonk is researching the possibility of putting in place, with users' consent, personality profiling through micro-expression and voice analysis, to determine if a person is an extrovert or introvert, for example. This will help to improve the matching process, said Mr Maillard.
The company's focus next year will be to ramp up its network of jobseekers and employers. For instance, it hopes to increase the number of employers on its platform in Singapore ten-fold to 600 by the end of 2019, and will do so through face-to-face engagements, and online and social-media marketing.
TO WORK, APP MUST ENSURE QUALITY JOBS, CANDIDATES
HR experts who spoke to TODAY said apps like Blonk that help expedite a match for employers are welcome, but the platform must ensure adequate quality jobs and candidates.
In Singapore, where the process of recruiting new candidates still takes a fairly long time, employers hunting for talent will find the time savings helpful, said Mr David Ang, director of corporate services at continuing education and training centre Human Capital Singapore.
Still, the question is how precise the matching will be for jobseekers and employers, he said. Over time, the app should go deeper in fine-tuning the number of possibilities presented to jobseekers and hiring managers.
Otherwise, candidates and employers may "have to spend a bit of time in the dating phase, swiping and looking for interest", Mr Ang said.
He also noted that Blonk will lend itself to "fast-moving, high-mobility" jobs at the junior to middle levels. For top positions, such as that of chief executive officer, "you can't do it on a volume or mass basis".
Mr Maillard acknowledged that firms hiring top-level candidates commanding incomes beyond S$200,000 or S$300,000 tended to still rely on traditional headhunting. While he believed things will shift, "they will be the last people to change", he added.
Singapore Human Resources Institute president Erman Tan noted that there are other established platforms in the market, such as LinkedIn, offering similar services.
The crux is whether apps like Blonk can meet the career aspirations of jobseekers. "For example, if you want to work for Facebook, Microsoft or large corporations, are the hiring managers using (the app)?," he asked.
At the other end, hiring managers also seek quality candidates, and may not find the right matches they want on the app, he said.
To succeed, platforms such as Blonk must meet the needs of both groups.
"To switch over from a proven source, it may require a lot of pull factors to (draw) them in," said Mr Tan.