TODAY webinar: To deal with mental stress, focus on what one can control and don't be afraid to seek help, say panellists
SINGAPORE – With the cost of living going up, jobs in peril and the economy in a state of flux, how does one cope mentally?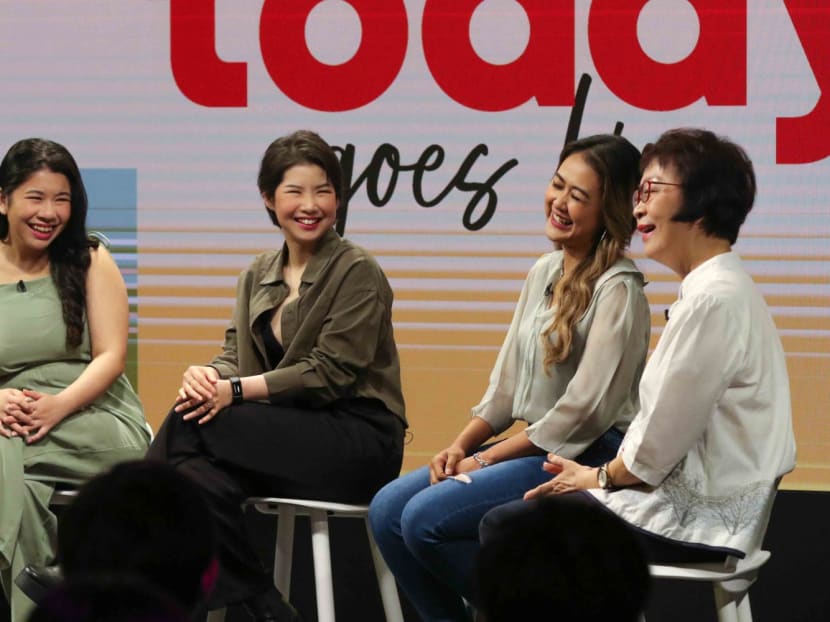 TODAY's webinar touched on the topic of "Inflation's mental cost and other struggles"
Panellists shared coping strategies to manage mental health in an increasingly uncertain world
Stigma and misconception surrounding mental health support also addressed
SINGAPORE – With the cost of living going up, jobs in peril and the economy in a state of flux, how does one cope mentally?
Focusing on what you can control such as your job, seeking help, or just simply speaking to someone were some of the coping strategies shared by panellists at TODAY's Live webinar session on Monday (Nov 14), the first of a four-part series.
This is the third year running that the TODAY Live webinar series has been held. This year's webinar series was conducted for the first time in a hybrid format — with a live audience comprising about 50 youths from tertiary institutions and secondary schools, while being streamed live on TikTok and Instagram.
FOCUS ON WHAT YOU CAN CONTROL
Having a strong support system to rely on, such as a group of friends, can be helpful in managing stress and uncertainties in a volatile world, said TODAY journalist Loraine Lee when the panellists discussed the topic of "Inflation's mental cost and other struggles".
She added that uncertainties can be worrying, but channelling one's energy to what is within one's control, such as one's response towards uncertainty and one's work, are some of the strategies youths can employ to cope with the current economic climate.
"Personally, I don't feel secure when there is a lot of uncertainty," said Ms Lee.
"But you can control how you respond to that. And for me, I evaluate what is worth worrying about, what is beyond my control and then I work on what I can control.
"So in an uncertain economic climate, I have bills to pay, I have to pay my mortgage. So what can I do? Well, I have to stay employed, so I have to channel my energy into work."
SEEK HELP
There is also a need to address misconceptions and stigma relating to mental health.
One inaccurate perception is that people have to be mentally ill or unwell before they should consult therapists, said Ms Melissa Ng, chief executive and co-founder of Bravely (bravely.io), an app that helps users better manage their mental health.
She said that the idea of going to therapy should not be stigmatised but instead normalised, even for those who are not diagnosed with mental illness.
However, she acknowledged that therapy may not be affordable to all, which she said could explain TODAY's Youth Survey results that showed only 11 per cent of youth respondents cited therapists or counsellors at private clinics as the main source of mental health support.
The stigma and misconception of going to therapy, coupled with the high cost, are barriers in receiving mental health support from mental health professionals.
JUST SPEAK TO SOMEONE
Another panellist, mental health advocate Syimah Jasni, said that speaking to friends may be the "go-to" option for youths who are typically more comfortable communicating with their peers than with their parents.
She admitted feeling surprised when she learnt that TODAY's Youth Survey revealed that 35 per cent of respondents cited parents as a source of mental health support.
This, however, can be possible if both parents and children commit to putting in effort, said panellist Chew Lee Ching, vice-president of the Association of Small and Medium Enterprises, as conversations between parents and children are a two-way street.
She believes that parents should adopt an open attitude and commit to "active listening" while children should learn to open up to their parents.
For parents, learning to have conversations with their children can start small and with an open attitude, she added.
"Start on things that you know they (children) are interested in and build that comfort level of speaking," said Ms Chew.
"As parents, we tend to prescribe answers and that doesn't work very well. So, I find that it is better to listen and hear what they are saying."
Ms Lee added that such open conversations between parents and children require trust which may take time and continuous effort to build.
The practice of active listening should also be applied in other areas, including friendships and workplaces, to foster healthy and open communication.
RETHINK HUSTLING
There is also a need to assess and change norms that may not be good for an individual's mental health.
Ms Syimah spoke about the culture of "hustling hard", which she observed among her university coursemates who took more than three internships in a semester.
This made her question whether the amount of work her friends put in was necessary at all, and whether their time for rest and leisure was compromised.
She added that there is a need to make time for rest, especially in-between transitioning periods such as from school to work.
Ms Chew also said that it is important for youths to learn how to manage their finances and be more savvy with how to spend their money.
Youth participants in the live audience said that open discussions about destigmatising mental health are necessary in educating youths on mental health awareness and avenues of support.
"I think it's (the webinar session) insightful because the issues are quite prevalent among the youths. Some of the things shared by the speakers, such as sources of stress, and stigma, personally resonate with me," said 19-year-old Singapore Polytechnic student Zainulariffin Rosland.
"This is a good platform to be educated, because a lot of my friends who are facing mental health issues do not know of the resources that are available."
Another student, 18-year-old Parvathy Varma from NUS High School, said that the youth survey was important to capture the realities faced by youths in Singapore.
"I think the statistics from the survey was most shocking, knowing that the three main stressors are parents, work and rising cost of living," she said.