TODAY Youth Survey: 2 in 5 plan to switch jobs in next 6 months; remote working a must-have for many
SINGAPORE — For two years, Anna has stuck it out with her job in the advertising industry, even though she has described it as having long hours, a low pay and an unexciting job scope, and even though she has seen various job openings being advertised.
Two in five young workers intended to switch jobs in the next six months, the TODAY Youth Survey 2022 recently found
Most said they were seeking higher pay and better work-life balance
Half of the respondents said they would not accept a job if it did not offer a remote work option
About two-thirds wanted a four-day work week, even if it means working more hours each work day
Experts said Covid-19 stagnated career progression for some, which is driving the hunt for better jobs now, and the changed expectations about work-life balance
SINGAPORE — For two years, Anna has stuck it out with her job in the advertising industry, even though she has described it as having long hours, a low pay and an unexciting job scope, and even though she has seen various job openings being advertised.
A few months ago, however, while working into the wee hours of the morning, she found herself thinking: "I'm not exactly saving the world or helping the poor, so why am I working so hard for this client or company that does not care about me?"
This became a turning point that nudged her into proactively searching for a new job in the hopes of landing a new one soon, the 26-year-old told TODAY. She declined to give her real name because she does not want to be identified by her current employer.
Anna is far from alone in this search, with 38 per cent, or almost two in five, of youth who are now employed saying that they plan to switch jobs in the next six months, the TODAY Youth Survey 2022 has recently found.
This is the second edition of the survey. Last year's inaugural survey covered the topics of racism, religion, LGBTQ (lesbian, gay, bisexual, transgender and queer) attitudes, gender dynamics, the impact of Covid-19 on mental well-being and social ties, and career and material success. 
This year's survey looked at mental health, inflation and cost of living, climate change and sustainability, as well as work-life balance, politics and attitudes on LGBTQ issues.
The demographically representative survey, which polled 1,000 respondents aged between 18 and 35, was carried out between Sept 5 and 16.
Labour and human resource experts told TODAY they were not surprised that nearly two-fifths of now-employed youth hope to find a new job as soon as within the next six months, because the pandemic had disrupted career progression for some and many people see this as the time to jumpstart their careers, whereas for others, the past two years prompted a reassessment of their work-life priorities.
Still, the young people who spoke to TODAY said that they would not leave their jobs just for the sake of it, and they would stay with their employers now as long as they still saw room for career and skills growth.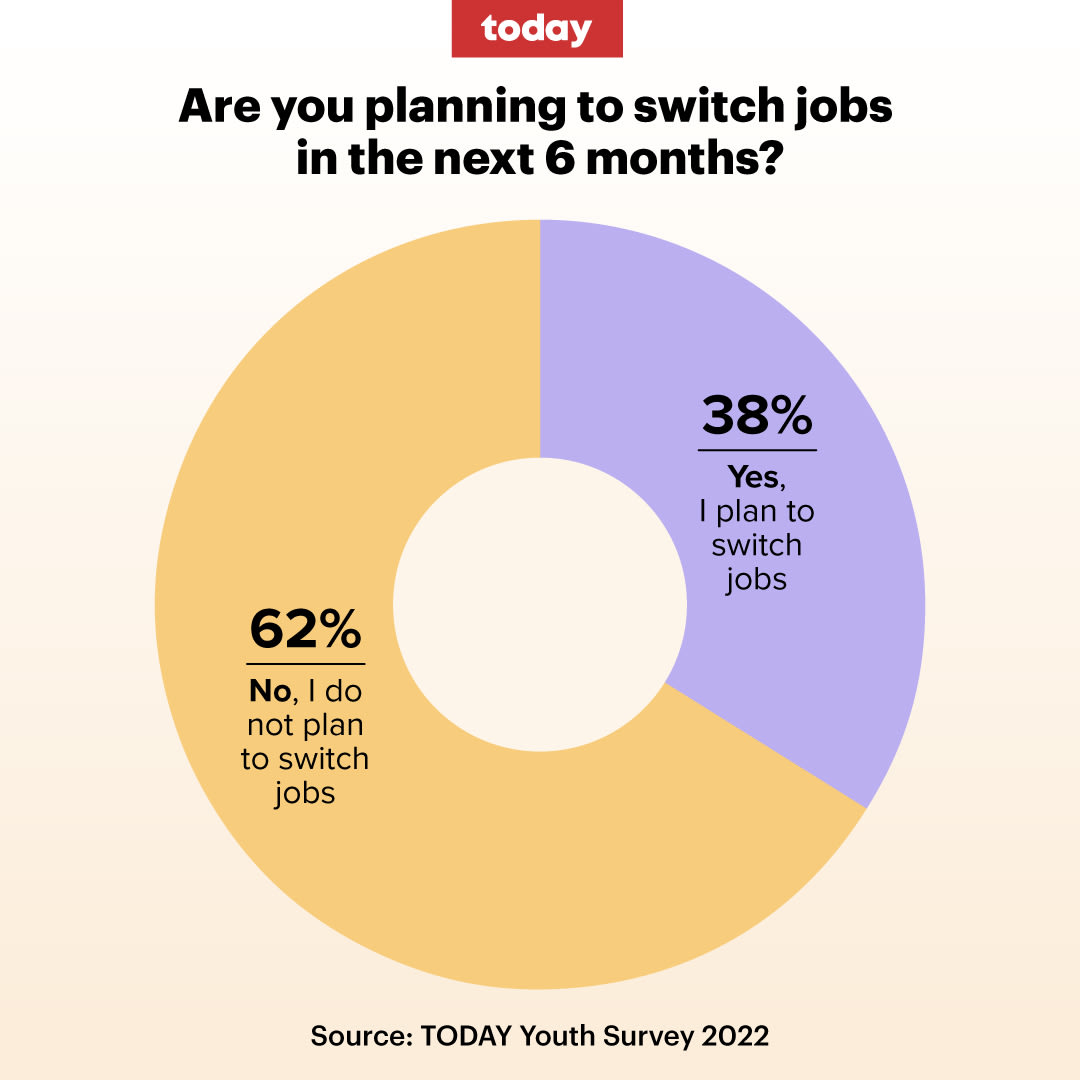 WHAT THE YOUNG WANT IN A JOB
Respondents who already had a job were asked what they would look for in their next job if they were to move, while those who were still studying were asked what attributes they wanted in their first job out of school:
71 per cent said high pay
61 per cent said work-life balance 
48 per cent said a healthy workplace culture
43 per cent said they wanted to learn new skills or upgrade current ones
43 per cent said a sense of fulfilment
Reflecting popular beliefs about the desire for better work-life balance among the young, close to half of the respondents (48 per cent) would not accept a job that does not provide the option of remote working, while 71 per cent felt that it was possible achieve their long-term goals without working beyond traditional office hours.
That is not to say that they would not work longer hours if it did not come with a perk — 66 per cent agreed or strongly agreed to Singapore moving to a four-day work week, even if it meant working more hours each work day.
The survey also found that the largest proportion of the young saw themselves staying in any given job for up to three years at most.
39 per cent saw themselves staying in a job for between one and three years
24 per cent said that they would stay three to five years
22 per cent said they would stay for more than five years
WHY THE YOUNG ARE QUITTING
Covid-19 is certainly one of the factors behind the significant number of youth planning to leave their current jobs in the near future, experts told TODAY.
Mr Adrian Choo, founder and chief executive officer of career strategy consulting firm Career Agility International, said: "Covid-19 stalled many careers and many are trying to make up for lost time or wages by getting better-paying roles now." 
He added that rampant poaching in some industries facing a short supply of talents, such as the technology industries, has driven up wage inflation, which to a certain extent has spilled over to other industries. 
"Hence, there is a greater incentive (among workers) to 'ride the wave'." 
A content manager in the creative industry who wanted to be identified only as Ms Ng is among those now actively applying for new roles after working in her current company for three years, in the hope that she can get a higher pay. 
Ms Ng, who is in her mid-30s, said: "I was interviewed for similar roles and I quoted an asking salary of 28 per cent above my current one to interviewers (based in Singapore), and they were fine with it." 
A promotion in her company would be accompanied by a pay increase of 15 per cent at best, making it "more worthwhile to job-hop", she added.
Ms Wendy Tan, executive secretary of the youth development unit at the National Trades Union Congress (Young NTUC), said that the proliferation of flexible working arrangements during the pandemic may have also raised workers' expectations and many now demand working arrangements that can help them strike a good balance between personal and professional lives.
Anna the advertising professional said that although she sees remote working as a "bonus" right now, it would be a criteria in her job hunt if she decides to have children, adding: "Work-life balance is more important to me now than in the past."
IS 3 YEARS LONG ENOUGH AT ONE JOB?
Mr Shelton Chang, 28, an in-house digital public relations manager, left his previous job roles after working for fewer than two years with each employer — each time because he had found a better opportunity and jumped on it.
"In the past, circumstances were different — things were much more affordable, employee loyalty was duly rewarded and so on," he said, adding that he felt one to three years in one job was usually long enough for someone to pick up the required skills and move on to a bigger role.
Now two months into his current role, Mr Chang said that he intends to stay with his current employer for as long as he sees growth in the role or "until I get retrenched".
Mr Choo the human resource practitioner said: "With constant news of retrenchments, the approach towards 'life-long employment' or 'long-term employment' with a single company is fast becoming passe." 
Ms Tan of Young NTUC said that Mr Chang's views are widely shared among the young people she deals with on her job, and they see that switching jobs can be beneficial beyond just providing a pay bump.
"They gain more work exposure as well as different experiences. More importantly, they build more networks. These help to increase their employability," she added, though she cautioned that switching jobs too frequently might make an individual look unreliable to prospective employers.
Interviews with some of the youth found that they were not as willing to quitting their jobs as popular belief might have it.
A 29-year-old manager in a multinational corporation, who wanted to be known as just Adina, said that although she is now underpaid compared with her peers and industry benchmarks, she is only "casually" looking around for other jobs.
"What keeps me at my job is that I see growth, like in my past seven years in the company, I've been mentored and have mentored people," Adina said, adding that she also finds meaning in her work, which is in the sustainability sector.
She also said that it would take a drastic change in the workplace, such as career stagnation or a change of supervisor, or in her personal life such as suddenly facing extra expenses, for her to want to quit and find a new job sooner.
WORK-LIFE BALANCE VS HARMONY
Experts said that they were not surprised by the findings, which showed high demand for work-life balance and even a four-day work week. However, they cautioned that some of these expectations may not be as realistic as others.
Mr Choo of Career Agility International said that in particular, he was surprised that half of the survey respondents said they would decline a job that does not offer remote working options, saying that young people should not write off jobs too hastily lest they miss out on good opportunities.
Yet, for young workers such as Ms Josephine Shee, 27, a senior marketing executive at food services firm Les Amis Group, she is of the view that an employer who requires staff members to work from the office all the time without a good reason is one who is rigid and not keeping up with the times.
"They may be seen as not being the most innovative, forward-looking company. And in that sense, in terms of their mindset and culture, they might not be attractive to youths nowadays," she said.
In this transitional moment in the global work culture, Ms Tan of Young NTUC said that there needs to be constant engagement not only between workers and employers, but other stakeholders such as clients, to seek a new norm in the workplace.
She added, for example, that a "work-life harmony" approach — based on flexibility and "give and take" between employees and employers in determining work hours — would be more palatable and viable than a strict delineation between work and personal life solely based on hours.
"If the worker can produce their work and hand in their work, then I guess employers can then also empower and trust them with the flexibility of how they manage their time," Ms Tan said.
Look out for more reports on the TODAY Youth Survey 2022 on Nov 4. We will also be holding hybrid webinars on Nov 14 and 15 to discuss the survey findings. More details here.