Fresh grads finding it harder to land full-time jobs: Survey
SINGAPORE — Since last July, Ms Alicia Tee has been sending out an average of two to three job applications a week, but her efforts so far have come to naught.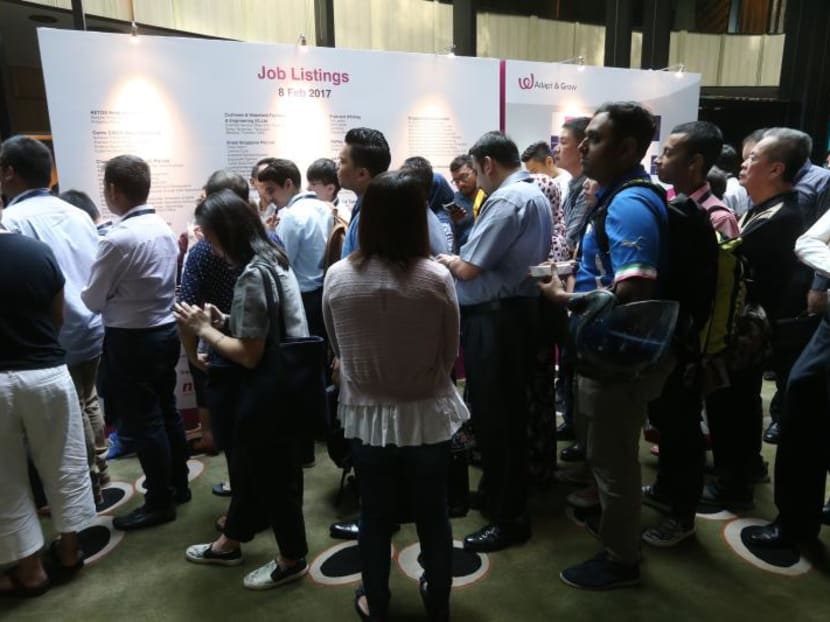 SINGAPORE — Since last July, Ms Alicia Tee has been sending out an average of two to three job applications a week, but her efforts so far have come to naught. 
Having applied to about 20 organisations for full-time jobs, the 24-year-old is now working part-time at a language centre for children with language disabilities, earning around S$700 a month. 
The linguistics and multilingual studies graduate from Nanyang Technological University (NTU) is among those who graduated last year who are finding it hard to secure employment, according to the latest joint graduate employment survey by NTU, National University of Singapore (NUS) and Singapore Management University (SMU), which was released on Wednesday (Feb 22). 
Amid the economic slump and cautious hiring outlook, a smaller proportion of fresh graduates from NTU, NUS and SMU landed permanent full-time jobs within six months of graduation: 80.2 per cent last year, compared to 83.1 per cent in 2015. 
This is the lowest since the survey was first carried out for the 2012 cohort, of which 85.6 per cent landed permanent full-time jobs. The previous low was in 2014, at 82.7 per cent. The survey also found that the median starting pay for fresh graduates in full-time employment grew more slowly, inching up by S$60 to S$3,360 last year, a 1.8 per cent increase. In comparison, the class of 2015 drew S$3,300, S$100, or 3 per cent more than that of the previous co-hort.
Including temporary and part-time employment, the proportion of those able to secure jobs within six months of their last examinations went up, albeit marginally, from 89.5 per cent in 2015 to 89.7 per cent last year. 
Commenting on the figures, a Ministry of Education spokesperson said many factors that influence the employment rate of graduates, such as changes in the labour market or economic conditions. Despite the dip in full-time permanent employment, the overall employment rates remain healthy for graduates, said the spokesperson, adding the ministry will continue to monitor the situation closely.
A total of 10,904 of the 13,953 fresh graduates from the three universities last year were polled for the annual survey. The Singapore Institute of Technology and the Singapore University of Technology and Design conduct their surveys in February and March, respectively, due to different academic calendars. SMU graduates appeared to fare slightly better than their peers, with 93.8 per cent of them gained employment within six months of their final examinations. They also drew the highest — earning a median salary of S$3,500, an increase from the S$3,300 in 2015. At NUS and NTU, the employment figure was about 90 per cent, with their graduates earning a median salary of S$3,400 and S$3,300 respectively 
Advance figures on the labour market in 2016 released last month by the Ministry of Manpower showed that employment last year grew at its slowest pace since 2003, while income growth went down. The annual average unemployment rate also rose to its highest last year since 2010, at 2.1 per cent overall.
OCBC economist Selena Ling said companies are either instituting a hiring freeze or are "very, very reluctant" to replace workers who left. As a result, some graduates are forced to do internships or pursue further studies. Graduates can tap on initiatives that give them overseas exposure so as to broaden market appeal, she noted. 
Agreeing, Singapore Human Resources Institute (SHRI) president Erman Tan said that graduates who are generalists, such as those in the arts and social sciences, might not be highly sought after compared with their peers who have specialised degrees.
"This is not to say they don't have prospects, but they need to be able to present to employers the additional strengths or skills that they have to stand out," he added.
SIM University economist Walter Theseira said the job market is still robust, and pointed out that the drop in graduates gaining permanent full-time positions could be due to the mismatch between the expectations and skills that they have. 
Fresh graduates can afford to be "picky" compared to mature, older workers who are hit the hardest by the changing job market, he said, noting that parents are more affluent now than in the past and can support them. 
They are also aware of the importance of finding the "right job". "As you get older, employers expect you to have the relevant skills and experience. So, fresh graduates are not wrong to discriminate against jobs that are not of the right fit," said Dr Theseira.
Ms Tee said she was often told by potential employers that her studies were not relevant to the job, and wondered if there was "something wrong with me". She is now considering further studies. Mr Ryan Tan, a psychology undergraduate in his final year at NUS, was concerned by the numbers, and said he would not be "too choosy when picking jobs". The 25-year-old is considering internships before applying for full-time jobs. ADDITIONAL REPORTING BY ALFRED CHUA