Tougher penalties against offenders who flout WSH rules
SINGAPORE — The Manpower Ministry (MOM) will take tougher disciplinary action against employers who disregard workplace safety and health (WSH) rules — even if no serious harm has occurred yet.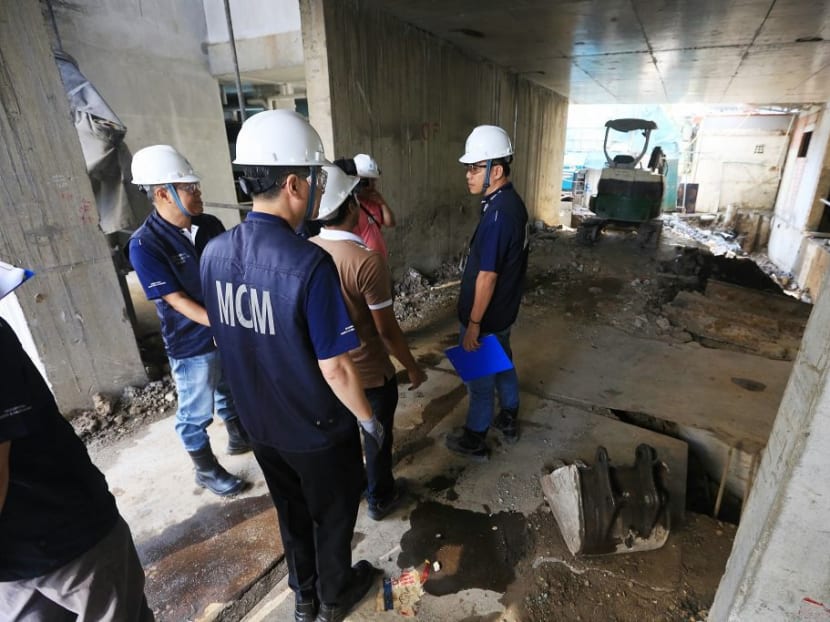 SINGAPORE — The Manpower Ministry (MOM) will take tougher disciplinary action against employers who disregard workplace safety and health (WSH) rules — even if no serious harm has occurred yet.
The maximum fine for companies that put workers in significant danger has been more than doubled to S$50,000 from S$20,000, under the Workplace Safety and Health Act's subsidiary legislation. This is under changes to the Act, which were passed in Parliament on Monday (Nov 6).
Addressing the House, Minister of State for Manpower Sam Tan said that composition fines and stop-work orders were previously meted out for such serious cases where the lapses have not resulted in harm yet. "However, we've seen a doubling of such cases from 13 in 2013 to 26 in 2016," he explained.
The S$50,000 maximum fine will apply to offences — including egregious first-time ones — that could cause death, serious injury or a "dangerous occurrence" — which now account for about eight in 10 offences under the subsidiary legislation.
These include failing to put in place protective structures, such as barriers at "open sides" to prevent falls, or failing to appoint authorised individuals to supervise hazardous work.
For example, the MOM imposed 22 composition fines totalling S$29,000 and issued a stop-work order as well as 12 notices of non-compliance to a contractor, after an inspection in August last year uncovered multiple lapses. These included unguarded open sides, unsafe access at the worksite and formwork structures that were not assessed to be safe for use.
LESSONS FROM COMPLEX ACCIDENTS
Among the changes to the laws on Monday is one that allows the WSH commissioner to release "learning reports" for complex accidents, before legal proceedings run their course.
Right now, findings are released only after criminal proceedings end, so that the outcome is not prejudiced. This could take about three years after the accident, which delays the "learning value" to the industry and prolongs the risk of such accidents recurring, Mr Tan said.
Learning reports will apply only to complex accidents where the risks are not well-understood, have the potential for serious harm, and where the dangers could lurk in other firms.
The reports will not be admissible in any civil, criminal, disciplinary, arbitral or work-injury-compensation proceedings, to protect the interests of the parties involved.
Mr Tan raised the example of a fire that swept through an incineration plant in November 2013 due to the mixing of incompatible chemicals, resulting in three workers having burn injuries.
The MOM had to wait 16 months after its investigation wrapped up in October 2014 to share its findings. During that time, two smaller-scale incidents hit companies "with similar processes".
"If companies had been more aware of the incompatible chemical mix, they would have taken preventive measures by reviewing their testing procedures and installing detection equipment," Mr Tan said.
Members of Parliament (MPs), including Mr Patrick Tay (West Coast GRC) and Mr Melvin Yong (Tanjong Pagar GRC), were concerned that the learning reports could prejudice investigations or shape public opinion before formal proceedings end.
Mr Tan said that learning reports pertinent only to certain firms, such as where a risk was the result of specialised processes, will be shared only with these firms. Those that can improve workplace safety and health across many companies will be published on the WSH Council's website.
TRACK RECORD OF ERRANT EMPLOYERS
Nominated MP K Thanaletchimi and Mr Alex Yam (Marsiling-Yew Tee GRC) questioned if the increased maximum fine for errant companies is an adequate deterrent, while Mr Desmond Choo (Tampines GRC) asked whether the MOM had a system preventing such firms from being awarded contracts for key public projects.
Mr Tan replied that companies found to have committed offences that result in fatalities will typically be prosecuted under the WSH Act, which carries a maximum fine of S$500,000, or S$1 million for a repeat offence. Errant firms can also be placed under the MOM's Business Under Surveillance programme, which subjects them a demerit point system that restricts access to foreign labour.
Government agencies already take into account a bidder's safety record including its demerit points in the procurement process, he added.
Workers' Party Non-Constituency MP Daniel Goh brought up the need to pay equal attention to occupational diseases and workplace health, and Mr Louis Ng (Nee Soon GRC) asked if the increased fines would apply to offences that cause or raise the risk of such diseases.
Government figures previously showed that in the first half of this year, the number of confirmed occupational diseases rose starkly from the second half of last year.
Mr Tan replied that the increased maximum penalty will also cover offences that could result in occupational diseases, such as failing to take measures to protect workers from toxic dust.
Last year, Singapore's workplace fatality rate was 1.9 per 100,000 workers. The target is to lower this to below 1.0 before 2028.
From January to October, 30 workplace deaths were put on record. There were 66 fatalities for the whole of last year.
In response to media queries, the MOM said that the top three breaches leading to fines between 2014 and last year were the failure to cover open sides and openings at worksites with guardrails or barriers; provide safe entry or exit points for any area in the workplace; and furnish toe-boards or two or more guardrails at the open side of a scaffold's work platform.
The ministry issued 1,813 composition fines and 4,812 notices of non-compliance to companies in the construction sector last year.