#trending: K-pop star Jackson Wang arrives in Singapore to rapturous welcome
SINGAPORE — Hong Kong-born singer Jackson Wang arrived in Singapore to a large group of fans at Changi Airport. The singer and rapper will be hosting a party in Marquee nightclub and filming a series of travel vlogs while here.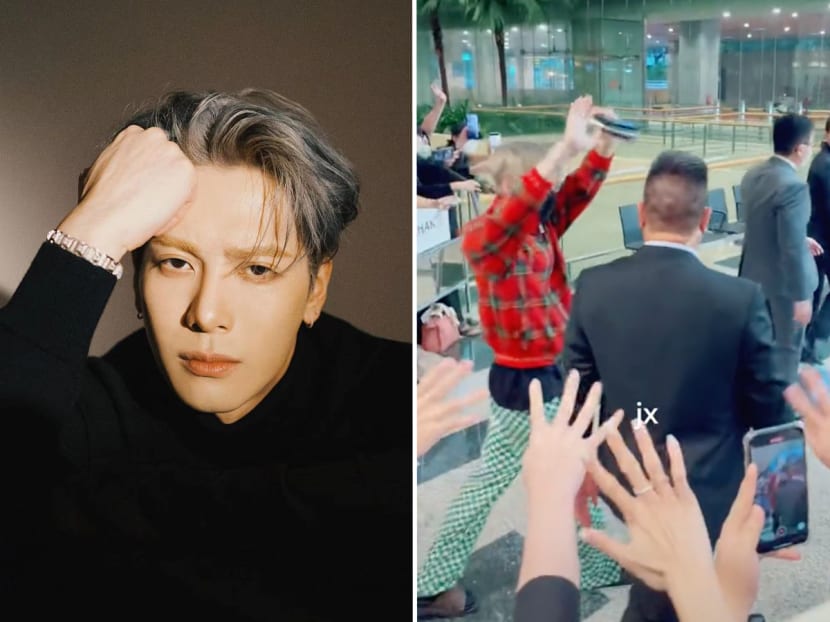 SINGAPORE — K-pop star Jackson Wang has arrived in Singapore. The global sensation from South Korean boy band Got7 arrived in Changi Airport on Tuesday evening (Aug 2) to a screaming crowd. 
He waved to the hundreds of adoring fans, doled out high-fives and even accepted a letter from a fan while walking out of the arrival gate of Changi Airport Terminal 3. 
The 28-year-old singer and rapper is here until Aug 10 to front the SingapoReimagine campaign, a global marketing campaign by the Singapore Tourism Board (STB). 
He will host a party in Marquee nightclub at Marina Bay Sands integrated resort with his record label Team Wang on Saturday. The sold-out event, titled Team Wang Records (Human Remix), will feature hip hop and pop music. 
Other acts in the showcase include Marquee's DJ Fvder, beatboxer Dharni as well as performing artistes Laurie, Xenzu and Boytoy. 
This will be the first party hosted by an international artiste at Marquee since its opening in 2019.
Fans who may miss Wang's event may catch him in a series of travel vlogs featuring wellness, music, food, arts and culture destinations in Singapore.
Wang will also open a concept space here for his luxury streetwear label, Team Wang Design. The store is slated to open in Voco Orchard hotel on Thursday.
The concept space will stock Team Wang's latest summer collection Mudance, a selection of beachwear in floral prints and hues of pink and white.
Wang is a Hong Kong-born Chinese singer songwriter, rapper and record producer who gained widespread recognition after debuting with K-pop boy band Got7 by JYP Entertainment.
His latest album, Magicman, will be out on Sept 9.