#trending: Mumfluencer shares 4 'controversial' birthday gift rules to raise a grateful child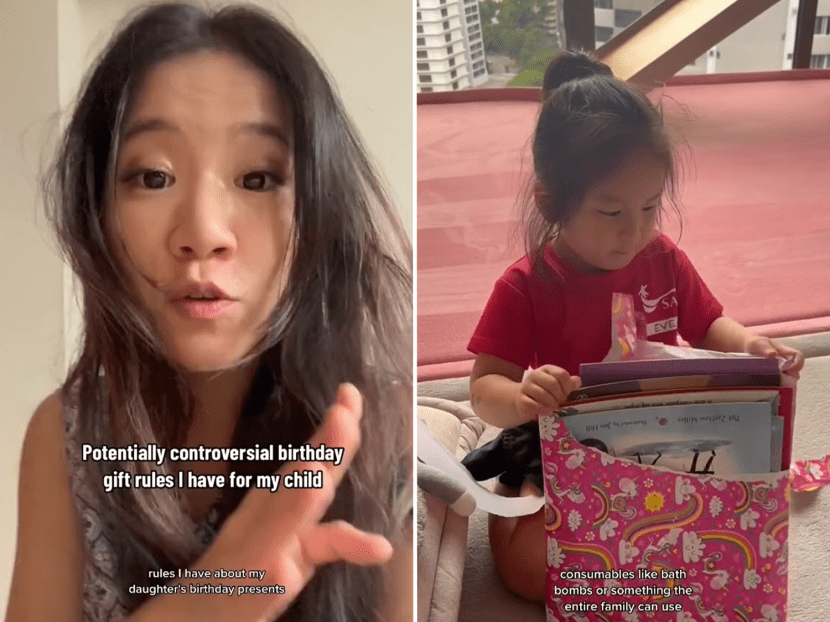 Parenting influencer Francesca Tanmizi shared four rules on birthday gifts that she uses on her daughter in a TikTok video that has gone viral
One of the rules is to withhold the gifts and make her four-year-old daughter "earn" them over a period of time
She said that it is because her child gets around 200 to 300 gifts a year and would not be able to enjoy them all at once
TikTok users debated over this rule, with some calling it "smart" while others deemed it "problematic"
SINGAPORE — A mother based in Singapore has sparked a parenting debate on TikTok after she shared four "potentially controversial" rules that she has about birthday gifts for her young daughter. 
While most viewers agreed with parenting influencer Francesca Tanmizi's set of rules, many found her last rule on making her four-year-old daughter "earn" her birthday gifts rather contentious.
The mother of one listed the rules in a TikTok video posted on Tuesday (April 25), starting with what she claimed were the least to the most controversial.
The 85-second clip has attracted more than 850,000 views and 170,000 likes as of Thursday afternoon.
Rule #1: No opening of presents in front of gifters during a birthday party
Aware that her daughter Evee has friends from different financial backgrounds, Ms Tanmizi explained that this rule ensures that children at the birthday party do not end up comparing their gifts with others, which could cause them to feel bad for what they gave.
She added that it was also a way to prevent hurting anybody's feelings because children may not be able to hide their disappointment when they receive a present they do not like.
Rule #2: Read the birthday card first
Before Evee is allowed to open a present, Ms Francesca makes sure that her daughter reads the accompanying birthday card first.
"The birthday card is where people really put in effort in writing their thoughts and feelings and I want her to appreciate that."
Rule #3: Record a message of thanks immediately after opening gift
Upon opening each present, Ms Tanmizi said that she films her daughter saying "thank you" immediately. She added that her daughter will be expected to write thank-you cards once she is older.
"It's just that when you're receiving (more than 50) gifts, if you're writing thank-you cards towards the end of it, you're not going to remember who gave what, the feeling you had the moment you opened the gift and eventually, everything is just going to sound insincere and generic."
Rule #4: Have to earn the gifts
Finally — and most controversially — Ms Tanmizi said that she keeps most of the birthday gifts and makes her daughter earn them over time. This is because her daughter would not be able to enjoy such a large number of presents simultaneously. 
However, she makes an exception when it comes to books or consumables such as bath products, as well as items that the entire family can enjoy such as board games.
In a follow-up TikTok video posted on Wednesday, the mumfluencer explained that her daughter earns the gifts through a reward chart.
A reward sticker is earned whenever her daughter tries something new, overcomes something difficult, does something kind or shows initiative. After collecting nine stickers, her daughter is then able to exchange them for a present.
"I'm aware that my child is very, very fortunate and I'm just hoping this is one of the ways I can teach her to be a bit more grateful for what she has," Ms Tanmizi said in concluding her video.
'SMART' PARENTING OR 'PROBLEMATIC'?
Many viewers lauded Ms Tanmizi's rules, saying that they would adopt them for their children. Fellow parents chimed in with similar rules they have introduced in their own households.
One mother said: "I don't necessarily make her earn them, but I do put a large majority of them away and take them out randomly when she's bored or we need entertainment."
Another said: "I used to keep my kids' gifts when they were younger. I ration and give them out one at a time, slowly. Otherwise they don't appreciate the gifts."
However, several people challenged Ms Tanmizi's last rule on earning gifts, with some calling the strategy "problematic".
One online user commented: "Earning the gifts is such a ridiculous rule. You didn't buy them. Other people bought them for her. They are hers. Let her have them."
Another wrote: "The fact that you take control of something that's hers and make her earn it feels so wrong. That teaches her that nothing really belongs to her."
DAUGHTER HAS 'TOO MANY TOYS'
Addressing such concerns, Ms Tanmizi published a third video on Wednesday to explain her reasons behind the rule.
She revealed that her daughter simply has "too many toys", receiving an estimated 200 to 300 gifts every year during her birthday and Christmas, for instance, and in the form of souvenirs from friends and family who travel. 
"You know what happens when you give a kid 50 toys all at once? You get a lot of broken toys because they're really overwhelmed and they don't know what to do with everything."
She also explained that the rule helps Evee learn the value of her toys, and prevents her daughter from having tantrums over toys just because she wants them.
Summarising her response, Ms Tanmizi, who has more than 200,000 followers on TikTok, wrote: "I know my daughter is privileged and this is why I have to make sure she's spoiled but not rotten."