#trending: Top light-hearted moments from NDR 2022 that made us chuckle
While the National Day Rally covered serious concerns and issues Singaporeans should take note of, there were a couple of light-hearted moments from Prime Minister Lee Hsien Loong's speech that elicited laughter from the audience at ITE Ang Mo Kio.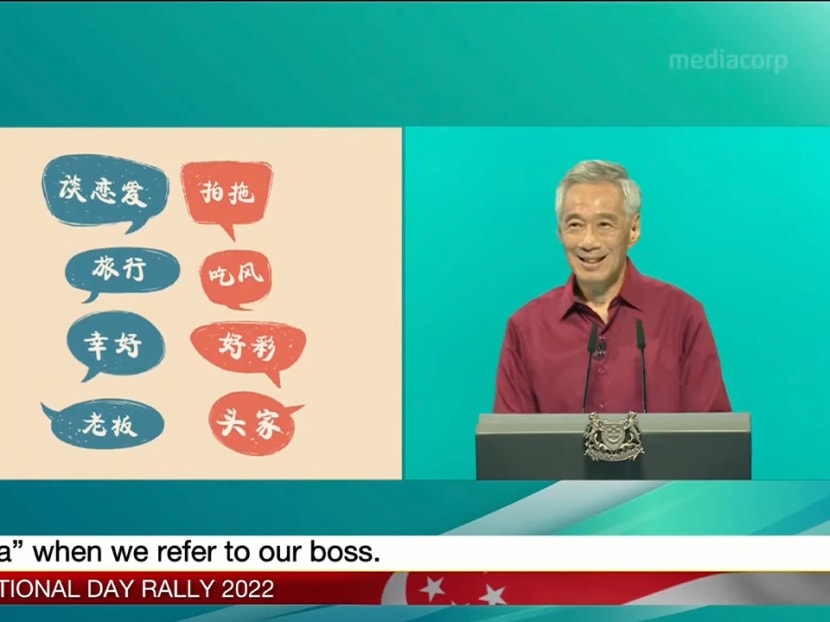 PM Lee delivered the National Day Rally speech on Sunday (Aug 21) at the Institute of Technical Education headquarters in Ang Mo Kio
A few big announcements were made, including the repealing of Section 377A and mask-wearing to soon be optional
In between his speech, PM Lee cracked a few jokes that elicited laughter from the audience
SINGAPORE — Several big announcements were made during the National Day Rally on Sunday (Aug 21), including the repeal of Section 377A of the Penal Code and the further relaxation of rules on mask-wearing in public. 
In between these momentous announcements, Prime Minister Lee Hsien Loong managed to crack a few jokes that elicited laughter from the audience at the Institute of Technical Education headquarters in Ang Mo Kio.
Here are some chuckle-worthy moments from the National Day Rally 2022. 
1. 

A person who uses the words "paktor" and "jiak hong" is most likely "ka ki nang", that is "one of us"
For younger people not well-versed with dialects, here's what Mr Lee meant in his Mandarin speech when he said: "I want to 'paktor' with my girlfriend. Go overseas to 'jiak hong', fortunately 'towkay' agreed." 
He explained the phrases earlier in his speech — "paktor" refers to going on a date in Cantonese while "towkay" refers to your boss, or "tou jia" in Hokkien. "Jia hong", which literally translates to "eat air", is a direct translation of the Malay phrase "makan angin", meaning to go on a holiday.
"You will immediately know that he is "ka ki nang," Mr Lee concluded, using the Teochew phrase that translates to "one of us". 
2. 

Even the God of Fortune needs a break sometimes
To explain the financial support given to middle- and lower-income Singaporean households, Mr Lee showed a calendar on screen and cited an example of a low-income family living in a three-room Housing and Development Board flat. 
"The family will be receiving various forms of support almost every month," Mr Lee explained in his Mandarin speech. 
"In November, there is nothing. Why? The God of Fortune is on leave. He wants to watch the World Cup," he joked, much to the amusement of the crowd. "But in December, he is back to work."
The World Cup 2022 is due to be held in Qatar for a month from Nov 20 this year.
Guess the God of Fortune loves the World Cup and has limited annual leave, just like the rest of us. 
3. 

Say goodbye to mask wearing in public… soon
In one of the most popular announcements, Mr Lee revealed that mask-wearing will soon be required only on public transport and in healthcare facilities. 
"But please don't take your masks off at this very moment," Mr Lee said, as the audience burst into laughter.
Guess those itching to be mask-free in public and the rest of us who are mask-fishing will have to wait until the government task force make the announcements on this. 
4. 

Singapore did not "flap" in the face of chicken shortage 
When Malaysia banned the export of live chickens, "we did not flap", Mr Lee said in a well-timed pun during his English speech. 
Though the pun may have fallen a bit flat, receiving a lukewarm response from the audience, perhaps the double meaning of "flap" was lost to those in attendance?
Responding to a TikTok video of Mr Lee making the pun, one online users said: "I can't be the only one who finds it ridiculously funny 😭." 
Another TikTok user said: "No one got it due to the Singapore education system."
Besides describing the actions of a bird, to get in a "flap" also means to turn agitated or panicky. Though the pun isn't as funny after our lengthy explanation, huh?
5. 

Housing isn't an issue. The lack of babies is
Bearing a resemblance to our nagging parents and "kaypoh" aunties and uncles, Mr Lee not-so-subtly nudged young Singaporeans to start having children. 
He addressed a pressing concern for many young Singaporeans: Housing. 
"Our problem is not finding the space to build enough flats, nor keeping the flats affordable for Singaporeans," Mr Lee said.
"Our problem is having enough babies to grow up and live in them," he added, to the delight of the audience. 
Singapore's total fertility rate rose slightly to 1.12 last year, up from the historic low of 1.1 in 2020, the Department of Statistics recorded. The total fertility rate measures the number of live-births per woman of childbearing age.
Young Singaporeans, looks like it's time to take the hint and make some babies.