#trending: Reddit user questions why MRT commuters should give up seats to young children
SINGAPORE — A Reddit post on Sunday (Nov 27) has sparked discussion on whether or not commuters should be giving up seats to young children on public transport such as MRT trains in Singapore.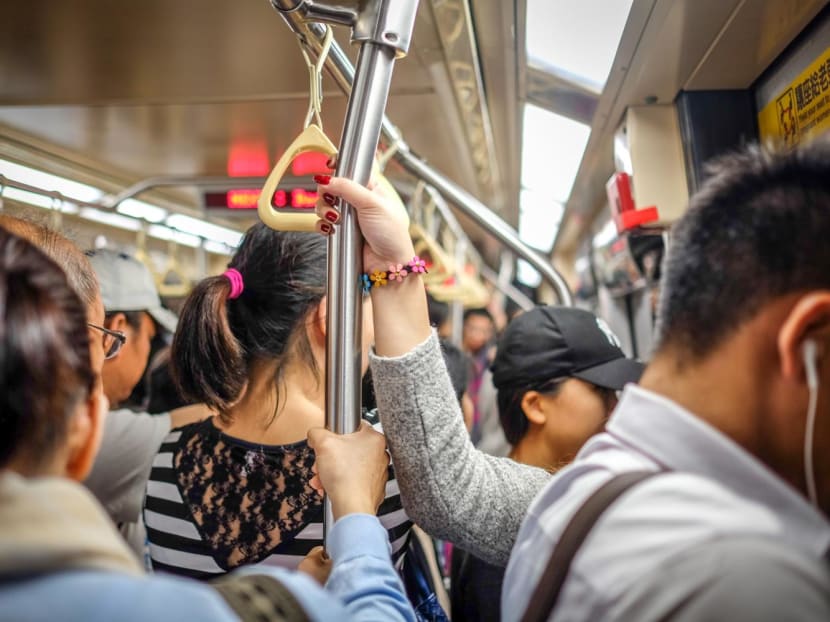 An online user argued that young children are able to "stand unassisted", so he did not understand why they should be given priority to seats on MRT trains
Most people responded by saying they do so for the parents' sake, to prevent the children from running around
Some then argued that this does not stop some "hyperactive" children who do not want to sit down anyway 
Others said that safety is the main reason for giving up of seats to children since they are more prone to being thrown off-balance on moving trains or buses
SINGAPORE — A Reddit post on Sunday (Nov 27) has sparked discussion on whether or not commuters should be giving up seats to young children on public transport such as MRT trains in Singapore.
In the original post, someone going by the user name "Mainmito" on the online forum site asked: "I am genuinely curious. Why do I see people giving up their seats to children (roughly four to eight years old) on MRT (trains) when they clearly are able to stand unassisted and easily?
"I totally get it if I have to give up my seat to a parent carrying a toddler on them. But these children can stand on their own. A 30-plus-year-old person like me is the one who has problems standing up for prolonged periods".
The post has since amassed 370 upvotes and 120 comments.
Online users responded with a wide range of reactions, some even criticising "Mainmito" for questioning a practice that they deemed to be "common sense".
One parent remarked: "OP (original poster) confirm not a parent lol."
Indeed, for most people in the comments, the common consensus was that one gives a seat up more for the parents' sake rather the children's.
As the top comment put it: "It's to confine the kid to a small 1x1 box so they don't teleport all over the place."
Some people said that letting children have a seat also benefits other commuters, so that they are not disturbed by "hyperactive" children running around.
However, there were people who agreed with user "Mainmito", pointing out that giving up a seat to restless children does not prevent some of them from getting back up again.
One Reddit user said that the average working adult is often drained after a long work day and is arguably "more deserving" of a seat than a child who might have chances to nap in a day.
Another empathised with "Mainmito", saying: "I've seen kids getting offered a seat and after a minute, they get up and start running around instead." 
Some people said that they would freely offer their seats to young children who are visibly tired or cranky, carrying heavy backpacks or having trouble balancing.
However, they felt that expecting all young children to be given priority for seats on public transport regardless of their physical condition was a reflection of "entitlement" and "bad parenting".
One said: "A seat isn't a cage, nor does it have (a) seatbelt. So it's just irrational entitlement on (the) parent's end."
Another said: "I don't get the point that they won't misbehave since they are confined to a space... Isn't this a parenting issue?"
On a different point, one Reddit user said that parents should forbid their children from blasting music and videos at high volumes on public transport. He added that adults pay more in fares compared to children. 
For some others, it was simply a matter of safety. Children are lighter in weight and their reflexes are not yet fully developed, one person explained. 
Therefore, they said it is not uncommon to see young children being thrown off-balance when a train or bus jerks brakes abruptly.
One comment went: "As long as the vehicle is moving, standing is considerably more unsafe than sitting. Letting kids sit is being considerate and a safety practice for minors. The same idea applies for the elderly, too."
Reddit user "Mainmito" has since updated his post in response to the comments.
"I don't have kids so I (didn't) understand," he said. "But now I do and I will definitely give up my seat to them."