#trending: Fans brave rain to greet pop star Tiffany Young on Orchard Road though some criticise running of event
Hundreds of fans waited outside Mandarin Gallery during a heavy downpour on Wednesday (Aug 24) to catch a glimpse of Tiffany Young, a member of K-pop group SNSD, also known as Girls' Generation. The star was in town to attend an event by beauty and cosmetics brand Lancome. Comments on social media claimed that the event was badly managed.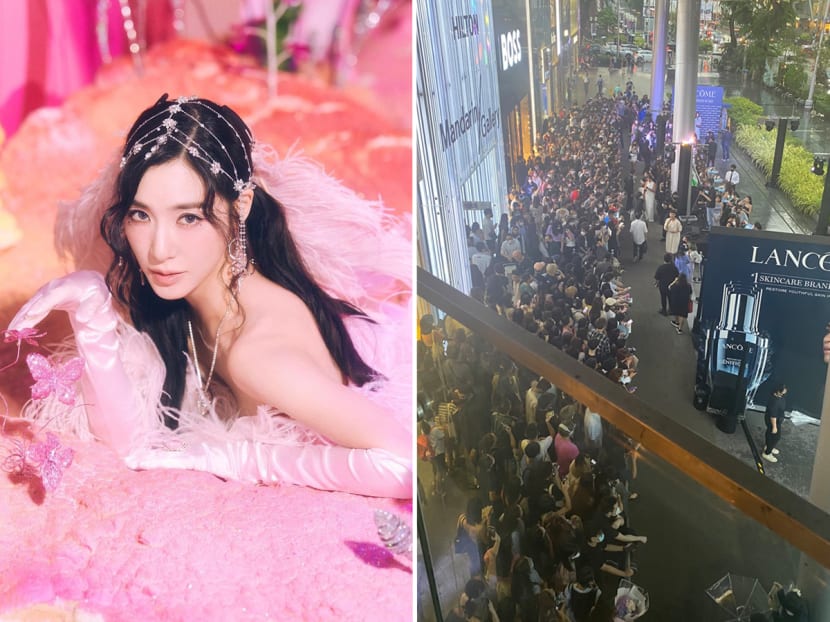 SNSD star Tiffany Young made a guest appearance at the media preview of Lancome's Beauty Tech flagship store on Orchard Road
A large crowd of fans gathered to catch a glimpse of her, despite the rainy weather
Some comments on social media criticised the running of the event 
SINGAPORE — Hundreds of fans braved a heavy downpour on Orchard Road to catch a glimpse of pop star Tiffany Young, who is in town for a promotional event with cosmetics brand Lancome.
The American singer-songwriter who made her name in South Korea in the group Girls' Generation, also known as SNSD, made a guest appearance on Wednesday (Aug 24) evening at the media preview of Lancome's Beauty Tech flagship store on Orchard Road, outside Mandarin Gallery.
Sones, as SNSD fans are affectionately called, started queueing at the event location in the afternoon as shown in one TikTok video.
By evening, the entrance of the Mandarin Gallery was jam-packed. Fans brimming with anticipation were seen singing along with one of SNSD's hits, Gee, before Tiffany's arrival, wet weather notwithstanding. 
The 33-year-old greeted her fans upon her arrival. "Singapore Sones, hi" she said in Korean, eliciting excited cheers from the crowd.
She also told host Rosalyn Lee, also known as Rozz, that her strength is "using her voice" and "mindfulness". We love a mindful queen.
Despite the fanfare and overwhelming adoration for the pop star, there were some complaints that the Lancome event was "badly managed". 
Twitter user "vancomyxin" said that the entrance to Mandarin Gallery was blocked, causing inconvenience to shoppers who wanted to visit the mall and the shoppers then "started to complain". 
Another Twitter user "movelystagram" replied in the Twitter thread that fans were packed so closely together that the Twitter user "almost fainted given the tight space".
Twitter user "stephooe" also felt that the event organiser "could have booked a bigger venue" and that they "underestimated Tiffany's popularity".
One TikTok user also claimed that fans who turned up early to queue for the event were told not to sit. As a result, fans had to stand for "four hours" while waiting for Tiffany to arrive, she claimed. 
TODAY has sought comment from the event organiser.
Girls' Generation recently made a full-group comeback with the album Forever 1 after a five-year hiatus, in celebration of their 15th anniversary.
Tiffany was spotted gifting staff members at Changi Airport a Forever 1 album signed by all members of Girls' Generation. She had exited Changi Airport via JetQuay, the Commercially Important Persons (CIP) terminal, after landing in Singapore. 
Twitter users were seemingly shocked and also envious that the album was signed not only by Tiffany, but also by all other members of SNSD. 
Tiffany has released five singles since going solo in 2017 and has been pursuing acting. She will be making her K-drama debut in JTBC's Chaebol Family's Youngest Son alongside South Korean actor Song Joong-ki. The K-drama's release date is yet to be announced. 
The singer also tested her acting chops as Roxie Hart in South Korean production, Chicago the Musical, last year.