#trending: In viral rap video, S'pore TikToker disses quirky names millennial parents give their babies
SINGAPORE — Children named Aiden, Brayden, or Jayden. How many do you know of? Probably too many, digital content creator Jessica Chan thinks.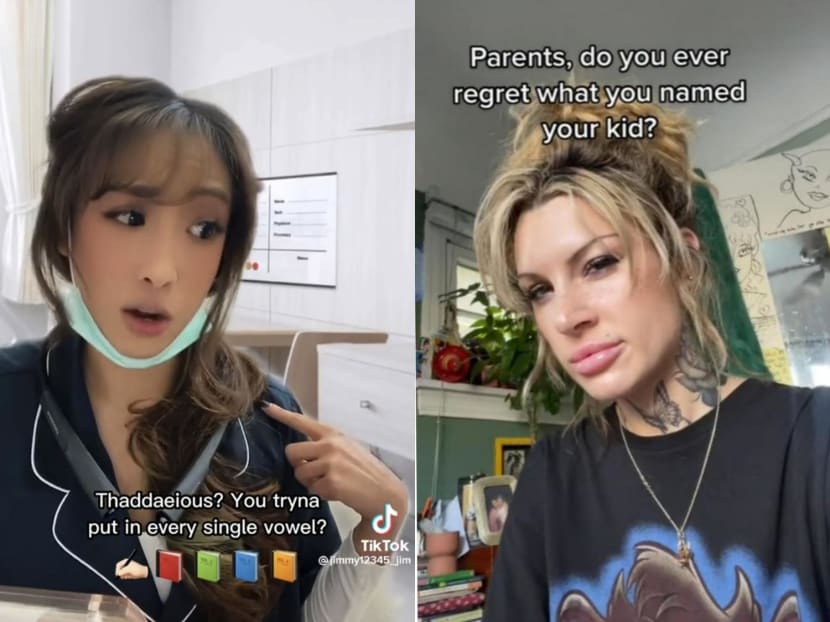 TikToker Jessica Chan, 26, has gone viral with a rap video bemoaning some of the names millennials give their babies
Ms Chan's TikTok video has amassed more than eight million views, with another million watching it on her Instagram account
Ms Chan takes aim at both unusual names and offbeat spellings of more conventional names
SINGAPORE — Children named Aiden, Brayden, or Jayden. How many do you know of? Probably too many, digital content creator Jessica Chan thinks.
In a catchy rap video that has recently gone viral on TikTok and Instagram, the 26-year-old dissed some of the names that millennial parents tend to give their newborns these days. 
She claimed that they are either uncreative — such as using multiple variations of similar-sounding names (think Zayden, Cayden) — or too creative, by changing the spelling of "okay" names to something more, well, unorthodox. 
Delivering the rap in the form of a skit, Ms Chan assumed the role of a nurse asking a mother for the name of her newborn baby. The answer "Zayden" was met with an exasperated "here we go again…".
She raps: "The Aidens and Braydens and Caydens and Jadens… do we really need 58 variations? Or multiple spellings of the same name? I'm talking about the Cheryls, Seans and Charmaines."
"Thomas and Patrick, Elaine and Irene? Do you want your three-year-old to sound 83?"
"The Bible got names like David or Esther. How did you end up choosing Nebuchadnezzar?"
"Thaddaeious? (Are) you trying to put in every single vowel?"
"Some names are okay but the spelling (is) just foul. Jazmyn, Jaxson, Khai-Leigh, McKaylah. I read those names and I thought I had dyslexia."
"Crystal and Jade? Is your brother called restaurant? What were you thinking? Another 'Precious Thot'?"
Ms Chan ends the rap by imploring: "Parents, I respect you and I know you love your kids. But please, you (have to) stop naming them like this."
The video is the Singapore-based online personality's best-performing one to date, amassing more than 8.8 million views on her TikTok account "jimmy12345_jim", and close to a million views on her Instagram account "meermu" since it was uploaded on Aug 26. 
One top comment on TikTok read: "Who else bopped along like this till they heard their kid's name."
Another user quipped, "I have 3 brothers… Jayden, Kayden and Zayden", while many others shared that they, too, know of someone whose name was mentioned in the video.
The topic seemed to resonate with many educators and healthcare workers who confirmed that they come across such names regularly.
One commented: "As a teacher, I wonder if nurses roll their eyes at these names as often as we do."
Another wrote: "I used to work postpartum and we had a mum name her kid Cash and her other son at home was named Flow…"
Many users chimed in with examples of unusually spelt names that they have encountered, such as Dayzee (Daisy), Khauner (Connor) and Klloawiee (Chloe).
One person claimed: "One year in the same class I had Ashlee, Ashlie, Ashley, Ashleigh, Ashlyn and Asher. Seriously."
Some people expressed relief that they had stuck to more conventional names for their children: "I used 'old people' names on my kids. Would rather have traditional than trendeigh (sic)."
However, not everyone thought that the names brought up by Ms Chan were all that bad.
A number of users said that names such as Irene and Jade are "pretty" and that it was better to be unusual than boring. Some questioned if there was a need for people to have "such strong opinions" over what parents name their children in the first place.
PARENTS SHARE NAMES THEY REGRET
A similarly heated discussion on names was also prompted by a comedian called Gabby Lamb in the United States, after she recalled compiling a list of "atrocious" baby names when she was younger.
In a TikTok video that has garnered more than 300,000 views, Ms Lamb began by asking parents if they have ever regretted what they named their children.
"I'm asking because growing up, I kept a list of potential baby names and I was thinking about the list the other day," she said, adding that she was glad she did not have a child when she was younger because the names she wrote down were "atrocious".
She said that she once wanted to name her future child "Sublime" after an American reggae and ska punk band from the '80s. She had also thought of naming her child Bradley because it was the name of the band's lead singer.
She added: "So you know, I'm glad... I just would have regretted that."
Thousands of users flocked to the comments section to share their biggest baby name regrets. 
Some, like Ms Lamb, were inspired by pop culture references of their time.
One parent confessed: "I named my kid after a Pokemon — Eevee. Thought it was a super cool idea in 2002."
Another wrote: "I named my son Emmett after Emmett Cullen from Twilight. I was 17."
Others named their offspring after family members.
One said: "I named my daughter after my mother who died in 2014. I kind of regret it, only because I have a hard time saying it sometimes."
Another revealed: "My 16-year-old is his dad's namesake. We haven't seen his dad in six-ish years and he owes over (US$50,000) in child support."
One mother admitted that while she still loved her daughter's name, she did regret the bizarre spelling.
"In some lame attempt at being quirky and original, I ended up giving her two e's. And I decided she needs an apostrophe," she added. "She needed to be Khloe'e. It needed to be extra spicy."
To prospective parents, perhaps save this article as a gentle reminder for what not to name your future kids.