Driverless buses may hit S'pore roads from 2020
SINGAPORE — Driverless vehicles, which have so far been limited to small-scale deployments within business parks and tourist spots for example, could become a reality for intra-town travel in housing estates from late-2020.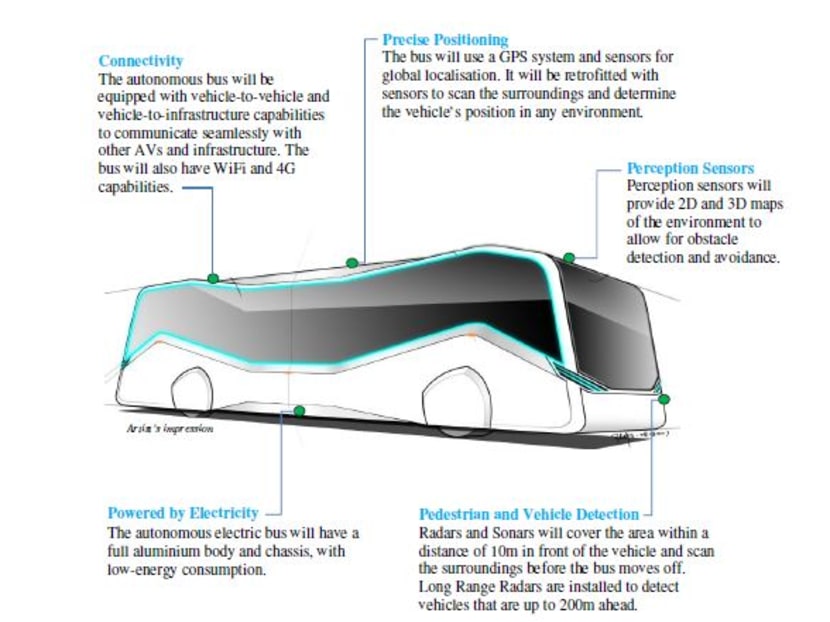 SINGAPORE — Driverless vehicles, which have so far been limited to small-scale deployments within business parks and tourist spots for example, could become a reality for intra-town travel in housing estates from late-2020.
On Monday (April 10) , the Land Transport Authority (LTA) and ST Engineering's land systems arm ST Kinetics inked an agreement to launch a three-and-a-half-year autonomous vehicle (AV) trial, which could pave the way for driverless buses to ferry passengers along fixed routes based on selected feeder and trunk bus services.
The aim is to start road tests involving public commuters after the trial concludes by October 2020, subject to green light from the authorities. "In the longer term, it is envisaged that the trial could be extended to public roads in towns to enhance intra-town travel," said the LTA.  
Under the project, ST Kinetics will build two 40-seater electric buses - the first time a Singapore company is building an autonomous bus - and test them at an industrial area during off-peak hours, before being rolled out to more complicated test sites. Potential locations for the trial include Jurong Island and the National University of Singapore (NUS) campus.
Estimated to take 18 months to construct, the buses can travel up to 60km per hour. The 12-metre long buses will have radars and sonars capable of picking up the presence of vehicles and pedestrians up to 200m ahead, and a rain filter to allow the AV technology to detect obstacles in a downpour.
LTA chief technology officer Lam Wee Shann said: "Currently most AV technology developers are focusing their efforts on developing self-driving cars. Singapore's need for high capacity vehicles to address commuters' peak-hour demands presents an opportunity for companies such as ST Kinetics to develop autonomous buses to address this latent demand."
More driverless vehicle trials will be launched progressively even in other parts of Singapore, with the goal of deploying AV technology as "part and parcel" of the transport system eventually, said Permanent Secretary for Transport Pang Kin Keong.
On Monday, ST Kinetics also announced a partnership with the Ministry of Transport and Sentosa Development Corporation for a two-year trial involving "mobility-on-demand" vehicles in Sentosa.
Four driverless pods – consisting of the 15-seater Navya Arma and 20-seater ST Kinetics Shuttle vehicles – will ply three routes at a maximum speed of 80km per hour: Tanjong Beach and Palawan East to Siloso Point, as well as Sentosa Golf Club to Imbiah Lookout.
From next year, island visitors could hail the vehicles through their smartphones or information kiosks spread across the island. A fleet management system will optimise route management based on passenger demand. Real-time movement of the pods will be monitored through closed-circuit television (CCTV) along the roads.
Artificial intelligence will be a key feature of the ST Kinetics' driverless buses and pods, said Mr Foo Khee Loon, vice president at the Kinetics Advanced Robotics division of ST Kinetics. While existing trials involve scenario programming, Mr Foo felt that such an approach was inadequate. "You'll never be able to anticipate the 101 scenarios out there. The environment is very dynamic – (that's why the company built) a platform that's able to learn on its own," he said. "It's just like how you and I would drive. You look at the environment and then you adapt your behaviour. Over time, you get better and better."
ST Kinetics also launched the Singapore Autonomous Vehicles Consortium, supplementing the development of AV testing requirements at the Centre of Excellence for Testing and Research of AVs – NTU (Cetran). Comprising A*Star's Institute for Infocomm Research and various universities, the consortium will focus on identifying protocols and standards for AVs in real-world scenarios and developing niche technologies such as automotive cyber security.
The latest initiatives come almost two years after the Government issued a request for information (RFI) to gather proposals on AV technology. At the time when the RFI was put up, driverless cars were already being tested at one-north.
Over the last two years, various trials have also been launched involving, for example, autonomous shuttles at Gardens by the Bay – which ST Engineering is also involved in - and robot taxis at one-north. In October last year, LTA and the Energy Research Institute @ Nanyang Technological University (ERI@N) announced the first driverless bus trial in Singapore, involving two electric hybrid buses.
On Monday, ERI@N executive director Professor Subodh Mhaisalkar told TODAY that limited test drives involving NTU students as passengers could happen in 2019, pending LTA's approval and insurers giving the green light for covering rides with passengers. NTU is working with LTA and insurance companies on establishing requirements and risk assessments.
Features of ST Kinetics's driverless bus
- With a satellite-based global positioning system and sensors, the 12m-long autonomous bus will be able to scan surroundings and determine its position.
- Perception sensors draw up 2-D and 3-D maps of the environment to detect and avoid obstacles, while long-range radars pick up vehicles as far as 200m away.
- With an aluminum body and base frame, the electric bus will be low on energy consumption. The fast-charging mechanism allows the bus to be powered up in three to five minutes.
- It will be capable of communicating with other autonomous vehicles and infrastructure, and has wireless and 4G networks on board.