Turning Earth Hour into Earth Hours
It has been a month since we marked Earth Hour 2014, when buildings across the island plunged into darkness for an hour from 8.30pm to 9.30pm on March 29.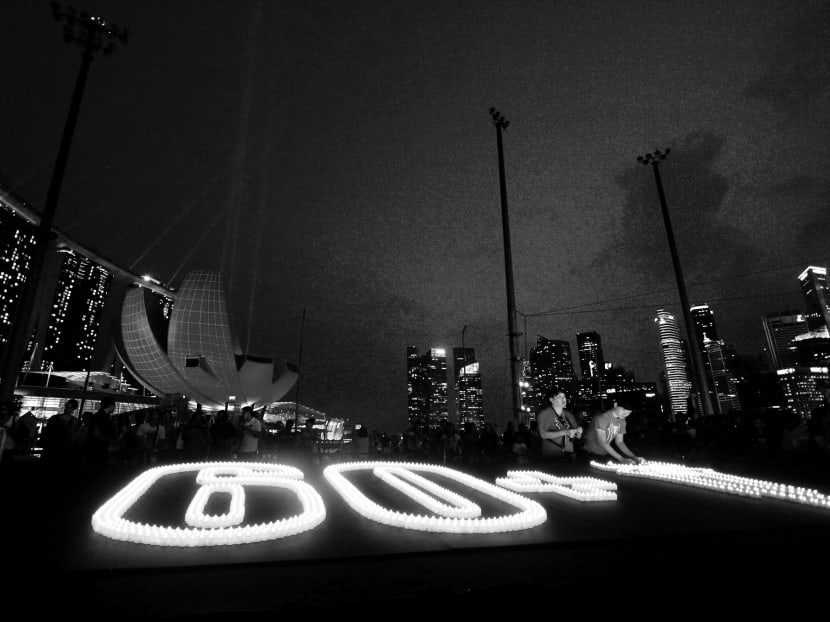 It has been a month since we marked Earth Hour 2014, when buildings across the island plunged into darkness for an hour from 8.30pm to 9.30pm on March 29.
Organiser World Wildlife Fund and its partners extolled the success of the event here and in more than 160 countries, saying "millions of people were touched by this unifying movement".
Post-event reporting focused on top-level entertainers, lights going out at iconic buildings and a one-hour focus on environmental concerns ranging from the Great Barrier Reef in Australia to the Zayanderud River in Iran.
A month later, though, it is hard to see how much has changed here. Lights are back blazing on all the buildings, air conditioning keeps temperatures in conference rooms far too cold and commuters continue to drive their cars.
While Earth Hour CEO and co-founder Andy Ridley said "Earth Hour is more than just this hour" and "you feel that a collective effort is collective power", in many places, this collective power largely dissipated after 9.30pm on March 29.
The reality seems to be that, for many people, Earth Hour was, once again, a one-hour event with great publicity beforehand, lights turned off for an hour and celebrations in a slightly darker city. Then, it was back to the status quo.
INNOVATING FOR LONG-TERM IMPACT
To make a real and longer-lasting difference, changing the approach to making Earth Hour the beginning of a year-long transformation rather than a short one-hour event could have a far bigger impact. While the Earth Hour organisers did suggest longer-term events and launched Earth Hour Blue as "a global crowd-funding platform that lasts longer than 60 minutes", we can do more over the course of a full year.
For instance, organisers here could get supporters to obtain pledges from banks, factories, hotels, malls, property developers and other companies as well as ordinary citizens to conserve energy for an entire year, starting from when Earth Hour happens. Recognising the companies that change their practices and the people who obtain the pledges, as well as setting up processes to monitor the results, could be the catalyst for real change.
Some cities have started on this path. Chicago, for example, won the 2014 US Earth Hour City Capital award and is encouraging residents to "go beyond the hour" through a programme that helps homeowners install solar panels. In India, Earth Hour kicked off a year-long project to reduce carbon footprints in 15,000 schools by recording carbon output and educating children on efficient energy usage.
Earth Hour has indeed become an amazing event, and the organisers deserve kudos for starting it. Seven years on, it has been easy to fall into the trap of doing the same thing every year and calling it a success as more and more people participate. However, rather than simply repeating the same theme on a bigger scale year after year, innovating to make longer-lasting change can have a far greater impact.
In commemorating Earth Hour, it has been common to get celebrities to rally support for the cause. What may be even more important is to involve political leaders and officials to show the way towards change. After all, they are the ones whose agencies will develop the regulations and policies that can have a positive impact on climate change.
It may take time for mindsets towards the event to change. For a start, we should use the 8,760 hours before the next Earth Hour on March 28, 2015 to implement positive changes. Instead of focusing on only one hour, we can start planning now for longer-lasting change to happen.
ABOUT THE AUTHOR:
Richard Hartung is a consultant who has lived in Singapore since 1992.