Two eyewear companies in Singapore spearhead recycling efforts for contact lens plastic packaging
SINGAPORE — In the name of convenience, yet another item that consumers use daily can be harmful to the environment and cause microplastic pollution: Contact lens blister packs.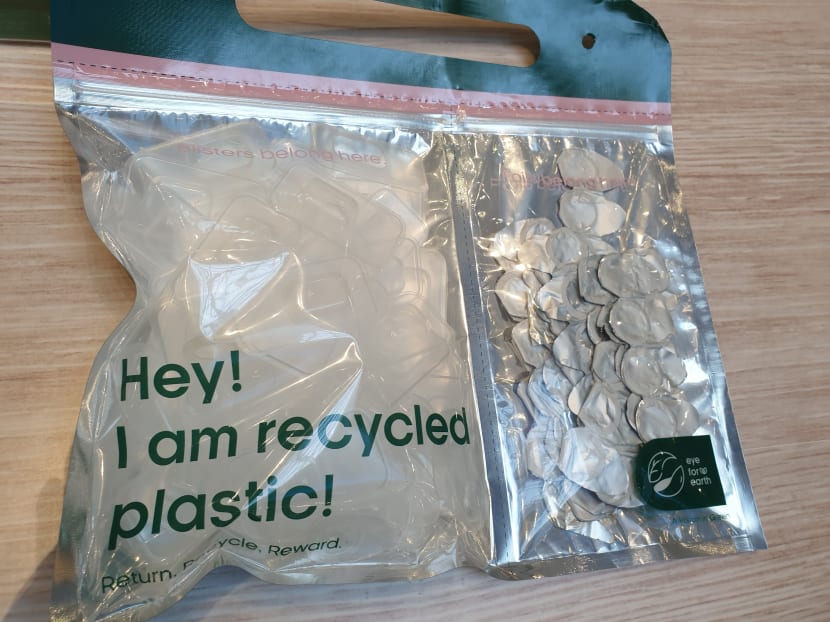 SINGAPORE — In the name of convenience, yet another item that consumers use daily can be harmful to the environment and cause microplastic pollution: Contact lens blister packs.
The blister pack or packaging is the plastic container with an aluminium foil cover which holds disposable contact lenses. The blister pack is made of polypropylene, a hardy form of plastic that can be recycled to create anything from park benches to car parts.
However, after the contact lens is used, the packaging is usually thrown into the bin, along with the foil cover, eventually ending up in a landfill.
Wearers of contact lens should therefore think about doing their part to reduce plastic waste by recycling the packs.
To help them along is Capitol Optical.
On Friday (Jan 3), the eyewear chain launched its Eye for Earth initiative which encourages contact lens users to recycle the blister packs.
Speaking to TODAY at Great World City mall where the initiative was launched, Mrs Sherie Wong, Capitol Optical's marketing director, said that an internal study by one of the company's suppliers had found that daily disposable contact lenses alone can generate 85 tonnes of discarded blisters in Singapore within a month. As a comparison, a blue whale, the largest living mammal on earth, weighs about 105 tonnes.
The 85 tonnes does not include waste generated from the disposable contact lenses meant for fortnightly use and the disposable ones sold by other eyewear manufacturers in Singapore.
Mrs Wong declined to name the supplier which conducted the study and to give more details of the findings.
Though small and innocuous, the amount of blister packs discarded in Singapore reflects a broader, nation-wide problem when it comes to recycling plastic.
Data from the National Environment Agency showed that 949,300 tonnes of plastic waste was generated in 2018, but just 40,700 tonnes — or 4 per cent — was recycled.
Mr Marcus Wong, Capitol Optical's chief commercial officer, had first noticed just how much waste was accumulated after he started using disposable contact lenses on a daily basis in 2019 to understand the product better.
"I started throwing the blisters in the bin every day. I don't empty the bin on a daily basis but I noticed a lot of them in there eventually and I realised it was quite a good material."
Digging further, Mr Wong soon realised that both the polypropylene and the aluminium foil of the blister packs can be recycled and he approached waste company Sembcorp to set up a recycling programme with his company.
As part of the programme, contact lens users will have to collect a specially designed recyclable bag from any of the 17 Capitol Optical branches across Singapore.
The bag is divided into two sections. After using their disposable lenses, the wearer must pour away the saline solution from the packaging before putting the blister pack into one section of the bag. The aluminium foil cover goes into the other section.
Users who return bags filled with at least 60 blisters to any Capital Optical branch can claim a S$5 voucher from the eyewear chain.
Anyone may take part in the initiative and any brand of disposable contact lens may be recycled.
When asked if consumers could recycle the blisters directly by throwing them into the blue recycling bins found around residential estates, Mrs Wong said that it is possible, but if food and liquids are mistakenly thrown into the recycling bins, then the plastic packs will be contaminated and cannot be recycled.
Mrs Wong said that the specially designed bags issued by Capitol Optical will help to reduce incidences of contamination. Separating the blisters and aluminium foils into different sections of the bag will also reduce the manpower required to separate the items at the recycling plant.
Another company that has launched a similar initiative is contact lens company Two of a Kind (Twooak).
The company started its Project 2x2 initiative last October which allows both customers and non-customers alike to drop off the blister packs of any brand of contact lens at six drop-off points or mail them to the company so that they may be sent for recycling. The drop-off points include Twooak's office along North Canal Road and Smileworks dental clinic in Paragon mall on Orchard Road.
50,000 BLISTERS COLLECTED IN 3 MONTHS
Unlike Capitol Optical, Twooak does not accept aluminium covers for recycling.
Since the project was launched, the company has seen an enthusiastic response from the public, receiving more than 50,000 blisters from around 200 people in about three months, Mr Darryn Tan, chief executive officer of Twooak, said.
"People have been looking for a solution like that," he said. "Our company has been discussing ways to recycle blisters with customers for a long time and people have said that they want to get involved. So this is encouraging."
It made up for the somewhat difficult start in getting other industry players on board.
"We spoke to other retailers and they didn't care. They care only when others do it and there is traction."
Mr Tan said that his company eventually decided to go ahead on its own.
The other challenge was finding a recycling company which did not accept a disposal fee for collecting the blisters. 
The company believes that the disposal fee charged by recycling companies reduces businesses' incentive to recycle. He was also concerned that companies which charged an upfront fee may simply incinerate or dump the items instead of recycling them.
However, Twooak eventually found Tay Paper Recycling, which was willing to collect the blisters without imposing a disposable fee.
The blister packs are converted into plastic pallets by Tay Paper and sold to other companies which may use them to make a variety of items such as a car bumpers or plastic bottles.
Mr Tan said that the company aims to get at least 25,000 people recycling blister packs by the end of this year.
"That would help to send the message to other optical chains that it is our obligation to provide the systems and means to consumers for recycling."