Fathers of babies born from next year to get more paid paternity leave
SINGAPORE — From next year, fathers of newborn Singaporean babies will be entitled under the law to more time off from work.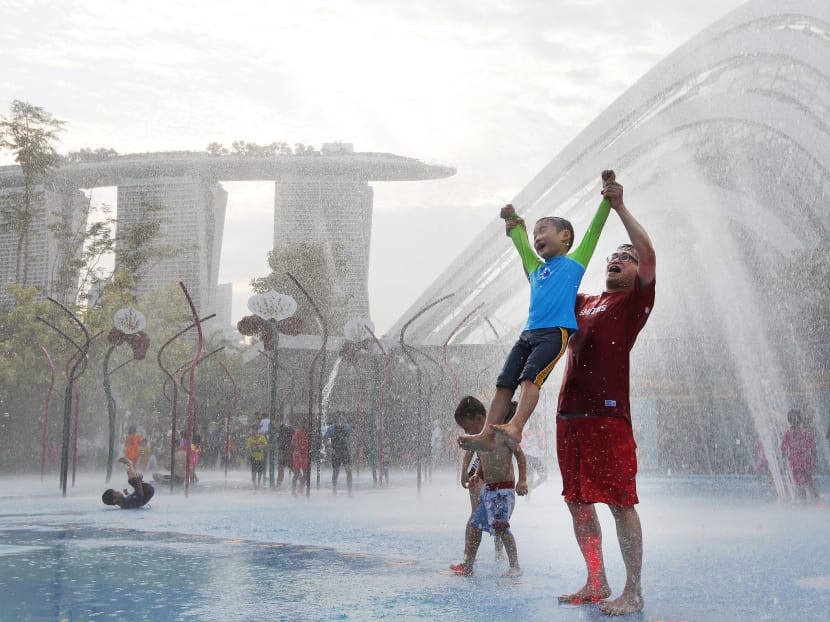 SINGAPORE — From next year, fathers of newborn Singaporean babies will be entitled under the law to more time off from work. 
The Government introduced one week of legislated paid paternity leave in 2013 and a second week was introduced on a voluntary basis last year. 
Fathers will get that extra second week of government-paid paternity leave if their child is a citizen born from Jan 1, 2017, if they are lawfully married to the child's mother and if they have served their employer continuously for at least three calendar months preceding the child's birth.
From July next year, shared parental leave, where fathers are able to use part of their wives' maternity leave, will also be increased from one to four weeks.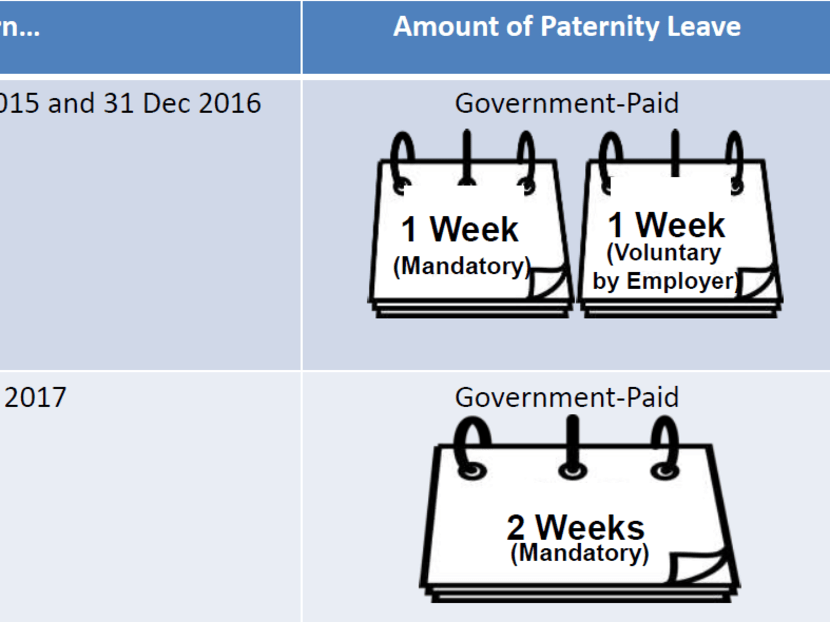 The changes mean that together with six days of childcare leave entitlement and six days of unpaid infant care leave, fathers will be able to take up to eight weeks of leave in their babies' first year. 
Following visits to Denmark and South Korea to study population policies. Senior Minister of State (Prime Minister's Office) Josephine Teo had first declared last month the Government's intention to legislate two weeks of paternity leave.
The changes were announced on Wednesday (April 13) during the debate on the budget of the Prime Minister's Office, which oversees the National Population and Talent Division (NPTD). Outlining the Government's aim to promote marriage and parenthood as "achievable, enjoyable and celebrated" here, Mrs Teo said: "We must as a society continue to celebrate parenthood, celebrate having babies and celebrate families. It is in this spirit that I am announcing some enhancements to our parental leave provisions."
In Singapore, about 40 per cent of fathers used paternity leave last year. The paternity leave, paid for by the Government, will be capped at S$2,500 a week including Central Provident Fund contributions. If a father earns more than that sum a week, it is up to his employer to top up.
On the move to let working mothers share more of their four-month paid maternity leave with their husbands, Mrs Teo said this is to increase flexibility for couples in caring for their newborn. 
From next July, the Government will also increase adoption leave to 12 weeks, from the current four, for adoptive mothers of infants younger than one year old. There has been an average of 150 eligible cases each year for the past five years, of which about 50 apply for adoption leave. With the change, adoptive fathers will be able to share up to four weeks of their spouse's adoption leave. 
Members of Parliament including Ms Tin Pei Ling (Marine Parade GRC), Mr Leon Perera (Non-Constituency), Mr Alex Yam (Marsiling-Yew Tee GRC) and Mr Darryl David (Ang Mo Kio GRC) spoke during the debate about providing accessible childcare, creating a favourable environment for people to start families and other issues. Ms Tin suggested an online directory of nannies in the community for parents to tap, to supplement infant and childcare centres. Mrs Teo said the NPTD will study the idea with the Ministry of Social and Family Development. 
Singapore welcomed nearly 34,000 citizen babies last year, the highest in over a decade. This boosted the total fertility rate to 1.24.
Providing immigration numbers, Mrs Teo said 20,815 Singapore citizenships and 29,955 new permanent residencies were granted last year. The Government has kept a calibrated pace of immigration to prevent the citizen population from shrinking, and is also keeping in touch with overseas Singaporeans, who number over 210,000. New citizens need to get involved in local life while Singaporeans can reach out to them to strengthen cohesion, she said.