#trending: Uniqlo dubs its Airism oversized T-shirt as 'The SG Uniform', some Redditors disagree
SINGAPORE — Uniqlo Singpore has tapped the ubiquity of its classic Airism oversized tee in the city to cheekily dub it "The SG uniform" in a new ad for its bi-annual Thank You Festival. Singaporeans have since taken to social media to contribute their opinions on what constitutes "the SG uniform".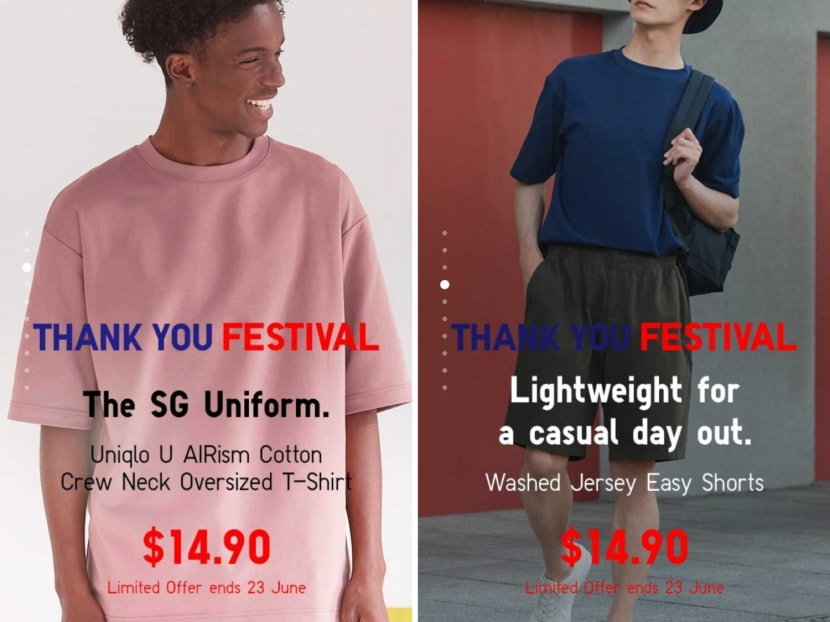 SINGAPORE — Uniqlo Singapore has tapped the ubiquity of its classic Airism oversized tee in the city to cheekily dub it "The SG Uniform" in a new ad for its bi-annual Thank You Festival which runs from June 17 to June 23.
The ad, found in the Uniqlo mobile app, shows a model dressed in the pink version of the Airism Cotton Crew Neck Oversized T-Shirt with the tagline "The SG Uniform". The popular T-shirt is currently on sale for the festival.
On Monday (June 20), Reddit user "fatenumber" posted a screenshot of the ad on r/singapore, sparking discussion amongst Redditors about what constitutes "the OG SG uniform" — a term for "original".
Many comments attested to the truth of the statement. One top comment, receiving over 100 likes, stated: "Whenever I go to Somerset, I see so many people wearing the same thing, sometimes top to bottom. Calling it uniform is very fitting."
Some shared their own shirt counts: "I have about three pieces of this in different colours and my boss has, like, six to seven pieces."
Another commented: "I'm literally wearing this exact shirt right now."
However, there were also those who disagreed. Reddit user "khaosdd" argued that the Uniqlo tee "only applies around (the) central area".
"The OG SG uniform is admin tee (non-dri fit) hands down," he declared, referring to the green Singapore Armed Forces (SAF) admin T-shirt that Singaporean men wear during their compulsory National Service.
"On average I see at least three of my admin tee brothers walking around outside daily."
Others agreed, observing that the Uniqlo oversized tee "comes a close second to SAF admin/unit tees around (the) heartland areas".
In August 2020, meme page Kiasu Memes for Singaporean Teens shared an image of the Uniqlo and SAF logos on Instagram, captioned: "A complete list of brands of clothes that guys in Singapore wear".
The meme image was reposted to Facebook and Reddit as well, prompting a flood of "offended" comments at being called out. It seems that over the past two years, both T-shirts have remained staple items in the average Singaporean man's closet.
As one Facebook user commented, the SAF tee has even been featured in some overseas holiday outfits, seen "even in Australia and the United Kingdom".
In the recent Reddit thread, another user recounted: "I saw a girl wearing (the) admin tee on the bus last week.
"I live in New York City in Queens. Really did a double take."
Despite the memeification of their standard outfit, fans of the Japanese brand have declared that they will "still swear by Uniqlo" as the "comfort, value and quality (it) brings is unrivalled".
One Uniqlo supporter on Reddit wrote: "I have a ton of these shirts... it's not hard to figure out why every Singaporean guy wears them.
"Other brands just feel rough, extremely thin and poorly made. It almost feels like the Uniqlo shirt should be three times as expensive because of its quality.
"Yet somehow they still charge less than the competition."
Another claims that "there are pretty much no other shops" which cater to men in Singapore.
It appears that the sentiments of these fans can be summed up by one ardent commentator on Reddit: "You have to take those T-shirts off my dead body."