Vaccinated travel: Bookings to Germany rise despite high prices, uncertainty; lukewarm interest from overseas, say agents
SINGAPORE — The moment the vaccinated travel lane with Germany was announced on Aug 19, Ms Jasmine Go and her boyfriend booked return tickets to Munich on the same night.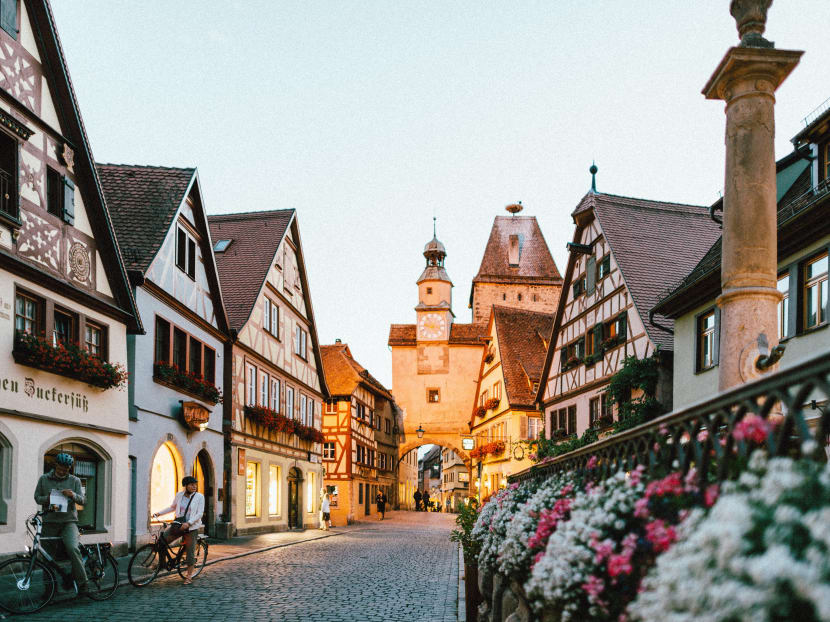 Some travellers have moved quickly to book flights to Germany after a vaccinated travel lane was announced
Tour firms have seen an increase in enquiries and bookings, though tour package prices have increased 
Inbound travel is still relatively quiet, as there are too many uncertainties that travellers may have about changing regulations here
SINGAPORE — The moment the vaccinated travel lane with Germany was announced on Aug 19, Ms Jasmine Go and her boyfriend booked return tickets to Munich on the same night. 
"We thought there might be an increase in demand, so we just booked the tickets first and will plan the trip later," the 23-year-old, who works in a tech firm, said.
Her trip, which will be from Oct 8 to 16, would likely be a road trip, though the details of where she will go or stay are not clear yet. 
The cost of scratching her travel itch was S$2,775 for two Singapore Airlines (SIA) tickets. A check by TODAY on Friday (Aug 27) showed that seats were still available on the same flights, but the prices were marginally higher, at S$2,858. 
In response to queries from TODAY, SIA said that it has seen an increase in plane ticket bookings between Germany and Singapore, but that it is "too early to see if there is any spike in demand".  
Ms Go added that she was apprehensive about making the booking at first, as another rise in Covid-19 cases here may put the travel lane in doubt.
However, she said SIA had assured her that there would be full refunds in the event that the travel lane is suspended or cancelled. 
She also said that the cost of Covid-19 tests — she will have to do three in Singapore and one in Germany — will add up to "a few hundred dollars", but she thought it was worth it. 
"I see it as worth the money, as I have been saving up for this trip for a while."
TOUR PACKAGE PRICES GOING UP 
Travel agencies approached by TODAY said that they have seen a strong interest in trips and tour packages to Germany in the week since the travel lane for fully vaccinated travellers was announced. 
Ms Alicia Seah, director of public relations and communications at Dynasty Travel, said that her firm has seen at least 12 bookings of tours to Germany since the announcement. 
There have been more than 20 enquiries and the firm is working with at least 12 groups to finalise their bookings. She does not know the exact details on the number of people who will be flying off, but said that each group comprises about six to 12 people.
One group plans to leave as early as October, while the rest are looking to fly off between November and December. 
She said that before Covid-19, the booking process would be quicker, as the tour packages were already in place. During this period though, more time is needed to finalise the booking details, due to more considerations such as the extra cost of Covid-19 testing and groups limits at attractions. 
"Previously, our 10-day Germany tour programme was about S$3,500 to S$4,000 depending on season and flight," Ms Seah said. Now, the prices of tour packages to Germany may increase by 30 to 60 per cent, so the same tour may cost S$4,500 to S$6,000 for each person. 
Other than the Covid-19 tests adding to the cost, the limited capacity on flights means that passengers are also paying more for plane tickets. 
FEAR OF BEING INFECTED OVERSEAS
Customer service manager Jackie Quey will be travelling to Munich with her daughter in October. 
"We haven't been travelling for the past two years," the 63-year-old said. "So since we are allowed to travel without any quarantine, why not?" 
She will be spending several days at the resort town of Tegernsee, 50km away from Munich. 
Should there be any postponement, she will likely hold off getting a refund and look to reschedule her flights instead. 
"It depends on how high the case numbers are and whether there are further restrictions on tourists," she said. 
Mr Aaron Wong, founder of travel hacks website Milelion, will be on one of the first vaccinated travel lane flights from Singapore to Munich. 
Mr Wong, 33, said that during the short trip from Sept 5 to 8, he will be creating content on his blog, such as what procedures there will be to enter certain attractions or food-and-beverage establishments. 
A seasoned traveller, Mr Wong has one concern — testing positive for Covid-19 overseas. 
If he is infected in Germany, he has to self-isolate for 14 days, and when he is returning home, Singapore allows inbound travellers only if they had not tested positive for at least 21 days. 
The Immigration and Checkpoints Authority website states that travellers should "only schedule their trip to Singapore 21 days after the first diagnosis and after they have fully recovered from Covid-19".
A pre-departure test is required for flights meant for fully vaccinated travellers, so this will mean an extra 21 days in Germany should a traveller test positive, Mr Wong said. 
"If someone has to report to work, they might have a lot of explaining to do to their boss."
INBOUND TRAVEL STILL QUIET 
Inbound travel agencies and tour operators here told TODAY that there have been hardly any bookings from tourists, even though vaccinated German and Bruneian travellers, and visitors from Hong Kong or Macau with an Air Travel Pass, can enter without serving a stay-home notice. 
Mr Jimmy Sim, manager for tours and meetings, incentives, conferences, and exhibitions at travel agency WTS Travel and Tours, said that he has had no inbound bookings from the countries above in the past week, despite the relaxed measures. 
"Those that come in now are those visiting friends and family, rather than visitors like tourists," he said. "There are certain things that are still up in the air that people are afraid of — what happens if all of a sudden, the borders close and they're stuck?" 
Mr Andrew Phai, operations manager at JQ Travel, said that he has not received any enquiries from travellers, but even if he did, it will be hard to quote tour package prices. 
For instance, he finds it more difficult than before the pandemic to get the rates at certain hotels in Singapore, and he is also unsure about when certain attractions here will resume operations, as well as what group sizes will be permitted. 
"We can't predict what will happen the next moment," he said. "We don't want to make bookings, only to cancel."  
High-end restaurants interviewed by TODAY also said that by and large, they have not received customer bookings from countries that will benefit from the relaxed travel arrangements. 
French restaurant Odette said that it has not received any customer bookings from Brunei, Germany, Hong Kong or Macau. 
Another restaurant Les Amis confirmed that over the past week, of the four regions, it had received reservations only from customers from Hong Kong.