Very strong, coordinated pro-drug agenda out to change Singapore's anti-drug stance: Shanmugam
SINGAPORE — There are "very strong, coordinated efforts internationally as well as within Singapore" to change the country's position and public perception on drugs, Law and Home Affairs Minister K Shanmugam said.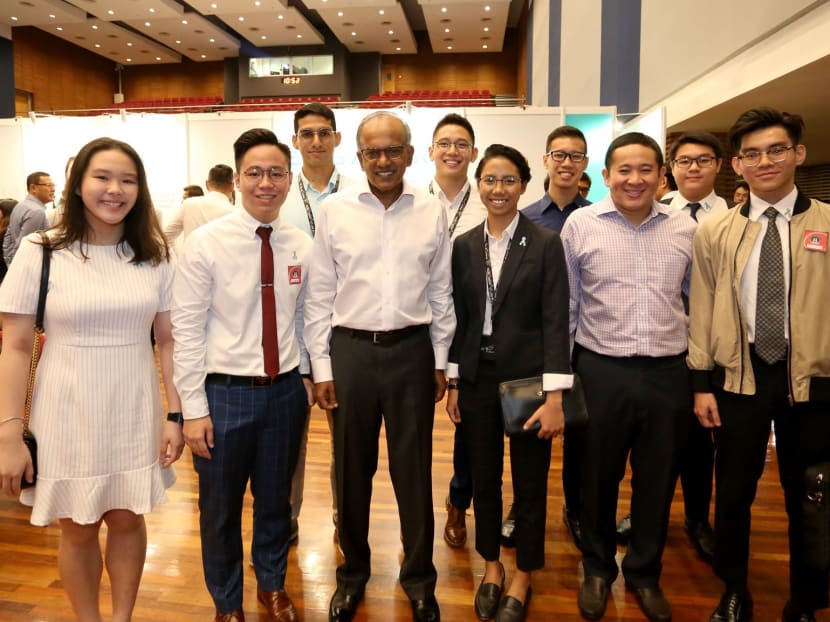 SINGAPORE — There are "very strong, coordinated efforts internationally as well as within Singapore" to change the country's position and public perception on drugs, Law and Home Affairs Minister K Shanmugam said.
He also warned about young Singaporeans' more liberal attitudes towards cannabis, also known as marijuana or weed.
Speaking at a drug enforcement workplan seminar at the Home Team Academy on Friday (May 24), he said that the main challenge is the number of countries that are calling for the legalisation and decriminalisation of drugs and choosing to see cannabis abuse as a health problem.
"Within Singapore, ideologically tuned individuals — a small group — also try to change the minds of our younger people on death penalty and drugs," he added.
As a result, young Singaporeans have become less supportive of the Government's stance against drugs, in particular marijuana.
"If the next generation does not support the same level of enforcement efforts and our laws, the laws will lose their moral value. Once they do, it is only a matter of time before they get changed.
"So, when we see some signs, we need to deal with them," he said.
Several "warning signs and question marks" have already appeared in a drug perception survey conducted by the Ministry of Home Affairs (MHA) last year, which showed that 97 per cent of Singaporeans support the country's drug policies.
But that figure plunges to 87 per cent when referring to marijuana alone, Mr Shanmugam noted.
The survey also showed that 80 per cent of young people want cannabis abuse to remain illegal, but only 57 per cent of youth who frequently obtain drug-related information from overseas mass media feel the same way.
This is why the core mission of the MHA and the Central Narcotics Bureau (CNB) is to reach out to the next generation to raise support for the Government's drug policies, he said.
The CNB, for example, has been ramping up its social media campaigns over the past two years.
On international platforms such as the United Nations Commission on Narcotic Drugs, Singapore is also rallying like-minded countries.
However, Mr Shanmugam said that several countries tried to frame the problem solely as a health and human rights issue. "Which is something that we have never understood. Human rights is 'my individual freedom to consume drugs' — that is how it was put forward. What about the impact on society? If you take that argument, then you would have the human right to do almost anything you like."
USED FOR PRIVATE GAINS
Mr Shanmugam urged Singaporeans to understand the context of why cannabis usage has turned mainstream around the globe, explaining that the legalisation effort was used for private gains.
Referring to a Fortune.com report, Mr Shanmugam noted that last year, some US$10 billion (about S$14 billion) of investments went into the legal cannabis industry.
"In the United States and Canada, cannabis legalisation has meant that big pharma, tobacco and alcohol companies are all chasing the 'new gold rush'. They are going to get big profits," he said.
That money has also made its way to lobbyists seeking to influence policymakers. So, politicians become beholden to the legal cannabis industry and become influenced by the companies that fund them, Mr Shanmugam said.
In these countries, "the media and advertisers have taken many liberties when pushing products as healthy and safe", by putting out misleading and unscientific messages of the medical properties of cannabis, he added.
Raw cannabis is marketed as medical marijuana with wide-ranging healing properties, when the medical benefits of cannabis work only for specific medical conditions and in a pharmaceutical form prescribed by doctors.
"But these are all canards. All untrue. Unfortunately, in the world's political systems and governments, there is no single central authority in these countries to deal with these issues as they arise. Thankfully, we are in a slightly different situation," Mr Shanmugam said.
SOCIAL COSTS
He added that the social costs of marijuana use were also downplayed, noting the higher hospitalisation rates, cannabis-related traffic deaths, property crime and violent crime in countries or states that have legalised cannabis.
A factsheet from MHA distributed to the media showed that the US state of Colorado, which legalised cannabis for recreational use in 2012, had reported an 8.3 per cent increase in property crimes and an 18.6 per cent increase in violent crimes from 2013 to 2016.
"For every US$1 gained in tax revenue from cannabis legalisation, about US$4.50 will be spent mitigating these downstream effects," he said.
"This doesn't even include deaths, traffic accidents, crime. You add all that up, it is much more."
But the mainstream American public does not see it this way, he said.
"In the US, if you are someone, be it a public sector official from a drug enforcement agency, a researcher, a scientist or from a non-governmental organisation, and you say you have misgivings about cannabis legislation, you will be characterised as being alarmist, melodramatic and backward.
"This is even though they are the very ones who are picking up the pieces and dealing with the consequences of the problem."