Visitors can 'add their own creative energy' to this year's Singapore Night Festival
SINGAPORE — This year's Singapore Night Festival will be a more immersive experience as visitors could find themselves hopping onto interactive light installations or pedalling a bike to set off a shower of embers.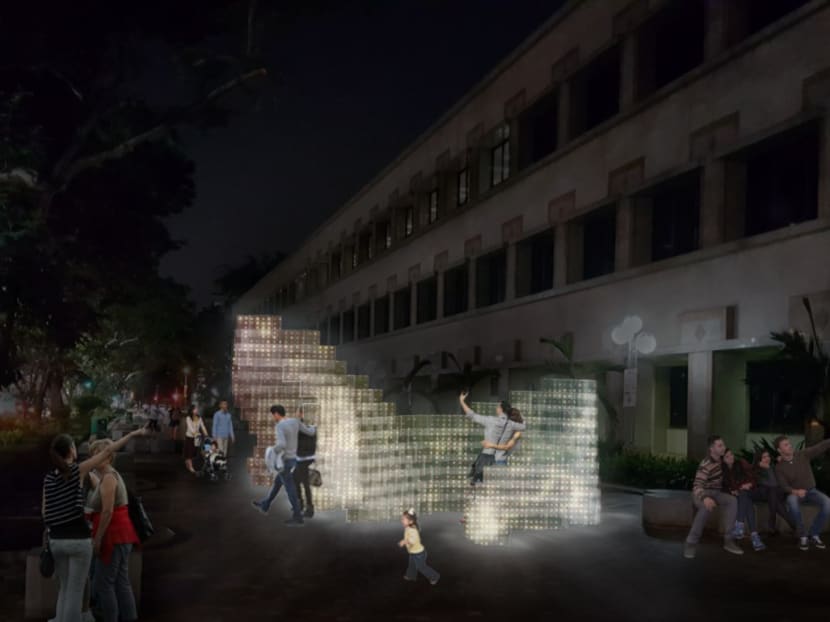 SINGAPORE — This year's Singapore Night Festival will be a more immersive experience as visitors could find themselves hopping onto interactive light installations or pedalling a bike to set off a shower of embers.
They could light up objects on the graffiti walls when they activate motion sensors by walking along the alleyways near Armenian Street, or find themselves bumping into a roving performance led by a ringleader and his inflatable luminous puppet horses.
The annual event, now in its 11th edition, will take place from Aug 17 to 25 at the Bras Basah-Bugis precinct. It is organised by the National Heritage Board, in collaboration with more than 60 partners.
The Night Lights segment will feature 16 light installations put up by a mix of local and international artists. Between Aug 23 and 25, visitors can also watch 27 performances from across different arts disciplines.
Themed "Bring on the night, bring on your creativity", a different format has been adopted for this year's festival to let the performances and acts get closer to visitors, said programme director Jervais Choo. In allowing the performances and acts to get spontaneously closer to festival-goers, the aim is to encourage visitors to "add their own creative energy" to the performances and participate actively in the festival.
"The idea is for unexpected encounters at different corners of the festival grounds, which we have creatively curated for that element of surprise. We invite everyone to explore the numerous interesting spaces around the precinct, participate and interact with the different acts, performers and art installations we have created and planned," said Mr Choo.
For instance, for the installation by Starlight Alchemy at Cathay Green, visitors will be able to pedal a bike that is connected to a 5m installation. The pedalling will send baskets of charcoal up to the grill at the top of the installation, which then creates a downpour of sparkling embers.
"We wanted audience members to be part of the process of making the artwork come to life … Pedalling the bicycle to ignite the ember rain signifies mankind's role in developing groundbreaking ideas and innovation," said Ms Sophia Guan, 30, who is part of the five-member team behind the installation.
Over at another installation at Bras Basah MRT, visitors can turn a wheel to create waves in the water. This will trigger a change in the lighting effects along the light rods installed over a 24m stretch.
Unlike most light installations that are accompanied by music, Max Lab lighting designer Neo Kai Xiang, 31, said the team wanted to create a contrasting experience with a quiet and more subtle installation that visitors can interact with or observe at a distance.
The installation is also a "science experiment", through which Mr Neo hopes visitors can walk away learning about how light can also travel in a wave form.
This year's event, also brought together people from different disciplines and backgrounds — including those outside the arts sectors.
Said festival director Angelita Teo: "As we enter a new decade of (Singapore Night Festival), we wanted to challenge ourselves to expand on the idea of creativity and explore possible synergies."
So organisers reached out to cross-disciplinary influences and practitioners such as artists, designers, engineers and architects, who came together to collaborate on the installations and performances.
"This diverse mix has resulted in some very exciting collaborations this year, and showcases the festival as a platform where people from all walks of life are able to come together to celebrate, experience and contribute to the arts," added Ms Teo.
For instance, the Leap of Faith light installation at the open area in front of The Cathay is by Mr Teng Kai Wei, a 31-year-old Singaporean accountant turned visual artist.
Visitors to will be able to hop around honeycomb-shaped lighting panels, which will light up or display words of encouragement to remind visitors that they can achieve the goals they put their minds to. A static sculpture, shaped like a pair of legs, will also light up as more visitors make the hop between the honeycombs.
Hoping to encourage visitors to keep working towards their goal regardless of the bad or positive situations they face, Mr Teng added: "Just like the bees, the sweet nectar comes after they pollinate diligently every day, regardless of rain or shine."
Another example is the one-of-a-kind performance Exo Skeleton Dance, which integrates art with technology. The collaboration between local jazz dance troupe EV Dance and local engineering firm Hope Technik will see jazz dancers donning and performing with the 'Audra Exoskeleton' — a specially designed suit manufactured by Hope Technik to assist workers in lifting heavy weights.