Water park among sports amenities at Kallang Wave mall
SINGAPORE — A rock-climbing wall. A food court with a bicycle rack. A rooftop water park.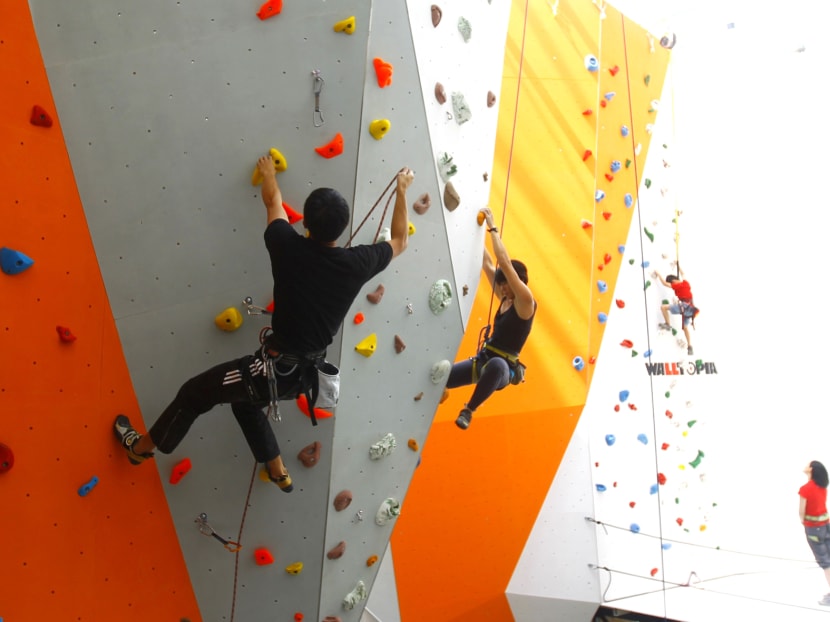 SINGAPORE — A rock-climbing wall. A food court with a bicycle rack. A rooftop water park.
These are among the facilities that the soon-to-be-opened Kallang Wave mall at the Sports Hub hopes will encourage people to make sports part of their daily lives, even when they indulge in retail therapy.
The mall, which takes its name from the famous spectator-generated Kallang Wave at the old National Stadium, is about double the size of Wisma Atria in Orchard.
Giving the media an update on the S$1.3 billion Sports Hub yesterday — which also includes a 55,000-capacity National Stadium — SportsHub Pte Ltd (SHPL) chief operating officer Oon Jin Teik said it was still aiming for the deadlines that had been set.
Earlier this month, in response to reports that the construction of the 35ha hub had been delayed, SHPL chief executive officer Philippe Collin Delavaud said it was on track for a June opening.
Mr Oon said yesterday: "We are going in phases. One venue, one venue, one venue. Each venue, for example, like the mall, they have to work with the tenants ... the tenants got to prepare to bring the content in, the whole supply chain got to come into the picture. So, there is progress."
The mall will open in tandem with various events, such as the Rugby World Club 10s from June 21 to 22, he added.
The mall's food court, managed by Foodfare, will have bicycle racks within the eating venue itself, said Mr Andrew Tan, Foodfare's marketing and communications manager.
The firm is working with the Sports Hub to determine the route cyclists can take to reach the food court, which is slated to open next month or in early July at the latest, he added.
The rock walls — touted as the tallest indoor rock-climbing venue in Singapore — is located on the third storey of the mall.
Their heights range from 12m to 16m and they can take up to 48 climbers at one go, said Ms Michelle Ho, gym manager at Climb Central, which manages the rock walls.
The mall will also have a sports-themed FairPrice Xtra hypermart and international brand names, such as H&M, UNIQLO, Forever 21 and Harvey Norman.
"There will be a good mix of about 50 retail and F&B tenants," said a spokesperson for SMRT Alpha, the mall's management.
"The soft opening is in June. The official opening will be in July or August and we are working with (the) Sports Hub on this."