What do these 5 doctors in Singapore eat? Hint: It's not all healthy food
SINGAPORE — It is their job to give patients good advice in caring for their health and well-being but doctors are human, too, and they give in to temptations now and then.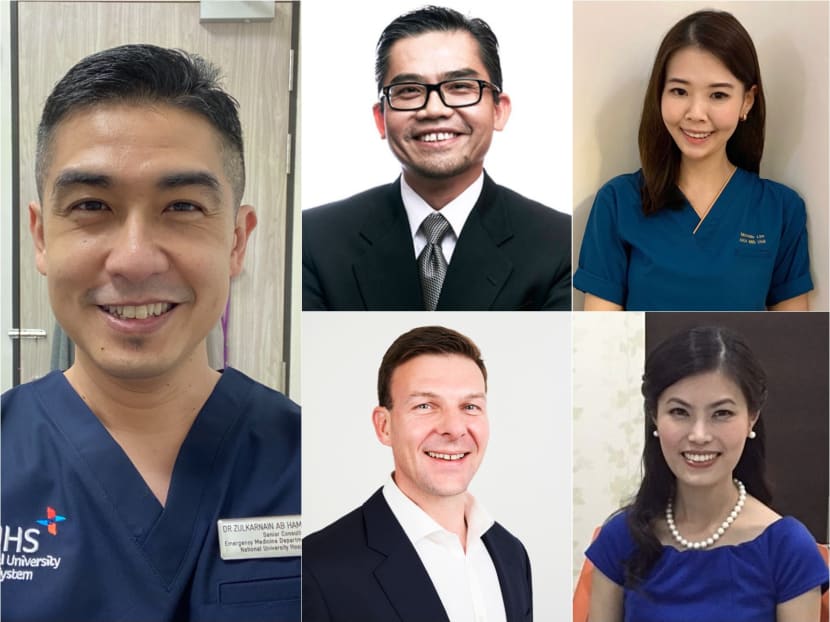 Like many food-loving Singaporeans, doctors love their hawker fare but try to strike a balance by eating right on most days
One doctor loves a satisfying nasi padang meal washed down with some sticky, chewy kueh
A surgeon adores eggs and his favourite hawker food are egg prata and oyster omelettes
The doctors set "rules" for themselves, fast, keep hydrated and practise eating in moderation
SINGAPORE — It is their job to give patients good advice in caring for their health and well-being but doctors are human, too, and they give in to temptations now and then.
TODAY interviewed five doctors and learnt that like many food-loving Singaporeans, they enjoy their unhealthy hawker fare and fast food just as much.
Egg prata, fried carrot cake, a Big Mac as well as calorie-laden cakes and kueh that stick to the teeth are among the guilty indulgences that find their way to their plates.
On most days though, the doctors try to make up for it by eating right.
They gave us a peek into their eating habits and talk about how they find a balance between eating healthy and satisfying their food cravings in between their hectic work schedules.
MAD ABOUT EGGS
As a consultant surgeon specialising in gastrointestinal procedures and treatments for obese patients, Dr Melvin Look has done his fair share of complex surgeries involving the abdominal cavity and gut. 
However, no matter how stomach-churning a procedure is, Dr Look, 56, said that his appetite is never affected by it.
"Pig organ soup for supper after surgery? Bring it on," he said.
He is the director of PanAsia Surgery in Mount Elizabeth Hospital, Mount Elizabeth Novena and Parkway East Hospital.
Dr Look's go-to comfort food is the humble egg. He is not fussy about how it is done. "Done any way, it is still nice."
It comes as no surprise then that his favourite hawker dishes all have eggs in them: Egg prata, carrot cake or oyster omelette.
Occasional indulgences aside, Dr Look is mindful of what goes into his gut on regular days because diet and nutrition play a role in maintaining a healthy gut.
He said: "We now know that besides its digestive function, the gut is also a crucial mediator of immunity, allergy and neurological function.
"Gut health is now believed to be related to medical conditions as diverse as skin eczema, arthritis, fatty liver, obesity and even cognitive decline and dementia. It is also emerging as a target for anti-ageing."
Dr Look is trying to move towards a "flexitarian-style" diet, which emphasises eating mainly plant-based whole foods containing plenty of fibre balanced with some lean protein and healthy fat.
He said that people should cut down on red meat and processed foods but many, himself included, find it hard to eliminate them from their diets. 
In a bid to include more plant-based foods in his diet, he has been working with a homegrown food technology startup to come up with a range of mycoprotein plant-based foods such as fish-less "fish balls" and egg-less "eggs".
The aim is to create functional foods that are minimally processed and infused with superfoods to boost immunity and micro-nutrient absorption.
Dr Look has also been doing intermittent fasting in the past year to reduce his calorie intake and reap other health habits. However, he is not overly strict about it and has a "cheat day" or two every week.
He also ensures that he drinks lots of water, especially before a surgery or clinic sessions. "Even mild dehydration can adversely affect concentration and physical performance," he said.
His tip on maintaining one's weight and improving gut health? Cut out sugar as much as possible, especially high-calorie sweetened drinks and processed foods that can directly harm the gut. Replace those sweet drinks with water or a fermented drink such as kombucha, he said.
MUST HAVE NASI PADANG AND KUEH
Dr Zulkarnain Ab Hamid, a senior consultant at the emergency medicine department of the National University Hospital, went on a radical diet change five years ago when he was parenting young children.
"I realised how unfit I was to even keep up with my small children when we were playing. Imagine this: I was breathless just standing up after tying my shoe laces," the 42-year-old said.
From eating large servings of rice and going for buffets, he now practises intermittent fasting, which is an eating plan that switches between periods of fasting and eating. He started making better food choices and exercising, too.
Dr Zulkarnain takes two meals a day after he fasts for around 18 to 24 hours.
"I will break my fast with something light, such as a salad with nuts and a protein drink. I am very particular about not having large amounts of fats during the first meal because this is the period when your body will soak up everything," he said.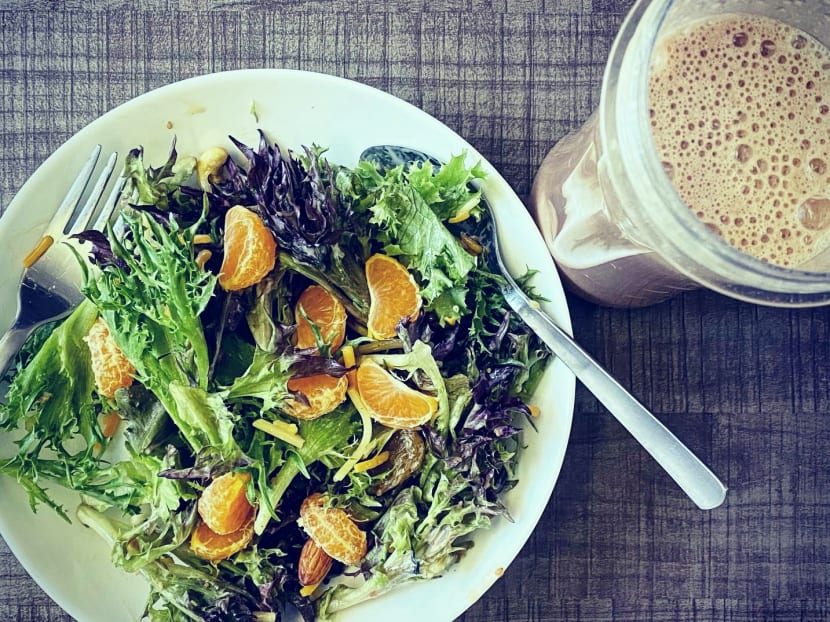 His second meal, two to three hours later, is more substantial — comprising adequate carbohydrates, protein and healthy fats.
"I will usually eat homecooked food for this, courtesy of my loving wife, and this will usually be rice (a quarter plate), a lean protein such as baked chicken or fish (a quarter plate) and vegetables (half plate). I will end this meal with a fruit."
Dr Zulkarnain has drastically reduced his intake of cakes and pastries as they tend to wreak havoc on his self-control. "That was truly a challenge and a big sacrifice for me, but it is a worthwhile sacrifice," he said.
Despite his quest to get healthier, the self-confessed foodie has not given up on all his comfort foods. They include certain savoury Malay cuisines and desserts, such as nasi padang and nasi sambal goreng with the full complement of multiple dishes.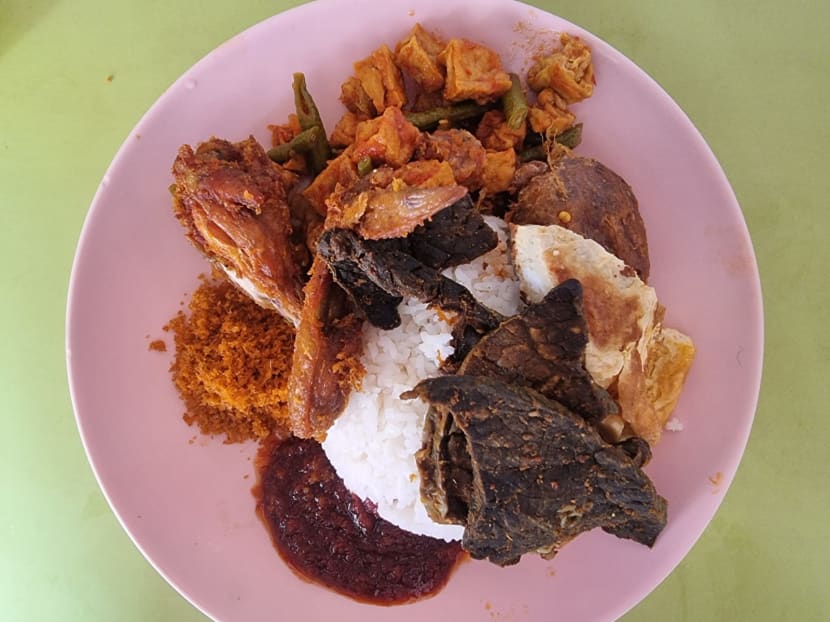 "My favourite hawker food has to be nasi padang (or nasi campur) because I can choose whatever dishes I like and ensure that I have all my food groups in it — yes, including fats, because we need fats and fats make food taste good," Dr Zulkarnain said.
His favourite nasi padang places are Rumah Makan Minang and Hajah Maimunah. He sometimes gets his nasi padang fix from the hawker centre at Bedok Corner but said that he prefers the former two eateries because they offer Malay desserts.
He particularly loves the sweet and sticky desserts putri salat, kueh lopis and kueh dadar.
"My principle is to practise moderation. I don't indulge often but I don't deprive myself either. I will have these treats on a weekly basis, usually on the day of my heaviest workout or when it is a planned 'date' with my wife,' he said.
'LIVES TO EAT' ON WEEKENDS
Breakfast is said to be the most important meal of the day but Dr Michelle Lim Hui Ping from KK Women's and Children's Hospital (KKH) revealed that her first proper meal of the day is usually lunch.
The busy 36-year-old starts the day with a cup of strong coffee, which is sufficient to perk her up for the work day ahead.
Dr Lim is a consultant at the minimally invasive surgery unit, a division of obstetrics and gynaecology at KKH.
"On weekdays, my schedule can be quite hectic, so convenience is key. I would say I'm not that fussy and eat anything that is available," she said.
This may mean grabbing a bowl of instant cup noodles from the hospital's convenience store in between her morning and afternoon clinic sessions.
On days when she has to perform surgeries, lunch is taken with the team at the unit where she works. She also packs a couple of power snack bars to munch on in between patient cases.
"Very often, if we have a full (schedule) of surgeries, there may not be time for lunch, so we are grateful for the economical rice catered by the hospital," she said.
"It's great that they've tried to make our meals more balanced and nutritious. Recently, they've swopped white rice for brown rice, and there's always a generous serving of fruit."
On weekdays, dinner is kept simple as well. Dr Lim and her fiance are often too tired after work for fancy meals so they either eat at home or get takeaways from a nearby coffee shop.
On weekends, however, mealtimes take on a different tone. "I wind down and become a foodie," she said.
Dr Lim loves seafood and soup-based dishes. Although she tries to reduce the amount of carbohydrates she takes, she has a soft spot for pasta and most types of noodles.
Her favourite hawker food is prawn noodles and she likes the ones from the Prawn Noodle House along East Coast Road, which is well-known among residents living in the east.
She loves the "umami taste" of the prawn broth and is selective about the noodle combination when she orders the dish. For a belly-happy meal, she will also order the stall's speciality ngor hiang (minced meat rolls) to complement her prawn noodles.
"It must be bee hoon (rice vermicelli) with yellow noodles. Somehow this combination tastes the best," she said.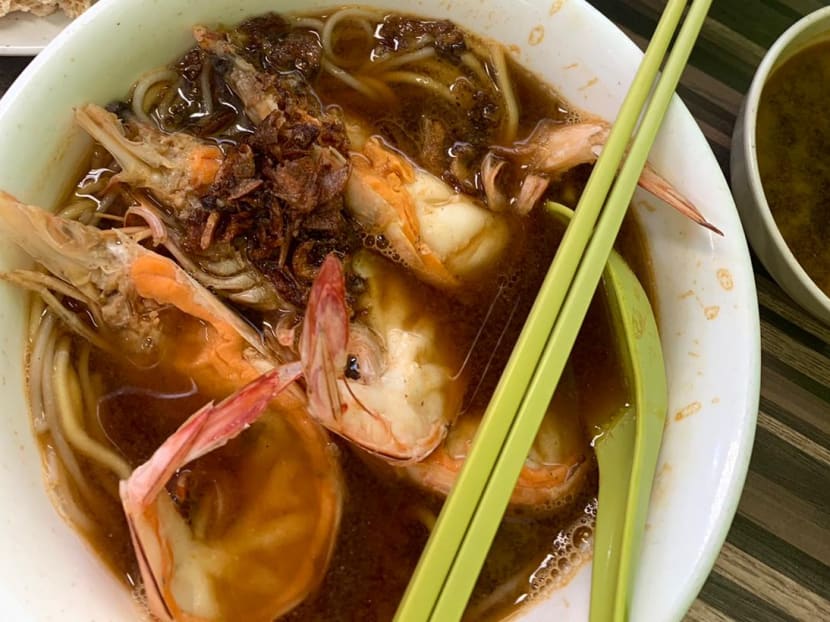 Another comfort food is pao fan, which is a dish of poached rice served in a seafood bisque or broth with a sprinkle of crispy fried rice.
"I have tried so many versions of it and have not had any that is disappointing. The aroma of the sprinkled rice crispies over a piping hot claypot of pao fan is unbeatable."
RARE ARTERY-CLOGGING TREATS
Most of the time, heart doctor Michael MacDonald, 44, sticks to the heart-friendly diet advice he gives patients.
He eats a Mediterranean-style diet that has consistently shown to reduce the risk of heart attacks. This involves eating lots of fresh vegetables, some lean meat and fish. He avoids processed food as much as possible and limits his intake of bread, pasta and rice.
Dr MacDonald is a senior consultant cardiologist at The Harley Street Heart and Vascular Centre in Gleneagles Hospital.
"Clearly, it is difficult to do this all the time so I set myself an 80 per cent rule and try to make the correct food choices as often as I can," he said.
He loves chocolate and consumes around 100g of dark chocolate weekly, which has been shown to be heart-healthy.
But even the most committed of heart doctors have their food kryptonite; and Dr MacDonald's choices of rare indulgences are decidedly artery-clogging.
"I am a big fan of laksa as a treat. I used to go to Katong Laksa along East Coast. I am also partial to a Big Mac at McDonald's. Once a month at most, though," he confessed.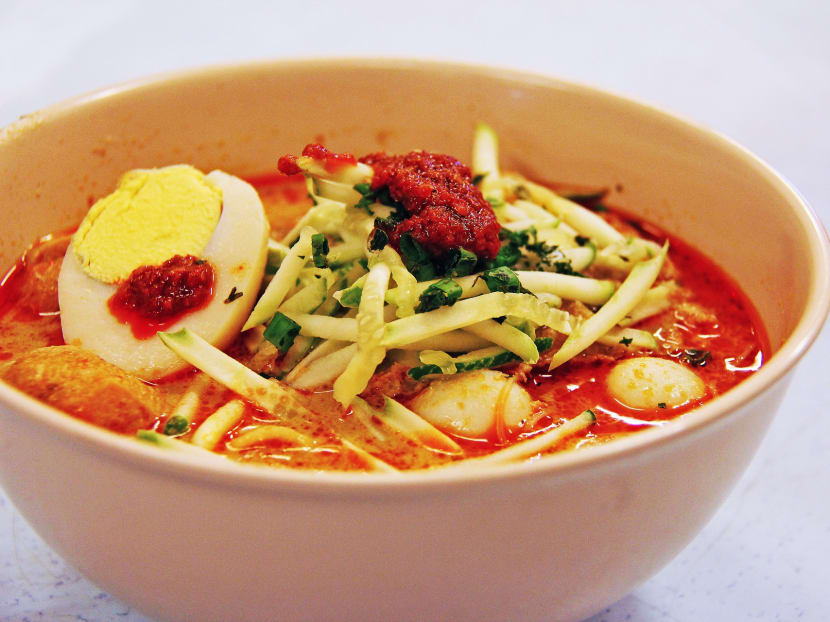 WEAKNESS FOR LAVA CAKES AND PRAWN NOODLES
Between juggling her duties as a mother and clinic sessions at Children and Adult Skin Hair Laser Clinic in Mount Elizabeth Novena Hospital, dermatologist Lynn Chiam does not have time to snack or follow food fads.
Instead, the 44-year-old sticks to three square meals a day at fixed timings, starting with a quick breakfast of bread with some ham, cereal or homecooked noodles. A glass of milk and fresh juice with her daily dose of vitamin supplements complete this first meal of the day.
When asked how she maintains good skin and hair through diet, Dr Chiam said that there is no specific food. She opts for a well-balanced diet complete with vegetables and fruit. 
Lunch is either taken in the doctor's lounge in the hospital, when she is short on time, or at eateries nearby.
Dinner time is reserved for the family. "A typical dinner includes rice with an assortment of fish, meat and vegetable dishes. We take more meat dishes as the kids prefer to eat meat. Fruits are a must after dinner."
Dr Chiam's favourite hawker dishes are prawn noodles and Hokkien mee.
"I like eating prawns and the broth that it is cooked in is just heavenly. I usually order prawn noodles whenever I am at Adam Road Hawker Centre.
"The Hokkien mee stall at Whampoa Market is another favourite food haunt of mine. There is usually a long queue but it is worth the wait. The chilli provided makes it perfect."
Once a week, Dr Chiam, who has a sweet tooth, eats ice cream with her children. "Dessert is also a must after a meal in a nice restaurant. I have a weakness for lava cakes," she said.