Where the Jobs Are: From make-up to hairstyling, youth in beauty services find reward in making clients look their best
SINGAPORE — The way make-up is used to achieve special effects in movies has always fascinated 30-year-old film buff Andrea Joan Dominique Lee.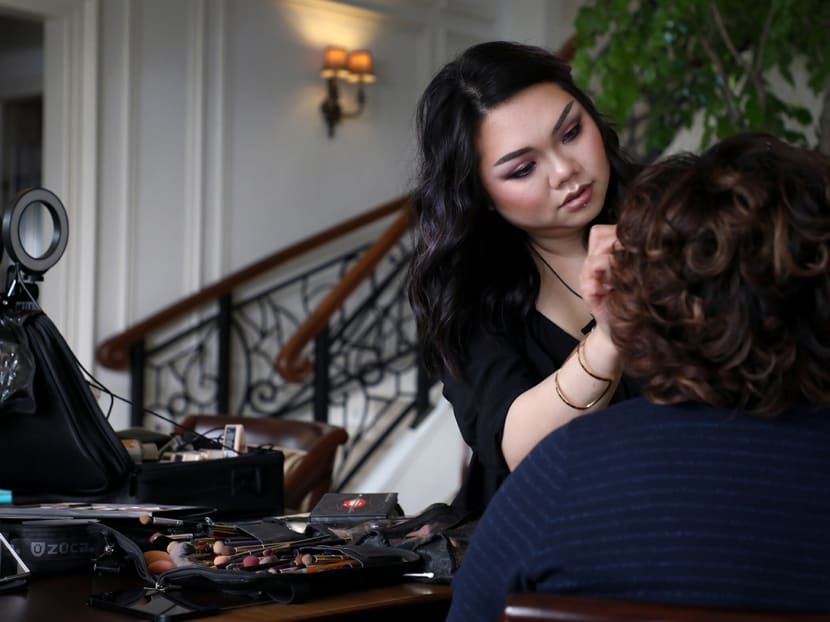 As fresh graduates and other young Singaporeans face a challenging job market amid the economic downturn, TODAY is running an eight-part weekly Where the Jobs Are series, shining a spotlight on sectors that may be overlooked but are offering interesting opportunities.
In the seventh instalment, we focus on the beauty services industry, which is looking to recruit more young Singaporeans into professions that aim to make customers feel good about themselves. 
The working hours and misperceptions about the beauty services industry have made recruiting young Singaporeans a challenge
But employers said it can be financially rewarding for those who stay the course
Some young Singaporeans in the sector find reward in the reactions of satisfied clients
SINGAPORE — The way make-up is used to achieve special effects in movies has always fascinated 30-year-old film buff Andrea Joan Dominique Lee. 
She marvels at how a regular person can be made to look extraordinary by a skilled make-up artist using the right tools.
Inspired by the 2000 superhero movie X-Men, the former visual communications student from Temasek Polytechnic recalled her first attempt involved transforming herself into one of the movie's characters, the supervillain Mystique, for a Halloween event when she was 20.
The verdict? Her friends loved it, and she received requests to collaborate with budding photographers as their make-up artist, even though she did not consider herself to have the credentials at that time. 
"I told myself: 'Let's just do this and see how it goes'," said Ms Lee, who has now spent nearly a decade in the beauty services industry, after a short stint as a graphic designer. 
"I transferred my drawing skills to my face-painting skills," she said.
Although many YouTube make-up tutorials can be found online, Ms Lee said she decided to take up a short but advanced course at the Make-up Forever Academy in 2014.
During the course, a trainer from Universal Studios Singapore taught her class special effects techniques. That helped her secure a gig doing make-up for the theme park's Halloween Horror Nights event that year and again in 2016.
More recently, she has been engaged by marketing company Titan Digital Media and content creator Wah!Banana to provide special effects make-up for two advertisements. 
Since 2016, she has been employed as a full-time make-up artist at the JasonSally Hairdressers at Our Tampines Hub. She doubles up as a nail technician there. 
Ms Lee earns a basic monthly wage of S$1,900 and is paid a commission for each client she serves — typically women preparing to attend weddings or other formal functions. 
She also has the freedom to do freelance work, where she gets to take on more creative assignments, such as an underwater photoshoot that required her to think of how to apply make-up that would not look washed out on camera.
Ms Lee said her overall monthly income, including freelance work, varies a lot, so she could not provide a typical monthly figure.
She charges about S$180 for a basic hair and make-up package, and before the Covid-19 pandemic started, she received a few freelance assignments a week. These have since become less frequent.  
Ms Lee enjoys the way her job presents her with a variety of creative challenges, but what she finds most satisfying is the reaction of happy clients, particularly those who are not used to wearing make-up.
"When they first see themselves in the mirror after I put on the make-up for them, they go: 'Oh my God, I can't believe that is me'," she said. 
"You see them gain a boost in confidence and that, to me, is the most rewarding part... being able to transform someone into a better version of themselves with just a brush."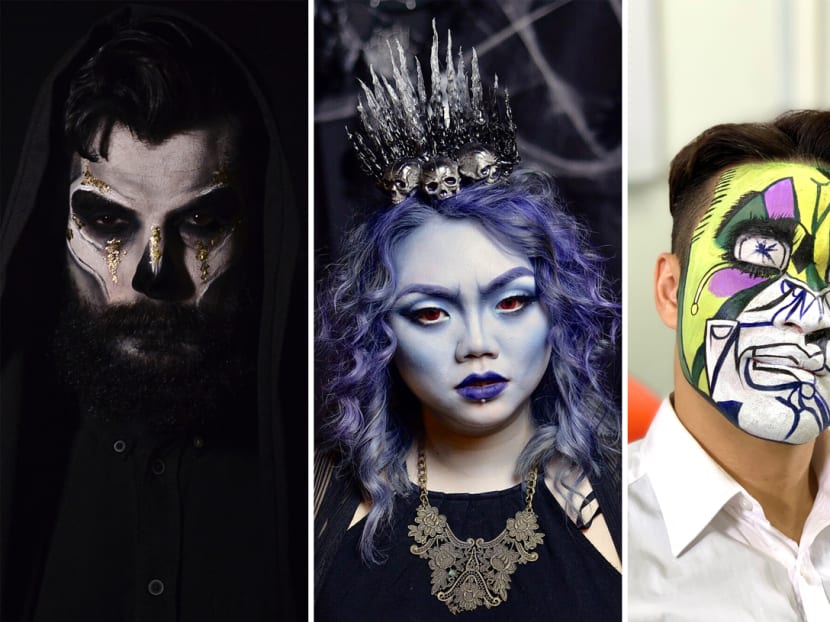 SURGE IN VACANCIES
Ms Lee is among a pool of young Singaporeans who have established a foothold in the beauty services industry, which some employers said can be financially rewarding if employees are determined to stay the course.
The industry generates about S$2 billion in operating receipts, TODAY reported last year.
The Beauty Services Alliance (BSA) — a grouping of five trade associations from the sector — said that about 100,000 employees work in more than 18,000 businesses that fall under the following sub-sectors: 
Spa and wellness

Beauty aesthetics

Make-up

Hair

Nails
About 40 per cent of these workers are Singaporeans, said a BSA spokesperson, with most of the remaining positions taken up by Malaysians and, to a lesser degree, by staff from China, Vietnam, Japan and South Korea. 
The spokesperson added that while the alliance does not keep track of the figures, it has noted a "significant increase" in Singaporeans in the sector who have turned to freelancing. 
The possible reasons for this include lower costs of operations and the flexibility to determine their own working hours.
The pandemic has led to a surge in job vacancies within the sector, as a number of foreign employees have not been able to return to Singapore, the spokesperson added.
Based on TODAY's checks on the government job portal MyCareersFuture.sg, at least 520 positions in the sector were being offered as of last Friday.
The BSA previously said that it aimed to create up to 3,000 jobs by 2025.
Last year, the alliance launched its first competency framework, which includes sector information, such as key statistics and emerging trends that may be used by training providers to design courses and certifications in line with industry needs.
It also provides career maps for beauty professionals and guides employers in making decisions on recruitment as well as skills development and talent management for employees.
Still, some employers said the working hours and the way the industry as a whole is wrongly portrayed have made it challenging to recruit young Singaporeans.
JasonSally's manager Rachelle Foo said the job demands could mean that it is hard to have a social life.
"Our peak period is usually when it's someone's rest day, so it's very hard to have work-life balance," said the 34-year-old. 
For instance, her salon generally gets busier in the evenings after her customers knock off work, or over the weekends. These are periods when most workers want to spend time with friends or loved ones, said Ms Foo.
"It affects your personal life, and I think that's what young people look for. They still want their own life, and I think they prioritise that over a stable job."
For Mr Tham Kong Yeow, founder of hair salon Roots - Where Hair Begins, in Serangoon, another hurdle to overcome is the perceived lack of respect for the industry. 
The 46-year-old said older Singaporeans tended to discourage their children from joining the industry even if they were hairdressers themselves like his mother was, although she did not try to talk him out of his chosen career.
"They were not proud of their work. They often said: 'Why would I want my children to work so hard?' 
"If you keep telling your kids not to be a hairdresser, what will the thoughts of the next generation be like?"  
He questions this sentiment: "You are servicing part of someone's life. You're not just cutting hair; you're helping them gain their confidence and to look their best. What's not to be proud of?"
On the perception that it is a job for the less educated, Mr Tham said education does not necessarily lead to wealth.
"If you understand your work well, and you build up your skills and clientele, you can have a very stable and regulated life," he said.
The monthly pay of a hairstylist comprises a basic wage and a commission, and how much one can take home depends on an individual's seniority and pool of customers. 
Mr Tham and Ms Foo said this could range from S$1,900 to as much as S$10,000 for sought-after hairstylists. 
STARTING FROM SCRATCH
To get started, they said it is possible to pick up the trade by enrolling in a hair fashion and design course at the Institute of Technical Education or at a commercial training centre.
Another viable option, said some employers, is to build a career from the ground up, as Mr Tham's 21-year-old daughter did.
Ms Chloe Tham opted to work as an assistant hairstylist at her father's salon right after completing her O Level examinations four years ago, rather than continuing her education at a polytechnic as she was unsure what she wanted to study.
It is a supporting role that sees her carrying out basic tasks such as keeping the salon clean, as well as washing, blow-drying or colouring her customers' hair. 
Ms Tham said she would progress to haircutting soon.
The monthly pay of between S$1,500 and S$1,900 may seem low, but Mr Tham said that the role should be seen as an opportunity to get paid to learn how to cut and style someone's hair from a senior hairstylist as well as running a salon.
Advising patience, he said anyone starting from scratch should give themselves five or six years to learn and, by then, they can expect to be a professional hairstylist.
'LIVING ADVERTISEMENTS'
Massage therapist Joseph Toh said that another important trait in the service sector is being able to build rapport with clients.
"When you earn their trust, then you can sustain the business when they become your living advertisements through word of mouth," said the 29-year-old founder of JD Studio Foot Reflexology and Body Massage in Serangoon. 
Inspired by his grandmother who offered tuina massages — a type of traditional Chinese medicine — and treatments for skin allergies, Mr Toh started his business when he was 23 with savings from part-time jobs, National Service and a few years in advertising.
"Her customers' gratitude after their healing left a deep impression on me. I realised that she was not merely doing it for a living; it was her way of helping people relieve pains," he recalled.
Though Mr Toh's grandmother imparted her knowledge to him while he was growing up, he also took it upon himself to deepen his knowledge later on by attending a related course at Spatec Academy and even seeking out training in Thailand. 
Mr Toh operates alone and provides a variety of services that include deep tissue massage, traditional Thai massage, foot reflexology and lymphatic therapy. He also provides treatments, such as facials, waxing, ear candling and foot spas.
Starting out, however, was not easy as he was left with only a meagre amount in his bank account after setting up his business. 
Yet what kept him going was seeing the smiles of customers after receiving treatments from him, and knowing that he brought relief to his customers with his therapies.  
Six years later, he said he is living comfortably, though he declined to reveal his monthly income. 
"The sense of being able to succeed is perhaps the most memorable event of my life, as every bit of the success is built from my personal efforts and there were no shortcuts," he said.
One lesson he learnt along the way is the importance of being "very clear whether this is something you want to invest time in".
"Passion for this work is important, but determination and perseverance are more important where the rubber hits the road."