Why reporting every security incident matters
The security incidents that temporarily shut down two MRT stations this month were, thankfully, false alarms.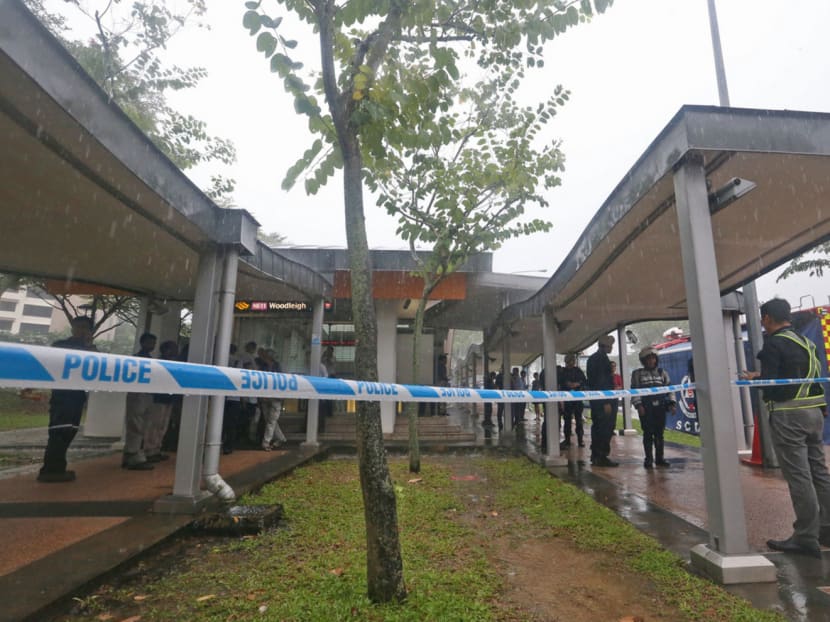 The security incidents that temporarily shut down two MRT stations this month were, thankfully, false alarms.
In the first instance, a man left a bag at the Hougang MRT Station while he ran some errands. A security response team was mobilised as a result since the bag was unattended and its contents unknown.
In a subsequent incident, a representative of a local running club used flour to mark a running trail within the Woodleigh MRT Station. Again, a response team was activated as the substance was unknown and its placement suspicious.
Both incidents stemmed from actions of individuals who might or might not have realised the consequences, and they clearly caused much inconvenience as well as — some say — wasted time and resources.
An overlooked point that bears emphasis is the quick reactions of the staff at both MRT stations in reporting what they perceived to be a suspicious item (the unattended bag) and activity (the scattering of flour around the station).
Such reactions are extremely helpful when dealing with terror threats. After all, terrorist attacks on trains and train stations are not unheard of. Madrid (2004), London (2005), Mumbai (2008) and more recently St Petersburg (2017) come to mind. Moreover, as a member of the international coalition fighting the Islamic State (IS), Singapore remains very much an iconic target.
Nevertheless, there have been arguments online suggesting that the supposedly overzealous reporting and emergency responses to the recent MRT incidents may actually cause more harm than good. Two complaints are discernible.
First, mischief-makers may be emboldened to create such "false alarms" simply for their amusement.
In the era of fake news, moreover, one does not require an unattended bag at an MRT station to create mischief, a doctored photo will suffice. The viral photo of the alleged collapse of the Punggol Waterway Terraces in November 2016, for example, resulted in the wasted deployment of Singapore Civil Defence Force (SCDF) resources to investigate.
Second, on a more sinister note, adversaries could create such false alarms to stretch the emergency response forces thin and exhaust them. Thus, it is not necessary to report or respond to everything.
Each of these complaints is flawed.
First, the Government is not standing still.
There are laws in place to deal with potential mischief-makers and laws are being reviewed to counter purveyors of fake news which cause the misapplication of public resources.
Second, the experience gained in reporting and responding to such false alarms may help stakeholders and security agencies better calibrate the reporting and deployment of resources in similar incidents in the future.
KEY ROLES OF GROUND STAFF
In 2010, the Ministry of Home Affairs conducted Exercise "Times Square" — also known as the smoking car exercise — to determine if and how many people would report the "incident" to the authorities.
Cars emanating smoke were parked at nine locations around the island (Shenton Way, Orchard Road, HarbourFront, Boat Quay and Marina Bay).
Out of the 7,200 people who passed the vehicles, only 260 took notice of them, and a mere 52 contacted the authorities. These results are often cited as an indicator of public apathy and to a certain extent, complacency.
A psychological phenomenon known as the bystander effect helps explain such reactions. Essentially, the theory suggests that when there are other people around, individuals are less likely to help a person in distress, or in this case report an incident, because they assume someone else will do it.
Sometimes the fear of getting into trouble or getting the person into trouble contributes to their aversion to report.
Given the nature of the terror threat today, where attacks are unexpected and do not necessarily involve explosive devices, this aversion to reporting will not do.
This is especially the case when that person happens to work at a building that could be a high value target (e.g., a shopping centre or train station).
Every building has a security blind spot that only those familiar with the building and its surroundings know about.
Cleaners, landscapers, doormen, deliverymen are therefore in a prime position to help detect suspicious people or activities.
In both instances, the staff working at the MRT stations were quick to react and notified their superiors when they noticed the unattended bag and flour.
It may well be that they were trained to report suspicious activities. However, they could just have easily ignored what they saw and gone about their business.
If they had done so in the face of an actual threat, the consequences could have been most dire.
It is therefore necessary to encourage reporting of suspicious activities/individuals by ground staff.
Staff should be commended rather than criticised for reporting, even if the incident proves to be a false alarm.
Hence Member of Parliament Melvin Yong was correct in taking to Facebook to commend staff at both MRT stations who reported the incidents.
Such validation is necessary, so that over time, reporting of suspicious activity becomes second nature, and is not perceived as an inconvenient add-on to existing duties.
Moving forward, a good way to improve reporting processes of ground staff and reduce reporting errors, is to introduce and/or extend tell-tale indicator training.
An existing programme called the Threat-Oriented Passenger Screening Integrated System (Topsis) — which mobilises cleaners, cashiers, retail staff and counter staff at Changi Airport and other checkpoints to look out for suspicious individuals — can, for example, be extended to other sectors such as shopping centres, office buildings and education institutions, if it is not already being done.
This is envisaged to improve overall community vigilance and mitigate the risks of security blind spots. In the post-9/11 era, the complexity of modern national security threats requires a Whole-of-Nation approach to address.
ABOUT THE AUTHOR:
Damien D Cheong is research fellow at the Centre of Excellence for National Security (CENS) and coordinator of the Homeland Defence Programme at the S Rajaratnam School of International Studies (RSIS), Nanyang Technological University. Kumar Ramakrishna is associate professor, head of Policy Studies and coordinator of the National Security Studies Programme in the Office of the executive deputy chairman at RSIS.