Will new theory test for e-scooter riders apply to tourists? MPs raise questions about new PMD laws
SINGAPORE — Parliament on Tuesday (Feb 4) passed into law a ban on all motorised mobility devices from footpaths and a host of steps to improve safety on Singapore's paths, including a minimum age for electric scooter users.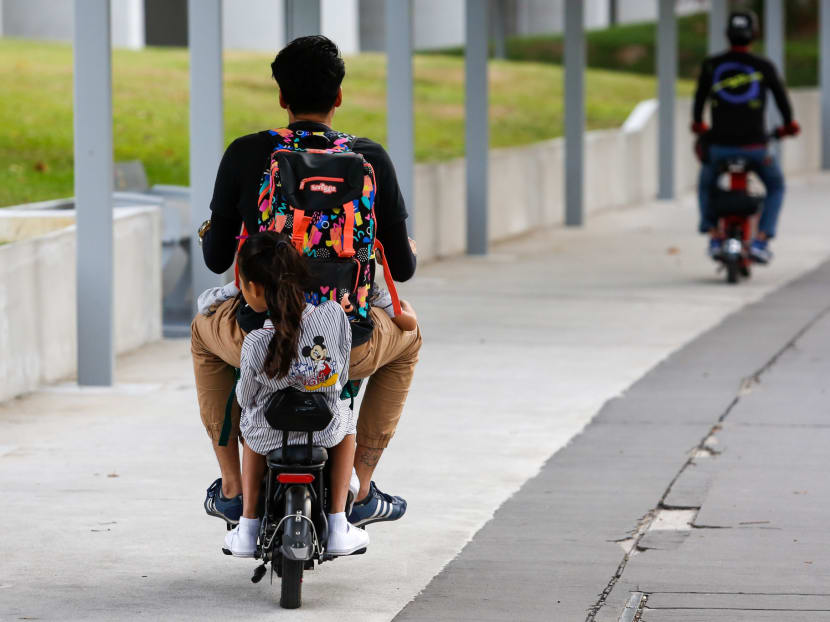 SINGAPORE — Parliament on Tuesday (Feb 4) passed into law a ban on all motorised mobility devices from footpaths and a host of steps to improve safety on Singapore's paths, including a minimum age for electric-scooter users.
But this was not before 11 Members of Parliament (MPs) spent one-and-a-half hours raising questions on the changes to the Active Mobility Act and on the Shared Mobility Enterprises (Control and Licensing) Bill, which enacts new rules for operators of shared mobility devices.
The MPs' questions were wide-ranging. Some wanted to know if a mandatory online theory test for riders of e-scooters and electric bicycles — set to be rolled out in the first half of next year — will apply to tourists. Others were concerned that setting a minimum age of 16 to ride an e-scooter will subject young offenders to unduly harsh punishment.
Here are edited excerpts of some of the MPs' questions as well as answers from Dr Janil Puthucheary, Senior Minister of State for Transport.
WILL THE RULES APPLY TO TOURISTS?
Dr Lee Bee Wah, MP for Nee Soon Group Representation Constituency (GRC): How would these regulations apply to rentals of personal mobility devices (PMDs) and electric bicycles? I suppose customers are required to produce their test certificate before they can hire a PMD.  But what about tourists and other foreign visitors who would not have taken the test?
Dr Puthucheary: Operators, as part of their licensing process, will be required to demonstrate that they have processes in place to ensure that the users that they hire out the vehicles to, for example, have the appropriate test certificate. And these users will include tourists. The operational details of how these tests will be administered to people who have devices, new device owners and tourists will need to be worked out… We intend for this to cover all riders.
WHY SET MINIMUM AGE AT 16?
Ms Anthea Ong, Nominated MP: I would like to ask the minister if he still intends to prescribe the minimum riding age as 16. I am deeply disturbed by this. It was only in October last year that the amended Children and Young Persons Act (CYPA) defined a "young person" as below 18 years of age, to better protect our children and to be consistent with the UN Convention on the Rights of the Child. Under Section 37 of the CYPA, there are clear restrictions on the punishment of children and young persons, and it clearly states that they should not be ordered to be imprisoned for any offence. Could the minister please explain why we are passing new laws that go against existing laws, possibly constituting legislative conflict?
Dr Puthucheary: These penalties (in the new laws) only provide the limit of the possible sentence. The courts retain the discretion to consider the circumstances of the case, including the age of the individual and the laws on sentencing of young offenders found in the CYPA in deciding the actual punishment to mete out.
HOW WILL THE GOVERNMENT TRAIN ENFORCERS?
Mr Darryl David, MP for Ang Mo Kio GRC: How does the Government intend to equip our enforcement officers with the right training to handle errant riders without compromising their own safety? I am sure many of us are familiar with a video of an enforcement officer kicking a speeding PMD rider off his device when the rider refused to stop.
Dr Puthucheary: We will continue to train and equip them to handle different scenarios through more robust rules of engagement and better training. These include strategies to tackle cases such as evasive riders. I am sure that members of the House would appreciate that I am not going to go through the specifics of our enforcement strategies and tactics… but they do include further use of technology, including mobile closed-circuit television cameras.
IMPACT ON DELIVERY RIDERS
Associate Professor Walter Theseira, Nominated MP: We knew that the footpath ban would affect 7,000 food delivery riders who relied on PMDs. But did we understand that many riders had no alternative jobs or means of transport, and were almost completely reliant on using PMDs on footpaths to earn a living? The scale of our misunderstanding was laid bare when hundreds of delivery riders turned up at MPs' Meet-the-People sessions to petition against the policy.
Dr Puthucheary: We were mindful of the impact that the move might have on electric scooter users, especially for those who had come to rely on it for their livelihoods. That was why we had provided a two-month advisory period. It was not an overnight ban... We worked closely with food delivery companies, the labour movement and other partners to support food delivery riders in the transition. This strong tripartite collaboration (between the Government, employers and unions) enabled us to launch a transition assistance package, a comprehensive approach to help these food delivery riders. We were able to do so four days after announcing the ban.
EXEMPTION FROM FOOTPATH BAN FOR SOME USERS?
Mr Darryl David: I have come across several residents who face mobility challenges, but they are not yet at a stage where they might require a motorised wheelchair specifically. Would the authorities consider allowing such residents to use PMDs on footpaths, if they can get themselves medically certified that they need PMDs to assist in their mobility?
Dr Puthucheary: Personal mobility aids (which will not be banned from footpaths) do not only include motorised wheelchairs. There are other types of devices, such as mobility scooters. If there are individuals with walking difficulties, there are other devices that, perhaps, for want of a better word, are not so "medicalised" as a motorised wheelchair, but may be more suitable for someone who, perhaps, is in not such a serious condition and it may be more appropriate for them to use such a device.