Woman, 64, pleads guilty to joining daughter in fatal abuse and starving of Myanmar maid Piang Ngaih Don
SINGAPORE — The mother of a woman, who was sentenced to 30 years' jail last year for the horrific abuse of their domestic worker that led to her death, pleaded guilty on Monday (Nov 21) to multiple charges related to the same case.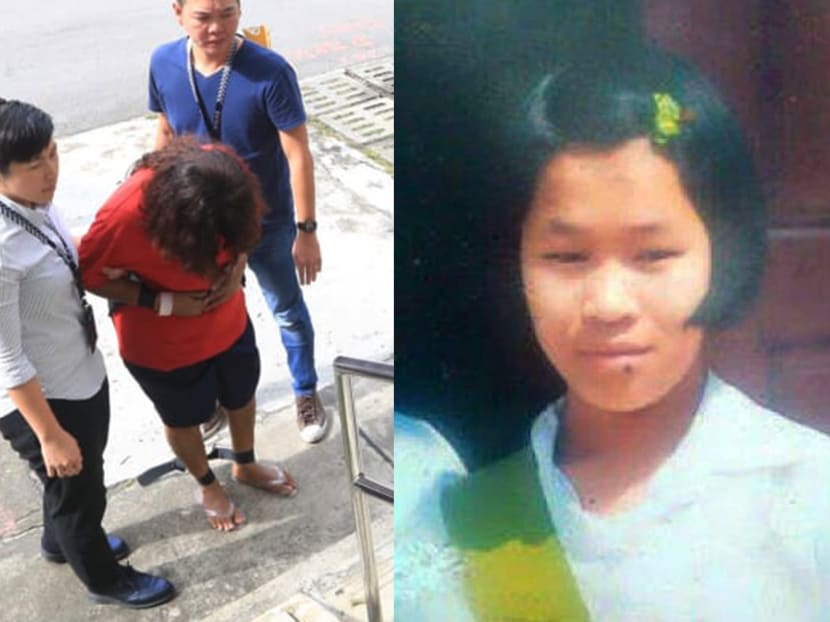 Prema S Naraynasamy, 64, pled guilty to multiple charges related to the fatal abuse of domestic worker Piang Ngaih Don
She will be sentenced on a later date
Prema and her daughter had physically abused Piang, including hitting her, tying her to a window grille and limiting her food intake
Piang weighed just 24kg when she died
SINGAPORE — The mother of a woman, who was sentenced to 30 years' jail last year for the horrific abuse of a domestic worker that led to her death, pleaded guilty on Monday (Nov 21) to multiple charges related to the same case.
From around May 2016, 64-year-old Prema S Naraynasamy joined her daughter Gaiyathiri Murugayan in abusing Myanmarese Piang Ngaih Don, ultimately killing the 24-year-old, the court heard.
Among other things, the duo assaulted the worker, limited her sleep to just five hours a night, and deprived her of food, drawing public outrage when their deeds first came to light.
Prema will be sentenced on Jan 9 for the 48 charges of voluntarily causing hurt. She is also now contesting one separate charge for causing the disappearance of evidence, though no specific details were mentioned in court about what she had done.
WHAT HAPPENED
On Monday, Deputy Public Prosecutor (DPP) Stephanie Koh told the court that Prema would sleep in the same room as Piang Ngaih Don whenever she stayed over at her daughter's place, knowing that the worker was tied to the window grill.
In the months leading to her death, the worker was forced to wear multiple layers of face masks as part of a set of strict rules she had to follow, because Prema and Gaiyathiri perceived her to have poor hygiene. They also thought of her as a slow worker who ate too much.
DPP Koh added that Piang Ngaih Don was not given any privacy, and had to shower and relieve herself while either Prema or Gaiyathiri watched.
Closed-circuit television video (CCTV) installed in the house recorded 35 days of footage, with Prema seen on most days. Her acts of abuse were recorded; some of which were shown to the court without audio.
In one recording, Prema can be seen punching the worker, before using a pole used to dry clothes to hit Piang Ngaih Don multiple times on the head and neck at a window near their kitchen. The worker then continues to hang the clothes on the pole, before Prema picks up the clothing rack to hit her multiple times again.
In another recording, Prema throws Piang Ngaih Don on the kitchen floor, before handing her a plate of food. As the worker eats with her hands while seated on the floor, Prema slaps her twice. A man was also seen grabbing the worker by her hair and lifting her off the floor. 
As footage was shown, Prema, who was present in court, would occasionally glance at the screen expressionless, but kept her head down most of the time.
DPP Koh said in the hours before Piang Ngaih Don died, Prema choked her by the neck and poured a basin of water on her, before her daughter tied the worker to a window grille, as they occasionally did, and assaulted her some more. 
Piang Ngaih Don was left soaking wet and tied to the window grille in the bedroom, as Prema slept on the bed in the same room. After finding the victim motionless the next morning, Prema and Gaiyathiri tried to revive her but were unsuccessful.
Piang Ngaih Don lost 15kg and weighed just 24kg when she died in the family's three-bedroom flat along Bishan Street 11 on July 26, 2016.
Detailing the events that happened after Prema and Gaiyathri found the victim unconscious, DPP Koh said that the duo had called a doctor for a house visit, claiming that they had found her on the kitchen floor that morning.
Upon arriving at the house, the doctor determined that Piang Ngaih Don was dead, and insisted that the duo call the police. When they asked if they could call an ambulance instead, the doctor insisted that they call the police and said that she would wait at the house until the police arrived.
Gaiyathiri asked for some time to call her husband, and the doctor decided to call for an ambulance herself. 
Among multiple injuries found on the victim, she had a neck fracture and multiple head injuries.
Prema's daughter, Gaiyathiri, pleaded guilty to culpable homicide in the High Court and was sentenced in June last year to 30 years' jail.
Gaiyathiri had admitted to starving and abusing Piang Ngaih Don almost daily over nine months, with Prema joining in the abusive acts.
Gaiyathiri's former husband, Kelvin Chelvam, faces five charges. The suspended police staff sergeant had allegedly removed the CCTV recorder system installed in the flat, and purportedly lied to investigators that their tenants had requested this.
The couple divorced on Jan 13, 2020.
For voluntarily causing hurt, Prema could have been jailed up to five years, or fined up to S$10,000, or both.