Woman gets S$5,000 fine, one-year pet ban after abandoning sickly old pet dog at void deck
SINGAPORE — A 69-year-old woman was fined S$5,000 on Wednesday (July 28) for permanently abandoning her pet poodle in a pink carrier bag at a lift lobby.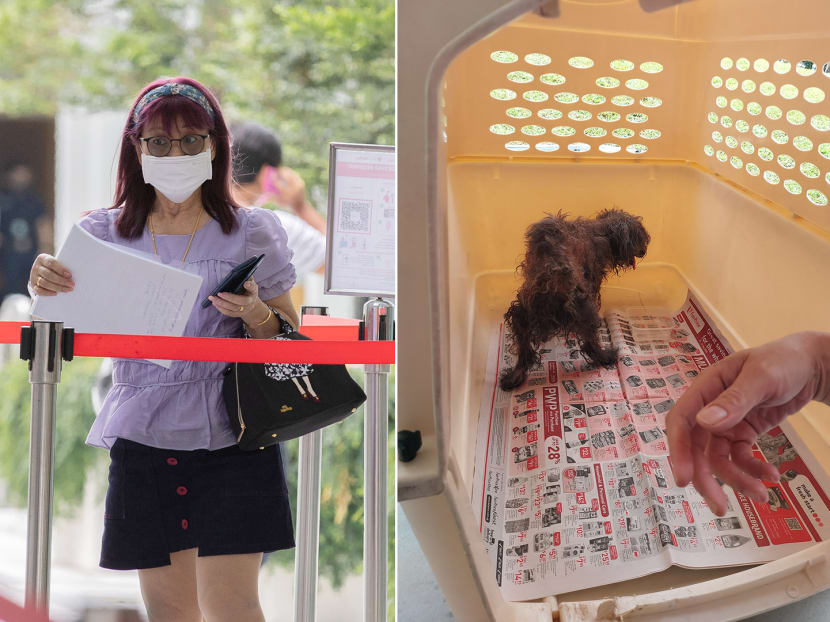 SINGAPORE — A 69-year-old woman was fined S$5,000 on Wednesday (July 28) for permanently abandoning her pet poodle in a pink carrier bag at a lift lobby.
Tan Siew Hoon was also banned from owning other pets for a year. She had neglected the 16-year-old canine named Miko for so long that it could not open its eyes, had overgrown nails and was missing all of its teeth.
She claimed that she had had no mood to look after Miko after her husband died, but said that she had previously "doted on (Miko) a lot". She also said that she had fed the dog before leaving it at the lift lobby, which was on the void deck level of a public housing block.
Tan pleaded guilty to one charge each of abandonment and keeping the dog without a licence. 
A third charge of failing to take reasonable steps to protect the dog from significant injury or disease was taken into consideration for sentencing.
The court heard that on the morning of Oct 15 last year, Tan put the black poodle cross in the carrier bag and left it near a rubbish bin at the ground floor lift lobby of a Hougang housing block where she lived.
She did not report the loss of the dog and made no attempt to look for it.
Prosecutor Packer Mohammad from the National Parks Board (NParks) told the court: "It was clear she meant to abandon it permanently." 
NParks' Animal and Veterinary Service received information that same day about the dog. 
It was rescued by the Society for the Prevention of Cruelty to Animals that morning and is now in foster care.
When it was found, the dog could not open its eyes, which were shrunken and cloudy, because of hair matts. It also had a stiff gait from having very overgrown nails on all four limbs, crusty skin, as well as matted and missing fur all over its body.
It was mildly dehydrated and had hyperpigmentation and a disorder of its hair follicles.
Most of these conditions were treatable with proper grooming done and it was "clear it was neglected for some time", Mr Packer told the court.
It was also not microchipped or licensed, which is required for all pet dogs in Singapore.
'A MOMENT OF FOLLY'
In court, Tan claimed that her daughter's friend had given her family the dog when it was a puppy. She produced a "dog badge" with some numbers on it and said that she thought it was the licence.
She added: "He was a newborn when he was brought home. We all love him. I always spent effort on him and I doted on him a lot.
"I fed Miko that day — he was not starved or not fed. It was just a moment of folly that I did not take action to get him back."
She said that she fed the dog twice a day and showered him often, but that she began neglecting it after her husband died.
Mr Packer sought a fine to be imposed, arguing that pets develop a lasting bond with their owners and are completely reliant on them for survival. If abandoned, they are unlikely to survive on their own and may get into accidents.
"Shelters and welfare organisations are usually already full… A person looking to get a pet must understand that pets are for life," he added.
Those convicted of abandoning an animal can be jailed for up to a year or fined up to S$10,000, or both.
Tan could also have been fined up to S$5,000 for keeping a dog without a licence.