Workplace deaths at 16-year low, but major non-fatal injuries up in 2019
SINGAPORE — While workplace deaths tumbled to their lowest on record in 2019, the number of fatalities caused by equipment and structural collapse or failure inched up over the year.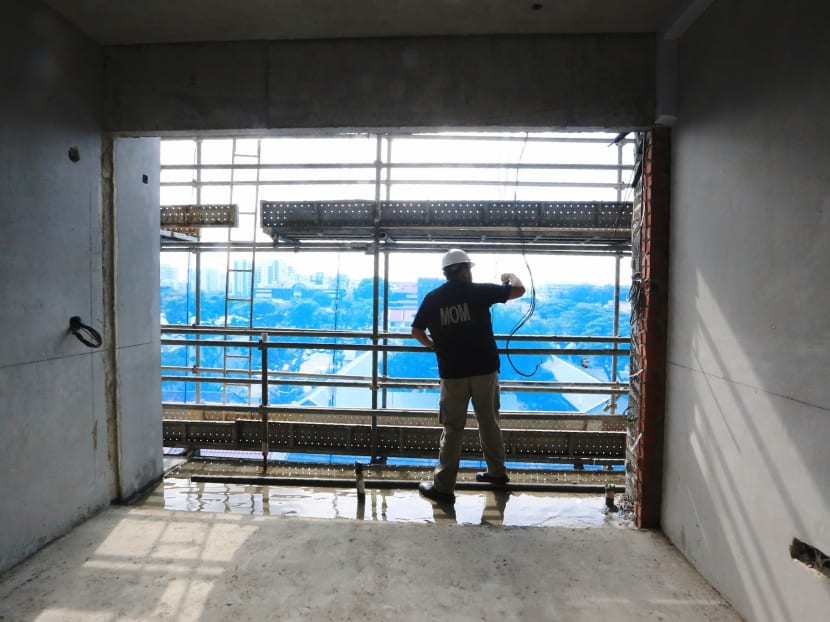 SINGAPORE — While workplace deaths tumbled to their lowest on record in 2019, the number of fatalities caused by equipment and structural collapse or failure inched up over the year.  
Major workplace injuries that did not result in deaths also rose, as did minor injuries.
The Ministry of Manpower's (MOM) latest workplace safety and health (WSH) report released on Wednesday (March 11) recorded 39 workplace deaths in 2019, the lowest since 2004 when records were first compiled.
That year, there were 83 deaths.
WORKPLACE DEATHS 
There were 39 workplace deaths in 2019, down from 41 the year before.
The top causes: 
structural and equipment collapse or failure - seven deaths, up from four in 2018

incidents involving vehicles

falls from height.
By sector:
The construction industry continued to record the most deaths - 13, down from 14 in 2018.

Inexperienced construction workers were found to be significantly more prone to fatal injuries.

The manufacturing sector recorded four fatalities for the second year in a row.

Deaths in transportation and storage doubled from four to eight. Three of these deaths involved drowning after falling overboard.
MAJOR INJURIES 
Meanwhile, the number of major injuries rose by 5.5 per cent between 2018 and 2019, from 596 to 629.
The top causes: 
slips, trips and falls - 216, up from 2013 in 2018

machinery incidents - 82, up from 76 in 2018

falls from height.
By sector:
The manufacturing sector's tally of major injuries climbed from 123 to 137.

In the transportation and storage sector, major injuries rose from 49 in 2018 to 57 last year.

Industries previously deemed to be at low to medium risk also recorded an increase.

In the accommodation and food services sector, major injuries rose from 37 cases in 2018 to 54 in 2019.

The wholesale and retail trade registered a jump from 30 to 35 cases.
MINOR INJURIES 
Minor injuries also continued to climb from 12,173 in 2018 to 13,111 in 2019, the MOM said.
The top causes: 
slips, trips and falls

machinery-related incidents

workers being struck by moving and falling objects.
By sector:
The manufacturing sector was the top contributor with 2,653 cases.

Construction had 1,981 cases.

Accommodation and food services with 1,265 cases.
DANGEROUS OCCURRENCES AND OCCUPATIONAL DISEASES 
The number of dangerous occurrences — incidents with a high potential for multiple deaths — fell from 23 in 2018 to 21 in 2019, the lowest since 2011.
The top causes: 
collapse or failure of structure and equipment - 13 cases, eight of which were crane-related

fires and explosions - eight cases.
By sector:
Construction remained the top contributor with 10 cases.

Marine - four cases.

Manufacturing industries - three cases. 
Occupational diseases, meanwhile, continued to decline for the third straight year to 517 cases in 2019, from 799 in 2017 and 563 in 2018. The top three diseases were work-related musculoskeletal disorders, noise-induced deafness, and occupational skin diseases.
INCREASED ENFORCEMENT
The MOM said that last year, it carried out 17,000 inspections, which uncovered more than 8,900 workplace safety and health contraventions.
The most common breaches were unguarded openings and open sides, unsafe means of access and egress, and obstructed passageways.
As a result, it issued 58 "stop-work orders", which halt all activity for an average of six weeks. Composition fines totalling over S$1.4 million were also imposed on nearly 1,000 companies.
Of these, 168 composition fines were issued to  employers who did not report work-related accidents. Employers are required to report work-related incidents. Non-reporting occurs mostly because employers disputed that the injury was work-related, or was not informed of the accident, the MOM said.
The MOM said it would continue to inspect higher-risk industries such as construction, manufacturing, marine, and transportation and storage. It would also focus inspections on industries where major injuries are rising, such as accommodation and food services, and the wholesale and retail trade.
The ministry added: "MOM is increasingly using data analytics to predict riskier companies or worksites for inspection, such as smaller construction projects, applying behavioural insights to nudge companies to improve their WSH practices, and engaging top management to explain how their accidents occurred and secure their commitment to implement a prevention plan." 
SAFETY MEASURES 
To deal with the rising trend of structural and equipment collapse and failure, the MOM and WSH Council are joining hands with industry players by tapping technology and building capabilities.
For instance, the WSH Council will work with training providers such as The Singapore Contractors Association Limited to enhance its construction safety orientation training course to include experiential elements by 2022.
Since mid-January this year, six government agencies, including the Housing and Development Board and Land Transport Authority, have committed to adopting tender requirements for new and existing lorry cranes to be fitted with a stability control system (SCS) by June 1. 
The SCS is able to detect the position of outriggers and compute the safe zone for crane operations. If the crane operator tries to operate the lorry crane beyond the safe zone, the SCS will stop the crane from doing so and bring it back to safety. 
A safe lifting clinic will also be launched in July to provide practical, on-site advisory to small- and medium-sized enterprises who own or use lorry cranes for their operations.