Dengue vaccine gets approval for use in S'pore
SINGAPORE — The world's first dengue vaccine will be available here in a few months, but the authorities will not be rolling it out as part of a national vaccination programme, because of its limited effectiveness among those who have not had the disease before.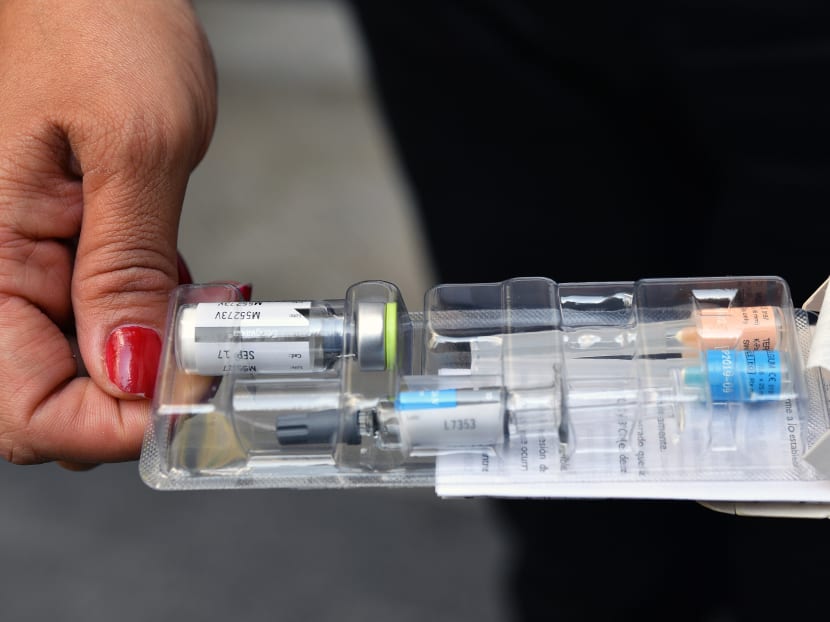 SINGAPORE — The world's first dengue vaccine will be available here in a few months, but the authorities will not be rolling it out as part of a national vaccination programme, because of its limited effectiveness among those who have not had the disease before. 
Subsidies and Medisave will also not be able to be used for the vaccine Dengvaxia, which was developed by French pharmaceutical giant Sanofi-Pasteur. 
On Tuesday (Oct 4), the Health Sciences Authority (HSA) announced it has approved the vaccine for use on individuals aged 12 to 45 for now, making Singapore the 11th country to approve its use.    
Administered in three doses over 12 months, the vaccine targets all four dengue serotypes, but is less effective against the two strains that dominate in Singapore — DENV-1 and DENV-2. 
In a statement, the Ministry of Health (MOH) said its Expert Committee on Immunisation, which comprises specialists as well as representatives from public and private healthcare institutions, had not recommended introducing Dengvaxia vaccination as a national programme. 
The vaccine is most effective as a "booster" for those who had previously contracted dengue. It has an 81 per cent success rate in protecting those who had a previous dengue infection — for all four serotypes — but only a 38 per cent success rate for those who never had dengue before. 
In addition, a study based in Australia did not find enough evidence to show that the vaccine is safe and effective for those aged 46 to 60 years old.
Pointing out that the World Health Organization (WHO) does not recommend the introduction of Dengvaxia when the population has a dengue prevalence rate of below 50 per cent, the MOH said the prevalence rate here is up to 40 per cent for persons below 40 years old, and goes beyond 60 per cent for those aged 40 and above.  
"It (the vaccine) would not be a clinically and cost-effective means to tackling dengue infection in Singapore," the ministry said. 
The vaccine, more than 20 years in the making, was endorsed by the WHO last year. It has been approved in the Philippines, Thailand, Indonesia, Mexico and Brazil, among other countries.
The HSA took six months — instead of the usual nine — to review its use, going through 24 clinical studies conducted on over 41,000 subjects.
It also consulted two groups of experts from its Medicines Advisory Committee and the Dengue Expert Panel to ensure that the vaccine is relevant and the benefits outweigh the risks for the Singapore population.
The side effects for the vaccine are minor — a person may have a sore arm or low-grade fever, which usually goes away within a few days, said the HSA. Doctors will be required to notify the National Immunisation Registry when they administer the vaccine, so the HSA can be notified should any side effects arise.
Dengue is endemic in Singapore, with 12,054 dengue cases reported here as of Oct 3, surpassing the 11,286 cases reported for the whole of last year. Seven have died from dengue fever this year so far. There is no cure for dengue fever. 
In 2014, Dr Vivian Balakrishnan, then the Environment and Water Resources Minister, said in Parliament that the efficacy rate of Dengvaxia against DENV-1 and DENV-2 was not good enough. 
The vaccine's effectiveness against these two strains is just 50 per cent and 40 per cent respectively, compared to 75 per cent and 77 per cent for DENV-3 and DENV-4 respectively. 
Despite its limited efficacy, the HSA said it decided to approve its use in Singapore as it wanted to "enable access to dengue vaccines in a timely manner". It is also prepared to extend the approved age range for the vaccine's use when more data on its safety and effectiveness is available. 
Sanofi did not disclose the cost for the vaccine for Singapore, but media reports in the Philippines state that the vaccine sold for around 4,500 pesos (S$128). 
Dr Zulkifli Ismail, who is part of the steering committee of Asian Dengue Vaccination Advocacy, said that efficacy data "need not reflect real world effectiveness of the vaccine".
The vaccine, he noted, can reduce severe infection, the transmission of dengue virus, as well as hospitalisation due to severe dengue infection and dengue haemorrhagic fever. But he added: "Continuous surveillance must be undertaken and the current vector control measures should not stop just because there is a vaccine."
Dr Wong Sin Yew, an infectious disease physician at Gleneagles Medical Centre, said that it is important for practitioners to advise patients clearly that it is not equally effective against all dengue strains. 
Dr Leong Hoe Nam of Mount Elizabeth Novena Hospital said the vaccine would not have a noticeable impact on public health, unless it is introduced to people at a young age and the overall coverage "exceeds 60 to 70 per cent of the population". "Currently, the role of the vaccine is for individual protection, not a public health solution," he added. "The mainstay for dengue control is still mosquito culling."
Self-described "mosquito magnet" Cherilyn Tan, who has been hospitalised twice for dengue, welcomes the availability of the vaccine in Singapore. 
Ms Tan, 31, an entrepreneur, said contracting dengue once was "painful" enough for her. "I remember getting high fever one day, become normal the next, getting high fever again the next day ... It can cause a lot of trouble."