World's first full-sized, driverless electric bus launched by NTU and Volvo
SINGAPORE — The Nanyang Technological University (NTU) and Volvo Buses have launched a full-sized, driverless electric bus in what is said to be a world's first for autonomous vehicles.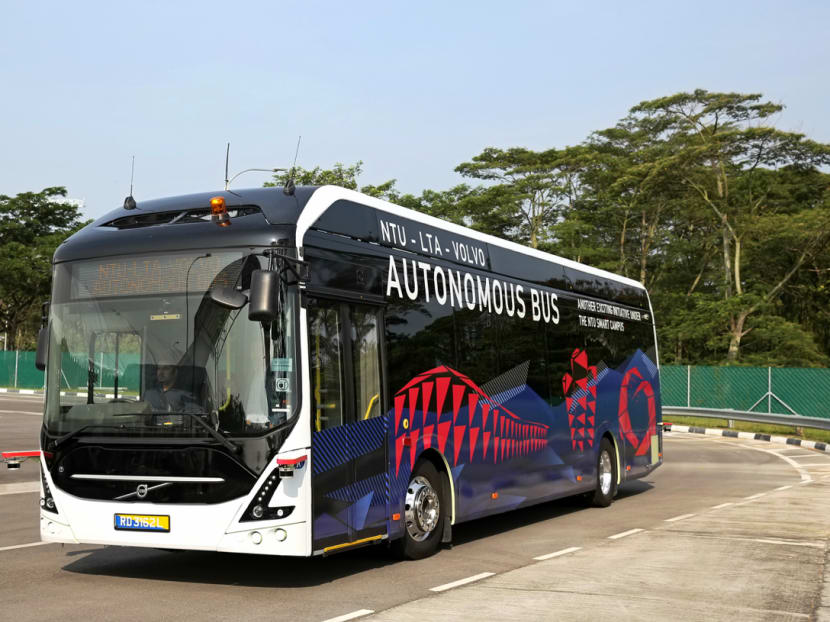 SINGAPORE — The Nanyang Technological University (NTU) and Volvo Buses have launched a full-sized, driverless electric bus in what is said to be a world's first for autonomous vehicles.
The single-deck, 36-seater bus is 12 metres long and has a full capacity of close to 80 passengers. Existing autonomous electric buses, such as ones designed by French transport company Navya SAS and currently used at the university, can accommodate only 15 passengers.
The driverless bus utilises an artificial intelligence system developed by NTU researchers and includes five types of sensors — such as light detection and ranging sensors — and a special global positioning system (GPS) that is able to provide location accuracy up to one centimetre.
NTU president Subra Suresh said at the launch at the Centre of Excellence for Testing & Research of Autonomous Vehicles (CETRAN) on Tuesday (Mar 5) that the fully electric bus "provides quiet operations with zero emissions, requiring 80 per cent less energy than an equivalent sized diesel bus".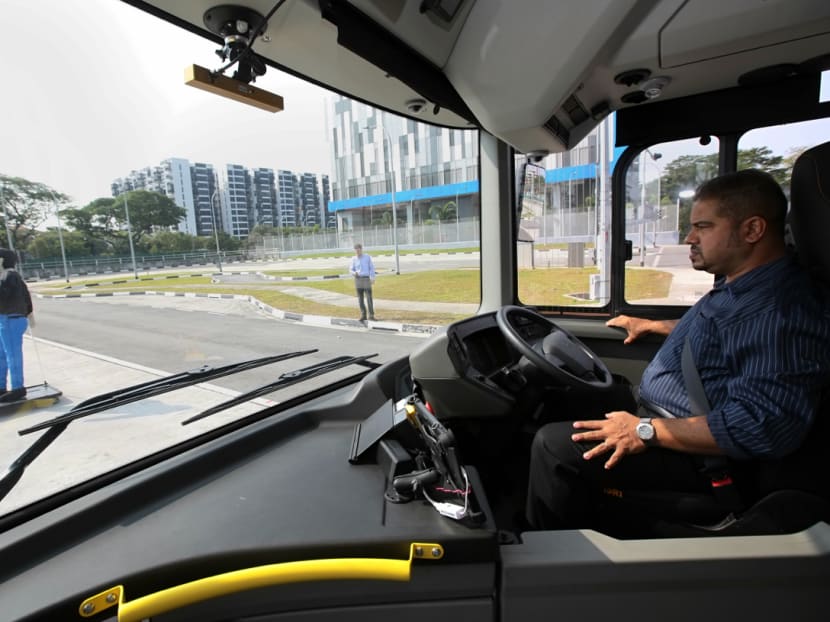 It also has the potential to solve the last kilometre problem in public transportation, as buildings can be transformed to allow such buses to stop directly inside their lobbies — something that is infeasible today because of the noise and pollution that diesel buses generate, added Professor Suresh.
Trials of the electric bus have been conducted at the CETRAN circuit since November last year and will be expanded to include NTU's campus this year, before the vehicle is tested on public roads.
To ensure the safety of commuters, students and faculty members will not be able to board the bus while it is being tested in actual traffic conditions in NTU, said a university spokesperson.
The electric bus will travel at a maximum speed of 40 kilometres an hour within the NTU campus, although it has the ability to travel autonomously up to a speed of 50 kilometres per hour, said Dr Anshuman Tripathi, programme director of future mobility solutions (electromobility) at NTU's Energy Research Institute.
It can travel for about 25 km on a single battery charge.
NTU and Volvo Buses have also partnered with ABB Group to utilise its OppCharge technology, which can fully recharge batteries in three to six minutes. This will also allow for the bus to be charged during layover times at the end of a route without impacting normal operations.
A second bus will also be tested at a bus depot managed by SMRT in order to assess its ability to autonomously navigate into vehicle washing bays and park safely at charging areas.
The full-sized, driverless bus is a "key milestone" in NTU and Volvo's development programme under the former's partnership with the Land Transport Authority — which was announced in October 2016 — to develop and conduct autonomous vehicle bus trials for fixed route and scheduled services, said the university.
It is also one of the autonomous vehicle technologies that NTU has tested since 2012 to help achieve its vision of a smart campus.
In April last year, the university announced that the fully automated Group Rapid Transit would operate a minibus service route that connects the halls of residence with the main academic areas by the end of 2019.
These efforts would, in turn, "bolster Singapore's mission in becoming a global leader in smart transportation solutions", said Prof Suresh.
"I am confident that the autonomous bus project will not only help shape the future of public transportation, but one day, support Singapore's transport system that is safe, efficient, reliable and comfortable for all commuters." he added.
The NTU and Volvo team is also targeting to win the Government tender for driverless buses in Punggol, Tengah and the Jurong Innovation District, which will be rolled out from 2022 for commuters.