WP not opportunistic, populist since Govt adopted its policy ideas, PAP should change approach to Opposition: Pritam
SINGAPORE — If the Workers' Party was only putting forward unrealistic and populist policies, the Government would not seriously consider them, Leader of Opposition Pritam Singh said on Friday (April 21), as he listed eight policy proposals that the party had suggested over the years which were later adopted by the Government.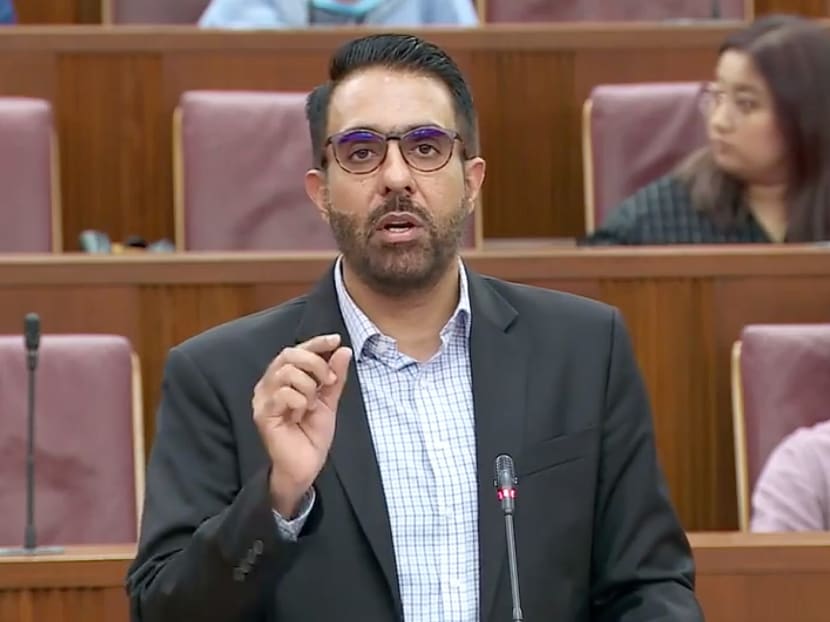 Leader of Opposition Pritam Singh disputed Deputy Prime Minister Lawrence Wong's assertion that the Workers' Party does not put forward "concrete alternatives"
Mr Singh listed eight policy proposals from his party that were adopted by the Government in some form
He also spoke about the difficulty that the Opposition faces in getting sufficient data from the Government
Mr Singh said that the medium-term objective of his party is to form a third of the seats in Parliament
This will prevent any arbitrary changes to the Constitution 
SINGAPORE — If the Workers' Party (WP) was only putting forward unrealistic and populist policies, the Government would not seriously consider them, Leader of Opposition Pritam Singh said. He then listed eight policy proposals that his party had suggested over the years that were later adopted by the ruling People's Action Party (PAP).
He also said that the Opposition's requests for information are sometimes rejected on the grounds of national security or sensitivity, making it a challenge to propose alternative policies.
"In future, the PAP must not see calls for information as a Trojan horse for ulterior motives, or a red herring. When there are requests for detailed figures, the PAP must not turn defensive in response to the parliamentary opposition of the day, playing its role checking the government of the day," he added.
Mr Singh was speaking in Parliament on Friday (April 21) during a debate on the President's address and was rebutting a remark made by Deputy Prime Minister (DPM) Lawrence Wong on Monday. Mr Wong said then that he was looking forward to hearing "concrete alternatives from the Opposition and not just opportunistic or populist ideas".
Mr Singh questioned why Mr Wong had brought up WP's stance towards the Goods and Services Tax (GST) in his speech on Monday, saying that WP has not been arguing for the removal of the GST, but rather against its increase.
"The DPM would be acutely aware that this House was never debating the total removal of the GST in the last session of Parliament. Nor have we been doing so as long as the DPM has been in this house. This is a distraction and the PAP should be upfront about it."
WP'S POLICY PROPOSALS THAT WERE ADOPTED
Highlighting eight policy proposals that his party had put forth in the past, Mr Singh, who heads WP, said that these ranged from the verification of educational qualifications of Employment Pass holders, penalising the non-selection of Build-to-Order (BTO) flats, and the pairing families with general practitioners (GPs).
The purpose of highlighting them was to "demolish this idea that the Workers Party has not put forward serious alternatives", he added, and to show how they were adopted in some form by the Government.
On the verification of educational qualifications of Employment Pass holders, for example, it was in WP's 2020 General Election manifesto where it had called for an assessment of the credentials of Employment Pass applicants to be introduced.
The manifesto said that all Employment Pass and S-Pass job applicants with university degrees and diplomas should be subject to mandatory educational credentials assessments, with the cost borne by the applicant.
On March 1 this year, the Ministry of Manpower announced that companies in Singapore would need to verify the educational qualifications of Employment Pass applicants from Sept 1 this year.
In its 2015 General Election manifesto, WP argued for the pairing of families with GPs to encourage patients to remain with one family doctor who would be more familiar with their background and medical history.
In October last year, Parliament debated the Healthier SG White Paper that, among other things, put forward the Government's proposal for a national health plan for residents to enrol with a family doctor or clinic, with flexibility provided for them to change their choice if need be.
Mr Singh said that WP will continue to raise alternative proposals and that it will be "glad to see the PAP implement policies we have suggested", even if PAP says that those ideas were already in its pipeline, or it merely adopts them "without attribution".
He also highlighted how a proposal he had put forth on making English a requirement for permanent residency and citizenship applications was "incorrectly understood as a divisive one". 
These criticisms, he said, "missed the key point" of the proposal, which was focused on integration.
HARD TO GET DATA
Earlier in the week, fellow WP member Leon Perera called for a "transparency of information" in order to facilitate "rational political discourse", to which Health Minister Ong Ye Kung said on Thursday that Mr Perera could submit a parliamentary question "to ask for specific data".
Illustrating how difficult it is for the Opposition to receive data, Mr Singh brought up the 2021 debate on the Comprehensive Economic Cooperation Agreement (Ceca) between Singapore and India as an example.
He said that getting PAP to reveal information on the number of intra-corporate transferees from India who worked in Singapore on the introduction of Ceca was "like squeezing blood out of a stone".
Mr Singh said that parliamentary questions from WP on the issue had been brought up since 2016, but "forthright answers were not forthcoming".
"In the meantime, pressures and tensions on the ground built up as not a small number of Singaporeans became emotionally charged about Ceca."
WP had sought information from the Government, answers to which could have "shed light and reduce heat" before things reached a boiling point.
He also said: "Sometimes, filing a parliamentary question does not guarantee receiving an adequate and substantive answer from the PAP Government, from which alternatives can germinate."
WP'S POSITION ON GST
On Mr Wong bringing up WP's stance on the GST during this week's debate, Mr Singh said that it would have been more appropriate for the Budget debate instead.
If the question had been asked then, the answer would have been obvious: WP's policy positions "cannot be immutable" and have to evolve with the political realities of the time.
"We may not have supported the GST when it was first introduced decades ago, but we recognise it as part of the system.
"But accepting the GST, as it stands, does not mean accepting every GST hike put forward by the Government."
Mr Singh then stressed that the party has never advocated for the complete removal of the GST system, and implying that it did was a "distraction" from PAP.
The day before, Mr Perera repeated the point that WP had offered proposals to make up for the shortfall in revenue as an alternative to raising the GST further.
Mr Singh then asked Mr Wong if the Government still intends to proceed with the second phase of the GST increase from 8 to 9 per cent next year, or whether it would consider a pause in view of persisting inflationary and cost-of-living pressures.
He also asked if the Government will be able to accommodate changes to Singapore's corporate tax receipts that will "inevitably crystallise further" in the wake of the Base Erosion and Profit Shifting (BEPS 2.0) initiative.
BEPS 2.0 is a plan led by the Organisation for Economic Co-operation and Development with the aim of curtailing profit shifting by multinational companies to lower-tax jurisdiction. 
Mr Singh said that he was asking this since the Government announced in this year's Budget that it would implement a domestic top-up tax that will raise the effective tax rate of large multinational enterprise groups in Singapore to 15 per cent in 2025. 
Should the corporate tax revenues look respectable and sustainable for the short- to medium-term without any real compromise in Singapore's attractiveness to foreign investors, it may not be necessary to increase the GST to 9 per cent for 2024.
This is particularly so if corporate tax, which contributes about 25 per cent of Singapore's tax revenues today, goes up further, he added. 
PERMANENT PRESENCE OF THE OPPOSITION  
Turning to Mr Wong's question about WP's "plans, policies and intentions", Mr Singh said that it is the party's medium-term objective to ensure that one-third of the seats in Parliament are not in PAP's hands.
This is significant because Singapore's Constitution can only be changed if two-thirds of the parliamentarians agree to do so.
Today, PAP not only has more than a two-thirds majority, it has a supermajority of more than 75 per cent of the seats.
In order to pass a constitutional amendment with a two-thirds majority, Mr Singh said that PAP, which has 83 Members of Parliament (MPs), needs 63 votes.
He then gave an example of why these numbers are important.
On March 21 this year, a new law was passed to increase penalties for drug possession and better tackle psychoactive substances.
"Unbeknown to many members of the public and voters, there were only 67 MPs in the House present when that constitutional amendment was passed," he said, adding that this included seven members from his own party.
If all the WP MPs had not been present in the House at the time of the vote, Mr Singh said that the Constitution could not have been amended as sought by PAP, since only 60 PAP MPs were present.
"I want to emphasise that the Workers' Party's intention is not to block all the changes to the Constitution proposed by a PAP government, far from it.
"If constitutional amendments are in the interests of our people, we will support them."
However, he added that if WP assesses that the proposed changes to the Constitution are detrimental to Singapore, it will vote against them.
WP seeks an evolution of Singapore politics towards a permanent presence of elected opposition MPs to ensure there are sufficient balances in the political system against an "extraordinarily dominant" PAP, Mr Singh said.
"We do not seek a revolution that includes a change of government at this stage of Singapore's political development. Based on my reading, this view is consistent with the general public sentiment."
Singapore's future is not a given, and it follows that no one can ignore the possibility of a "rogue government springing from the bosom of the PAP", he added.
"Our people should have real political options if, or when, that happens.
"These are the reasons why there should be a strong opposition presence in this House, even before we talk of a change of government, alternative agendas and alternative budgets."