WP, PSP say they offer 'rational' alternative policies, urge PAP not to 'demonise' opposition's ideas with labels
SINGAPORE — In a rebuttal to a comment made by Deputy Prime Minister Lawrence Wong in Parliament, two members of the Opposition said that their respective parties have indeed been offering concrete alternative policy ideas rather than putting forth populist ideas.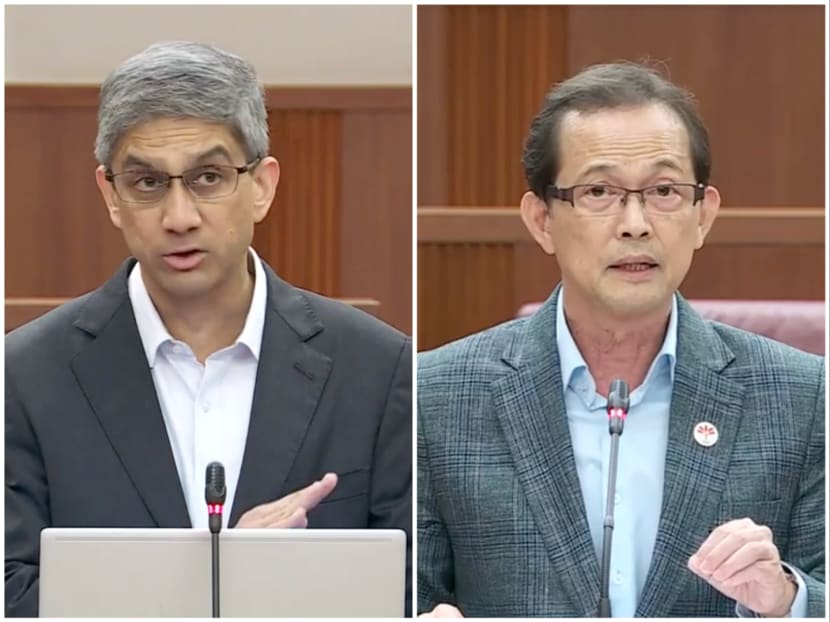 Mr Leon Perera from the Workers' Party and Mr Leong Mun Wai from the Progress Singapore Party rebutted Deputy Prime Minister Lawrence Wong's comments made in Parliament
Mr Wong earlier said that he wanted to hear concrete alternatives to policies from the Opposition and not opportunistic or populist ideas
Both Mr Perera and Mr Leong said that their parties have been doing just that
They also called on the ruling party to stop being too quick with labelling them as disingenuous and to back its replies with statistics if it does not agree with the Opposition
SINGAPORE — In a rebuttal to a comment made by Deputy Prime Minister Lawrence Wong in Parliament, two members of the Opposition said that their respective parties have indeed been offering concrete alternative policy ideas rather than putting forth populist ideas.
They also urged the ruling People's Action Party (PAP) not to use labels or make allegations against the opposition parties and instead explain why it disagrees with their ideas, or to provide statistics to prove why the proposed policy alternatives will not work.
It would help cultivate an active citizenry and keep political discourse fair and constructive, they added.
These points were made by Member of Parliament (MP) Leon Perera of the Workers' Party (WP) and Non-Constituency MP Leong Mun Wai of the Progress Singapore Party (PSP) on Tuesday (April 18).
They were both speaking during the second day of debate on President Halimah Yacob's address that was delivered last week when Parliament reopened. 
Mr Leong did not specifically address Mr Wong in his speech, but it covered elements raised by Mr Wong. 
Mr Wong told the House on Monday that he was looking forward to hearing concrete alternatives from the Opposition for the remaining term of government.
"Not just opportunistic or populist ideas to chip away, bit by bit, at trust in government, but a serious alternative agenda for an alternative government," he said.
He added that the Government welcomes "good ideas" from the Opposition that can improve the country, but opposition members have to be "upfront about the realities and trade-offs we face as a country, and be honest about your plans, policies, and intentions".
WHAT WP'S LEON PERERA SAYS
In response, Mr Perera said on Tuesday that WP has been doing just that and has offered "alternative policies that differ substantively from the ideas" of PAP.
He then listed a few examples that the party has raised in Parliament such as slowing reserves growth to enhance liveability, social justice and social mobility, and ways to reduce prices of Build-to-Order flats based on adjustments to a land valuation formula.
Addressing claims that trade-offs of opposition parties' policy ideas were not explained, Mr Perera cited the example of the debate on the Goods and Services Tax increase, and how WP had acknowledged that its alternatives could slow the rate of growth of reserves.
"Were those trade-offs denied, hidden, glossed over? No. The trade-offs were explained," Mr Perera insisted.
He added that WP has also championed anti-discrimination legislation and redundancy insurance, policies that PAP is now considering.
"The Deputy Prime Minister, the PAP knows this." 
Mr Perera also said that in the process of political discourse and debate, parliamentarians should strive to treat each other's views fairly, and accept when there is a philosophic or ideological difference, rather than being "too quick to label the other side as disingenuous".
Such labels can affect the tone of discourse in the wider society, if alternative ideas become demonised or labelled uncharitably, he added.
"Rather than chip away at trust in the Opposition with such labels, the Government should focus on explaining why it disagrees with the Opposition," Mr Perera said. 
"Let us be honest in our political debates. Honest. Not going for false but flashy soundbites that smear our opponents."  
To facilitate "rational political discourse", he also called for transparency of information, because he noted that there were many examples of parliamentary questions that did not address the information requested, without an explanation as to why that was the case.
"Sometimes outcomes of public consultation are not made public. There is a great deal of public opinion surveying done by the Government… Not all of this is made available for public scrutiny and debate."
Mr Perera also gave suggestions on how to meet President Halimah's call for both "an active citizenry" and "a passionate civil society".
For instance, ensure that funding for civil society, such as the arts, is handled by independent committees that are not linked to the government of the day.
This would help build the passionate civil society that President Halimah spoke of and "counter any fears that civil society groups that advocate alternative policies to the government may be penalised using state resources", he added.
He also asked that opposition parliamentarians, in their capacity as MPs, be allowed to engage students, just as PAP MPs and Cabinet Ministers do.
"We need to mould the mental habits of our citizens from a young age to nurture independent, critical thinking," Mr Perera said.
"Exposing them only to PAP politicians and barring non-PAP ones in most student engagement contexts does not achieve this.
"Our future citizens need to be able to see both sides of a question in a way that will inoculate them from the demagogues and foreign interference attempts of the future."
WHAT PSP'S LEONG MUN WAI SAYS
Separately, Mr Leong from PSP said that since his first speech as a Non-Constituency MP, he has "raised the concerns of Singaporeans who believe that the current socio-economic policies are not working for them".
Among them was what he described as the widespread anxiety of residents regarding their jobs and livelihoods during the debate on Singapore's foreign talent policy in September 2021.
"Regrettably, during that debate, instead of answering our questions directly and allowing the debate to deal with the more substantial issues, the Government tried to paint the PSP as a xenophobic, nativist, and even racist political party," Mr Leong added.
"We categorically reject such allegations."
PSP has always maintained that for Singapore to achieve greater economic success, it needs the right foreign talent to complement the Singaporean core, and that it welcomes the right foreign talent.
"However, when the quality, number and concentration of work pass holders affect the job security of the Singaporeans, we must speak out," he added.
"Our countrymen have nowhere else to go if they cannot afford the cost of living or are displaced from their jobs as PMETs (professionals, managers, executives and technicians) in Singapore. There is no hinterland for these Singaporeans to retreat to."
That is why he has focused so many of his speeches on Singapore's foreign manpower policy, the wage and employment situation of Singaporeans, and workplace discrimination, he said.
On the recent public housing debate, despite PSP's limited resources, it was able to put up two proposals: The Affordable Homes Scheme and the Millennial Apartments Scheme.
These policies were researched and thought through before they were raised, he said.
"They are rational alternatives that we believe will better achieve our desired outcomes of affordable housing and family formation, while de-linking retirement adequacy from housing prices."
Mr Leong also said that he welcomes it if the Government would provide statistics to substantiate its rhetoric that "our alternative policies will cause a crash in the housing market".
"In this session of Parliament, let us live up to the President's exhortation last week for us to have constructive, respectful and responsible political debates that are based on facts and sound analysis," Mr Leong added.
"At the end of the day, we are all doing our best for Singaporeans, and a Parliament that is a fair arena for all parties is one that will further earn the respect of its people."