Wrapping up Washington visit, PM Lee underscores need to engage US at all levels
WASHINGTON — Prime Minister Lee Hsien Loong has underscored the significance of Singapore's ties with the United States, particularly in the economic sphere, while stressing the need for the Republic to continue engaging America at all levels.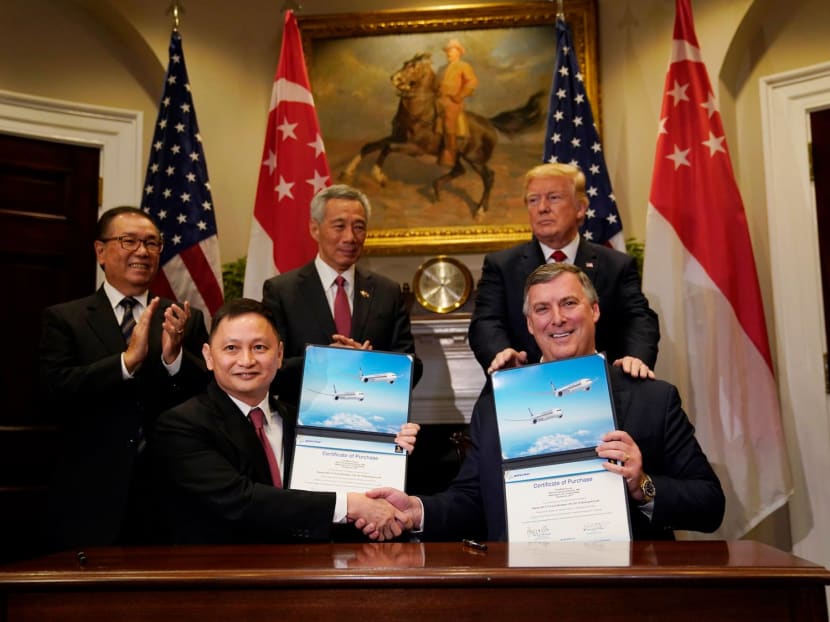 WASHINGTON – Prime Minister Lee Hsien Loong has underscored the significance of Singapore's ties with the United States, particularly in the economic sphere, while stressing the need for the Republic to continue engaging the superpower at all levels.
"From the point of view of our bilateral relations, they are good," he told the Singapore media on Wednesday (Oct 25, US time) as he wrapped up an official working visit to Washington DC where he held talks with US President Donald Trump as well as top officials and legislators.
During his visit, Singapore Airlines and Boeing inked an almost US14 billion deal (S$19 billion) at the White House for the national carrier to purchase 39 new planes.
"It means we are buying things from America, (but) at the same time it means that the Americans are investing in Singapore and in a very big way," said Mr Lee.
America exports over US$43 billion of goods and services annually to the Republic. But concurrently, the US is the top source of foreign direct investment (FDI) in Singapore. More than 4,200 American companies have a business presence in the city state.
"It is important for us to manage this relationship and to keep on cultivating the Americans at many levels," Mr Lee pointed out.
This is his second trip to Washington DC in just over a year. Aside from meeting Mr Trump, Mr Lee said it was also important to touch base with other top US officials, the private sector, think tanks as well as key legislators.
He held talks with Mr Trump at the Oval Office on Monday, and was hosted by the American leader to a bilateral working lunch together with Cabinet Secretaries and key White House officials.
On Tuesday afternoon, he received a call by National Security Advisor H R McMaster.
Earlier on Wednesday, the Prime Minister met key Congressional leaders, including Speaker of the House of Representatives Paul Ryan, Senate Armed Services Committee chairman John McCain, Senate Foreign Relations Committee chairman Bob Corker, Senate Foreign Relations Committee Ranking Member Ben Cardin and Minority Leader of the House of Representatives Nancy Pelosi.
"In his meetings on Capitol Hill, Prime Minister Lee welcomed the bipartisan support for the US' strong engagement of Asia and highlighted the enduring strategic and economic importance of the region to the US," Ms Chang Li Lin, Mr Lee's press secretary, said on Wednesday evening.
"The Members of Congress also expressed appreciation for and affirmed Singapore's close partnership with the US built up over 51 years, and discussed regional and international developments with the Prime Minister," she added.
He also had dinner with National Economic Council Director Gary Cohn, during which they discussed how Singapore and the US could "further strengthen the strong bilateral trade and investment linkages, the importance of sustained US economic engagement of South-east Asia given the region's growing importance, as well as economic priorities of the Administration both domestically and towards Asia."
PM Lee told reporters that as Mr Trump is about to visit Asia next month, the administration was "receptive to talking to us, hearing our views, getting a perspective of the region and what we would like the United States to do".
He added: "I think we have been able to put our points across that they understand that it is important for America to be engaged in Asia, that Asia relies greatly on America's participation in economics, security, and many other areas, and this should continue under the new administration."
But how this should be done and what specific trade policies to pursue is for Washington to decide, he noted.
Mr Lee said that the current top preoccupation for the US is rising tensions on the Korean Peninsula, following North Korea's recent nuclear and missile tests.
"(It) is a security problem for them, actually for the whole region and the world," he added. "And it is one where we exchanged views, and I think it has been useful to have a different perspective even though there are no easy solutions."
Summing up his trip, Mr Lee said: "I think it has been a very useful trip, I hope it would have left an impression with them and will help to keep America a little bit more focused and engaged in the region."
The Prime Minister will meet US Secretary of Commerce Wilbur Ross on Thursday morning before returning to Singapore.