Longings of inmates and ex-convicts captured in art
SINGAPORE – The death of his father hit Mr Kim Whye Kee profoundly.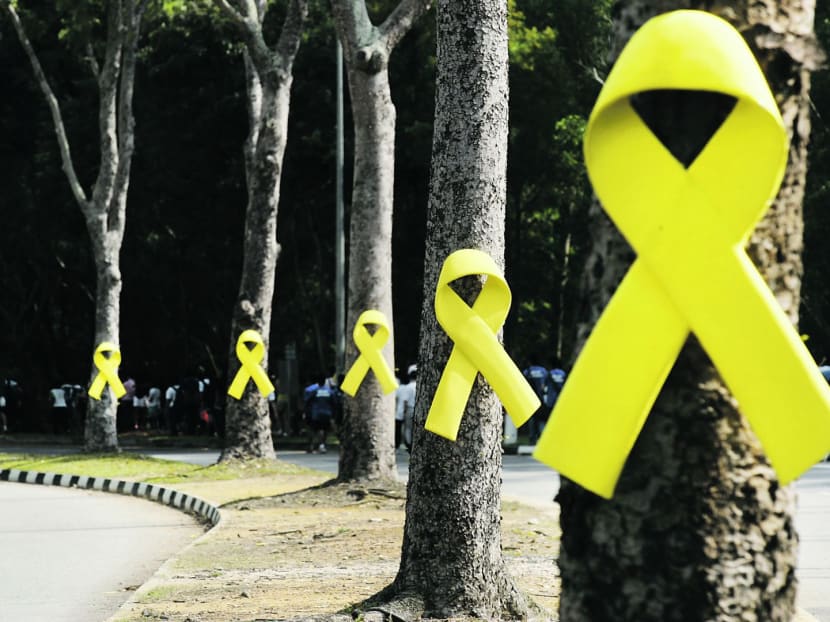 SINGAPORE – The death of his father hit Mr Kim Whye Kee profoundly.
Being in jail at the time and often thinking about how he could no longer eat with his family often, his hopes of having more meaningful mealtimes with his entire family were dashed when his father died six months before his release.
Coming to terms with the missed opportunity, he was spurred to take up pottery in 2007, and his talent was spotted by a Singapore artist who encouraged him to pursue his passion.
After being released in 2008, Mr Kim – who was once a gang member and had been in and out of prison several times because he was unable to find a job – went on to spend four years studying 3D sculpturing in Lasalle College of the Arts.
The 34-year-old ex-convict said: "Art is a medium for the inmates to reflect on their past, accept their present, and focus on how they want to live in the future."
Now, the public may see and even own the artwork he created by visiting the eighth edition of the Yellow Ribbon Community Art Exhibition, now on till Dec 27.
Featured among the exhibition held at the Glass Hall of the Singapore Arts Museum are acrylic paintings, embroidery and ceramic sculptures – a total of 81 pieces of artwork created by 42 inmates.
Proceeds from sales of the artworks will go to the Yellow Ribbon Fund, and will be used for a variety of rehabilitation and reintegration programmes and services for inmates, ex-offenders and their families.
"This exhibition is a culmination of their reintegration journeys, and a way for them to contribute to the community," Mr Kim said. He is now an artist-in-residence for the yearly exhibition. His installation this year, titled 'Family Dinner', was done together with inmates from Changi Prison, and is a tribute to his mother and sister.
This year, the number of artworks on display is the highest by far since the exhibition started. Additionally, present among the exhibits are two sculpture pieces that are collaborations between inmates and their families.
Visitors to the museum may check out the exhibition from 10am to 7pm, Saturdays to Thursdays, and from 10am to 9pm on Fridays. Admission is free for all Singapore citizens and permanent residents.