Yishun fatal assault trial: Accused protected deceased from bullies when they were altar boys, court hears
SINGAPORE — As altar boys at the Church of Our Lady Star of the Sea, Ryan Xavier Tay Seet Choong and Shawn Ignatius Rodrigues were close friends.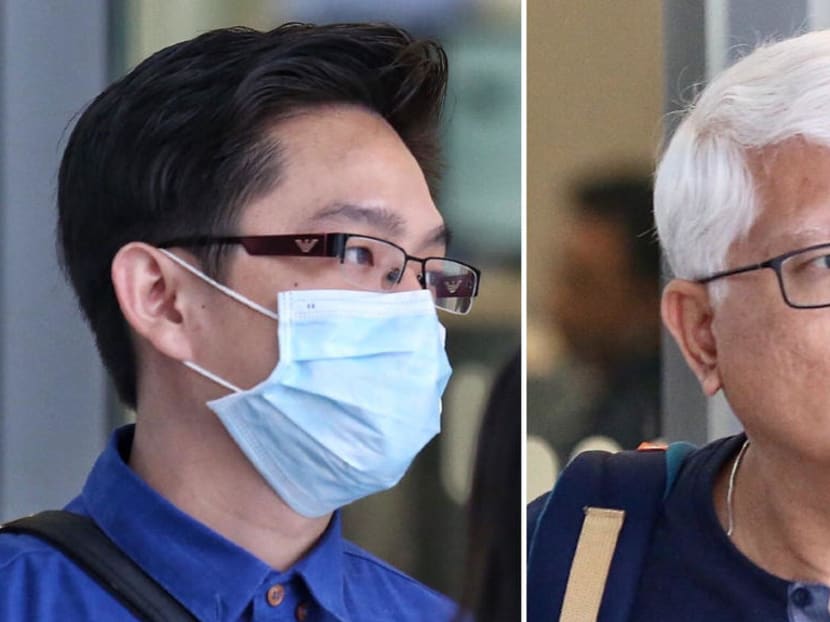 SINGAPORE — As altar boys at the Church of Our Lady Star of the Sea, Ryan Xavier Tay Seet Choong and Shawn Ignatius Rodrigues were close friends. 
Tay protected Rodrigues from bullies as he "stuttered" and was "slow in understanding words".
Rodrigues eventually developed "a special liking" for Tay but the pair fell out after the former was banned from the church for stealing coins.
When Rodrigues rejoined the church around 2014, he began following Tay and used his childhood photograph as his profile picture on WhatsApp, saying that he liked it. Tay alleged all of this in a statement to the police, which the court heard on Monday (Feb 17). 
Tay then left the church but the harassment escalated.
Tay's family ended up filing more than 50 police reports against Rodrigues before he died on July 9, 2016, following a scuffle with Tay and his stepfather at a block of flats in Yishun where they lived.
Tay, now aged 24, and his stepfather Lawrence Lim Peck Beng, now 58, are standing trial for causing grievous hurt to Rodrigues. 
They are accused of assaulting the 26-year-old full-time national serviceman so violently that he died at the scene from traumatic asphyxia with a head injury. 
Rodrigues was found at the sixth-floor lift lobby. He had been tied up with raffia string which neighbours previously testified to providing.
WENT TO THE SAME SECONDARY SCHOOL
Tay's statements to the police were read out to the court when the investigation officer for the case took the stand.
In his first one, made on the day after the assault, Tay told the authorities that he joined the church when he was 10 years old. Rodrigues was already a senior altar boy then.
They "became close friends" because Tay stopped him from being bullied. Tay said that after some time, Rodrigues "wanted to see me every day" and was "very happy" when Tay started studying at Assumption Pathway School as well. 
"He said I went to the same school as him to be like him," Tay added.
However, they stopped talking to each other when the church banned Rodrigues from going there for five years after he was caught stealing coins from the church's wishing well.
Sometime after returning to the church, Rodrigues began "making nuisance calls" to Tay's mobile phone and loitering around the area near the latter's home. He then started going up to Tay's home and asking to talk to him.
On one occasion, Rodrigues followed Tay to the bus stop as he was heading to school. Tay, who was on probation for theft at the time, told his probation officer that he stopped going to school then because of this.
He eventually left the church because he did not want to be associated with Rodrigues. 
"The other boys felt I was gay with Shawn. I was unhappy because I was not gay," he said in his statement.
Tay admitted to assaulting Rodrigues on three occasions in 2015. 
In one incident, Tay alleged that Rodrigues refused to let him go up to his home and repeatedly asked for Tay's new mobile phone number. When he followed Tay to his flat, Tay kicked him in the stomach area.
'I PROMISE TO FIND WHERE YOU'RE LIVING'
More details emerged in court as well regarding WhatsApp messages that Tay had posted on Facebook.
Tay told the authorities that he had taken screenshots of the numerous phone calls and text messages that Rodrigues sent to him and then posted them online to show his friends that Rodrigues was harassing him.
Earlier in the trial, Rodrigues' psychotherapist gave testimony that he told her Tay had "distorted" some text messages over WhatsApp and posted them on Facebook.
In his police statement, Tay claimed that Rodrigues had sent him a photograph of a Housing and Development Board permit, saying: "Ryan Tay, I promise to find where you're living. I also promise to find your (National Service) camp."
Tay's stepfather Lim gave statements to the police as well, saying that he once sprayed insecticide in Rodrigues' face after he continuously knocked on their door for about a minute. Rodrigues simply "allowed" Lim to do this and walked away afterwards, Lim added.
The older man said that Rodrigues began constantly calling Tay in early 2015 and even damaged a circuit breaker outside their flat. The family also made a police report over Rodrigues allegedly molesting Tay's mother.
'JUSTICE WAS NOT SERVED'
On the day of the scuffle that allegedly led to Rodrigues' death, Lim said that Rodrigues visited them five times throughout the day. 
At about 7.40pm, Rodrigues came up to their flat and began calling out, "Where's Ryan?", prompting Lim to shout at him.
Tay gave chase when Rodrigues ran away and they began scuffling at the lift lobby. 
In his statements, Tay said that Rodrigues lost his balance as he was trying to run up the stairs, so Tay grabbed him from behind.
Tay similarly lost his balance at one point and fell down the stairs, before Rodrigues landed on top of him. 
"I don't know whether he stumbled or flew down," Tay added.
Tay told the police that he stamped on Rodrigues' shoulder area and applied pressure with his knee, while Lim grabbed his legs.
Tay tore Rodrigues' notebook to pieces and he stopped struggling when Tay pushed his face to the ground, too.
Both Tay and Lim told the police that they only intended to detain Rodrigues and hand him over to the authorities.
"I admit I used excessive force when I pushed his head down, stamped and punched him. But if I did not do this, he could overpower us as he was bigger in size," Tay added.
Lim said in his statement: "It seems to me that justice was not served. If something was done, this would not have happened. It was unfortunate he passed away… but our daily life has improved so much. We don't have to worry about harassment and there is peace in the neighbourhood."
The trial continues on Monday afternoon.