9 S'poreans with special needs win medals at World Sport Stacking Championship
SINGAPORE — When Noah Tan was 15 years old and asked his mother for a set of cups to stack in 2017, she was unaware of the sport but decided to buy the cups for her son to support his hobby.
A group of nine Singaporeans with special needs competed and won medals at the World Sport Stacking Championship 2023
Special stackers from around the globe took part in the tournament held here from April 7 to 9
Their parents told of how the sport has benefited their children
They also talked about the group support they had that made the tournament possible for the competitors
SINGAPORE — When Noah Tan was 15 years old and asked his mother for a set of cups to stack in 2017, she was unaware of the sport but decided to buy the cups for her son to support his hobby.
Six years later, she cried when he visited her in hospital on her birthday, gifting her his hard-earned prize — a trophy for being first among special stackers at this year's World Sport Stacking Championship.
Not only was it the first time he was competing in an in-person international competition, it was the first time Mr Tan, who is now 21 years old, is competing without his mother by his side since she had been hospitalised on the second day of the competition.
Mr Tan is on the autism spectrum and was one of nine special needs persons competing at the World Sport Stacking Championship 2023 from April 7 to 9 at the Singapore University of Technology and Design. 
His mother, 56-year-old homemaker Rosyniah Wang, said: "I was unwell and could not make it for the competition. I was quite worried that he would be affected because children with autism often dislike sudden change." She was hospitalised last-minute due to heart palpitations.
"So the fact that he put in his best, was independent enough to go to the competition without me and told me he would win me a medal — I am so proud of him," she added.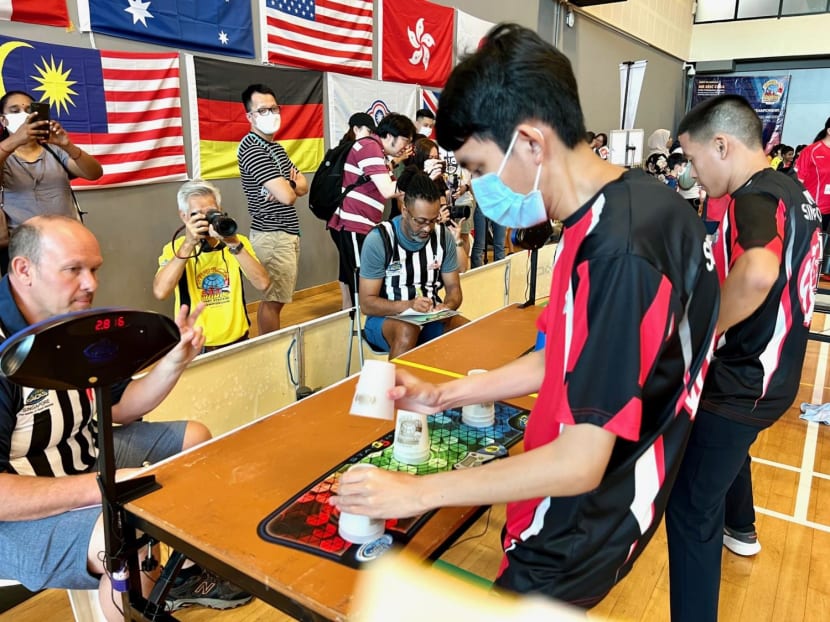 There were 368 competitors from around the world for the annual championship, including teams from Australia and Malaysia
Of these, 24 competitors were "special stackers" — a term used to refer to athletes with special needs. This was the first time that more than two special stackers from Singapore were taking part.
Sport stacking, also known as cup stacking, involves participants stacking and downstacking plastic cups in a certain formation as quickly as possible.
Parents interviewed by TODAY gushed about their children's performances at the tournament, adding that the sport has benefited their children's focus, hand-eye coordination and social lives.
HOW SPECIAL NEEDS YOUTH GOT INVOLVED
It could be said that the community of special stackers in Singapore gathered and formed after Mr Tan asked his mother in early 2021 to buy a new set of cups recognised by the World Sport Stacking Association (WSSA), the sport's governing international body.
"He had just been using the cheaper cups I had bought and practising stacking through YouTube videos," Ms Wang recounted.
"I knew he was passionate (about sport stacking), so I searched online and found coach Allan."
Mr Allan Ong is the director of sport stacking equipment supplier Smartway and an ambassador of WSSA Singapore.
It was with his help that Ms Wang pulled together a group of special needs persons to become special stackers.
"After I bought the cups, I spoke to Allan and asked if he could also train Noah as part of his classes even though he had special needs. That was when I realised that there were special stackers competing in the sport overseas," she said. 
And after Mr Ong said he was willing to have more special stackers join the training, Ms Wang invited her son's friends and their mothers to try out the sport in end-2021. Now, there are more than 10 special stackers training under Mr Ong.
One of them is Mr Muhammad Hakim, 24, a canteen stall assistant who clinched first prize in the special stackers L2 bracket — which is meant for special stackers who are slower in speed.
Mr Hakim has global developmental delay and struggles with his motor skills — but his mother has seen improvement in that area as he stacks the light-weight plastic cup for hours.
His mother, 50-year-old homemaker Rosmawati Rusli, said that if he is not stacking, he is probably watching YouTube videos of other people doing it.
Beyond that, the sport has also taught special stackers such as Mr Muhammad teamwork.
"He participated in the doubles and had to work closely with another special stacker. At first, he would get frustrated if his team member didn't stack properly, but now he can control himself and they will even give each other a high-five as long as they manage to complete (their routine)," Ms Rosmawati said.
Another stacker is 31-year-old Siau Ek Jin, who placed second after Mr Muhammad. Born with a learning difficulty and low IQ, he has difficulties with coordination and communication.
However, through therapy and engaging in various sports such as stacking, Mr Siau's motor skills have improved.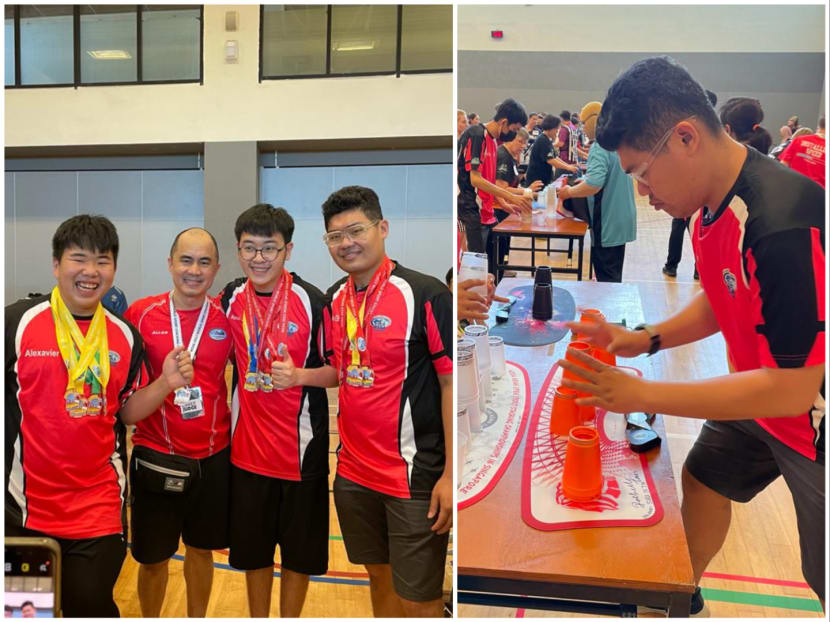 Mrs Lucy Siau, 62, a homemaker, said of her son: "He loves the speed, although he may not be the fastest stacker.
"He used to finish his set at around 40 seconds when he first started. Now, his timing is around six to seven seconds."
Being able to make new friends through the sport is another benefit. After training at his designated sport stacking corner at home, he usually video-calls his friends to spend time with them before bed.
"Ek Jin and his friends will often keep each other company over these calls, which is good for them to socialise. Sometimes, they will listen if they are not so verbal, or they'll just video-call and do their own thing," Mrs Siau said.
SUPPORTING EACH OTHER AS A GROUP
Mr Aaron Yap, 26, dislikes sports, but his mother believes that he loves sport stacking because he has artistic leanings.
A visual artist who works part-time at fast-food chain McDonald's, he is on the autism spectrum and loves the colourful cups. He exclusively uses just one set designed with flames like fire and the cups are coloured brown and yellow.
When Mr Yap's cups were not qualified for the competition due to wear and tear, he was devastated and his mother had to buy him a new set of cups on the day itself.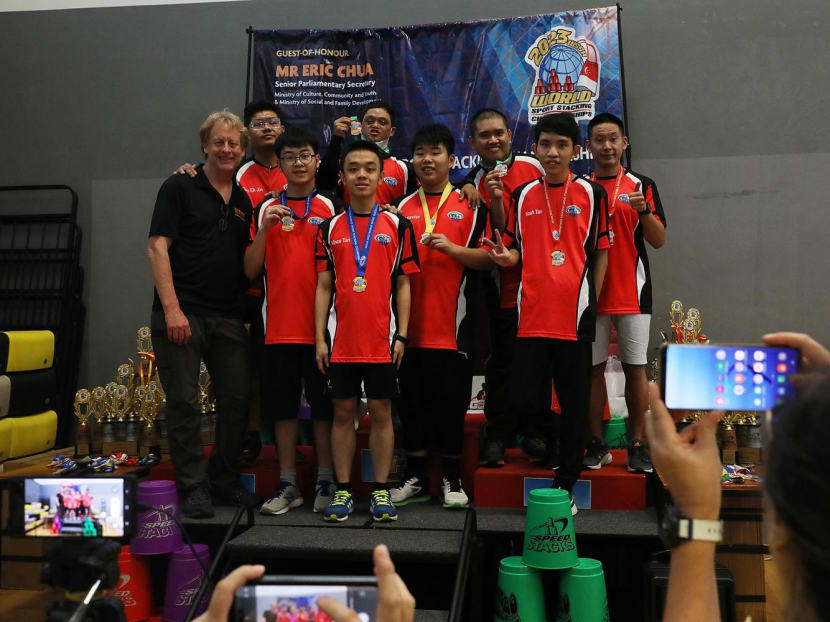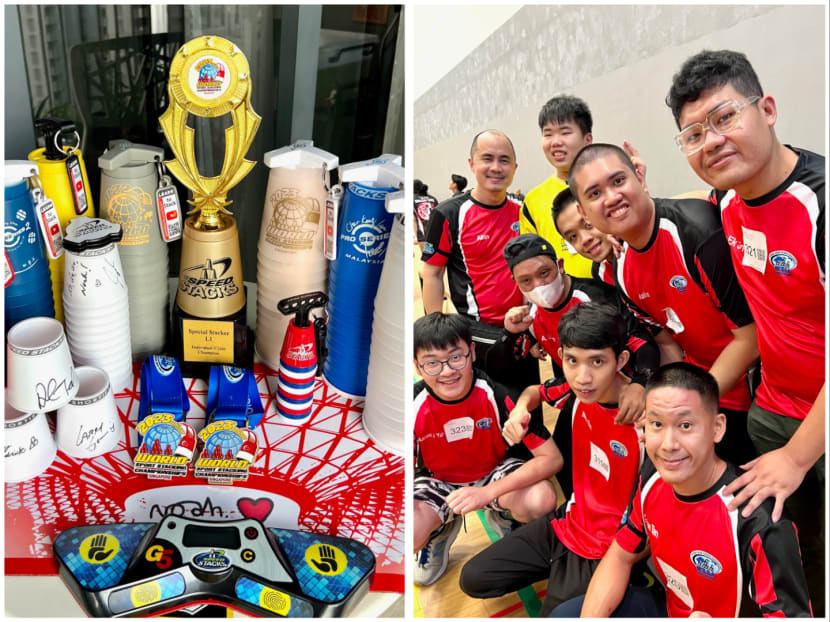 Yet, with just three months of practice under his belt and despite the setback of having to use a new set of cups, Mr Yap came in third overall among the special stackers.
His mother, Mrs Diana Yap, 56, an instructional assistant in a school, was proud of his win.
"We went to get fish and chips at the hawker centre to celebrate because it's his favourite, though we always celebrate whether he wins or loses."
Mrs Yap was not watching her son's win during the competition. Along with the other mothers of special stackers, she was busy volunteering at the competition.
"I was an emcee to help facilitate the event, while some mothers were handling (the food), helping care for the special stackers and logistics," she recalled.
These volunteers told TODAY that this was their way of repaying the opportunities given to their children that allowed them to shine.
"When it comes to special needs children, every child is your own kid," Ms Rosmawati said. 
"Sometimes we have to be firm to ensure that they follow the rules (due to time constraints). Then after the competition, we explain why." 
With all the parents cheering for each other's children, they said that the community had the "kampung spirit".
It is for this reason that Mr Tan was able to head to the competition and compete with little hiccup while she was hospitalised, Ms Wang said.
"One of the mummies picked up Noah and took him to the competition. The mummies were all there helping him out when I couldn't," she added.
"We're blessed. It takes a whole village to raise a special needs child, and the whole village came to support (us) when I was in hospital.
"I'm so thankful and grateful for them."
GROWING THE SPORT
Mr Ong, WSSA Singapore's ambassador, said that the sport has grown since 2013 when he first started teaching the sport in schools and community centres here.
From just three schools, Mr Ong and his team now coach at 25 schools, with some schools teaching the sport independently.
"In the past, when you tell people about stacking, they would be confused. But after more television programmes, like Minute to Win It, more people know (about sport stacking)," he added.
Minute to Win It is an international game show franchise where participants complete a series of one-minute challenges. It was first aired in the United States in 2010. A Singapore spin-off was created in 2014. 
To grow the sport here, Mr Ong holds online training sessions every Sunday afternoon over video-conferencing platform Zoom and holds physical training sessions if he is able to book a space at the Sports Hub Library in Kallang.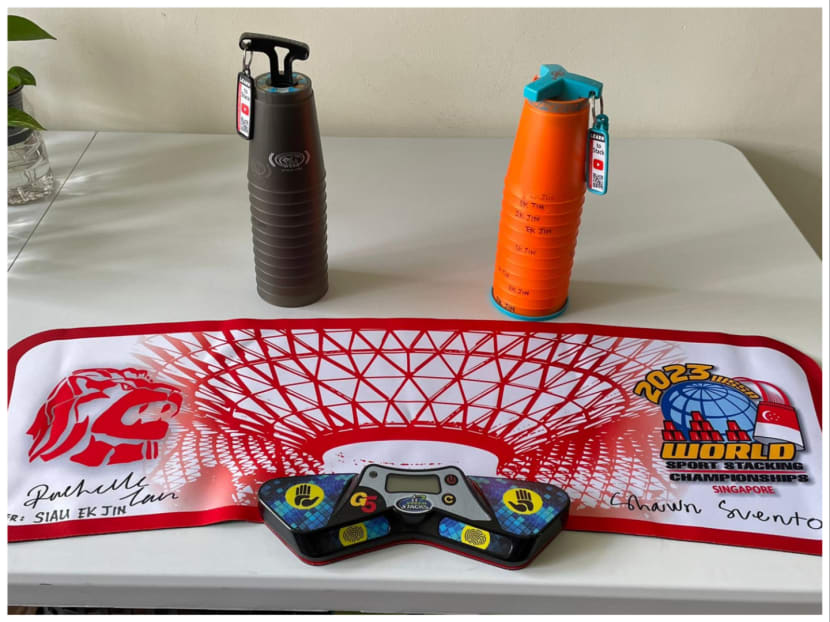 Having seen the successful turnout at the World Sport Stacking Championship that he and his team of 34 crew members and 70 volunteers organised, Mr Ong is determined to encourage more people to pick up sport stacking, regardless of their background.
The parents of special stackers were also motivated by their children's success at the championships.
Mrs Siau, for instance, is looking to improve her own cup-stacking skills so that she can qualify for the finals with her son during the parent-child match.
As for Ms Wang, she hopes that her son could further his skills so that he, too, may bolster his community by becoming a sport stacking coach for future special stackers.
"He can relate to them better, and also give back by teaching other special needs students a sport that benefited him," she said.