Youth, 20, first to plead guilty to laundering money from multi-millon dollar OCBC phishing scams
Leong Jun Xian was charged with money-laundering along with six other youths in February
He helped scammers, who are believed to be based overseas, by providing bank accounts to launder their ill-gotten gains
The customers had fallen prey to a phishing scam that worked through fake SMS text messages
Leong was promised a monthly salary of S$3,000, with an additional S$500 to S$800 per bank account he provided
A judge called for reports to assess if he is suitable for reformative training or probation
SINGAPORE — A 20-year-old man on Wednesday (April 20) became the first of seven charged in court to plead guilty to his involvement in a spate of high-profile phishing scams, which had hit OCBC Bank between December last year and January.
Leong Jun Xian, who turns 21 on Thursday, helped to launder the scammers' ill-gotten gains. He personally provided 12 bank accounts for this purpose and instructed runners to withdraw scam proceeds from automated teller machines (ATMs).
Prosecutors argued that the youth was not merely a "cog in the wheel" as there were significant planning and premeditation involved.
The OCBC phishing scams affected almost 800 customers who lost S$12.8 million, according to court documents. The bank said previously that S$13.7 million was lost in the scam.
Leong was among seven Singaporean youths aged 19 to 22 who were charged in February with money laundering offences.
The others have yet to be dealt with, while the police said at the time that they were also investigating six others.
At the time, an array of mobile devices, 112 bank cards and debit cards, SIM cards, S$2,760 in cash and two Rolex watches — worth S$35,600 in total — were seized.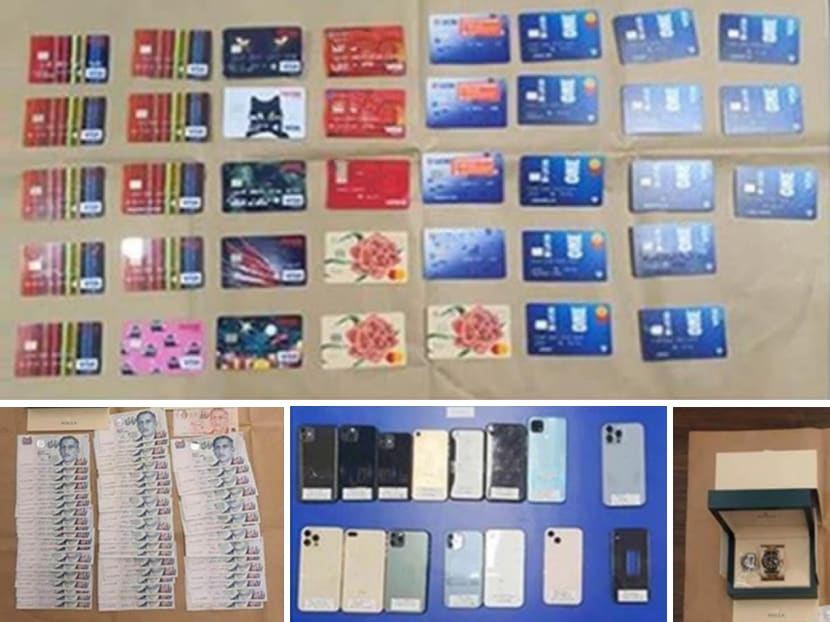 On Wednesday, Leong admitted to two counts of helping another to retain the benefits of criminal conduct — an offence under the Corruption, Drug Trafficking and Other Serious Crimes (Confiscation of Benefits) Act. 
He also pleaded guilty to being a member of a locally-linked organised criminal group, which falls under the Organised Crime Act, along with two unrelated rioting charges.
Ten other similar charges, including illegal gambling and being a member of a secret society, will be taken into consideration for sentencing on June 1.
District Judge Kessler Soh called for reports to assess if Leong is suitable for reformative training, which is a regimented rehabilitation programme for offenders under 21 who commit relatively serious crimes, or probation.
Probation is a less severe punishment that is usually offered to first-time offenders aged between 16 and 21 and does not result in a criminal record.
It also allows young offenders to continue with their education or employment while serving their sentences.
SCAMMERS BELIEVED TO BE BASED OVERSEAS
The court heard that along with Leong, these youths are accused of participating in the OCBC phishing scams:
Brayden Cheng Ming Yan, 19
Kong Jia Quan, 19
Jovan Soh Jun Yan, 19
Roy Peh Yong Rong, 19
Muhammad Khairuddin Eskandariah, 20
Lim Kai Ze, 21
A female teenager identified as A2, 17
Prosecutors told the court that the modus operandi was as follows:
Scammers impersonated OCBC and sent SMS text messages to victims, informing them of fake banking-related issues and giving a website link
Victims who trusted that these messages were genuinely from OCBC clicked onto the website and were taken to a fake login page
They entered their electronic banking login credentials and one-time passwords on the page, and were taken to a final landing page
Unknown persons then gained control of their bank accounts, set up digital banking tokens, and changed the victims' login credentials and contact information linked to the accounts without their authorisation
The scammers then transferred funds out of the accounts to other local and overseas accounts
Investigations revealed that Leong and the others worked together to provide money-laundering services to various unknown persons believed to be linked to overseas syndicates. This includes sourcing for and providing control of bank accounts to these people.
Some of the accounts were used to receive and distribute funds from the scam victims. Others were used in relation to money from victims of other scams.
The syndicate also instructed Leong's group to withdraw cash from ATMs.
The group relayed the bank account credentials to the syndicates through three chat groups on messaging platform Telegram between December last year and February this year.
During that period, the group provided at least 16 bank accounts, with Leong personally providing 12 of them.
The total amount of money, which came from scam victims including the OCBC customers, received by the accounts was almost S$600,000.
Leong and the other youths believed that the unknown persons they were in contact with — only identified as William or Huang Wei Hong; Huang Da Ge; and Terry — were based overseas.
William promised him a monthly salary of S$3,000, on top of an additional S$500 to S$800 per bank account that he could provide.
Leong and the others also used another Telegram chat group known as Mobile Legends, ostensibly in reference to the popular mobile game, for their internal communications.
Specifically, in relation to Leong, he further instructed agents working under him to find bank accounts for the syndicates.
He also told Poh and A2 to withdraw money from accounts, as directed by the syndicates. On one occasion on Dec 28 last year, A2 allegedly withdrew S$81,800, said to be from two victims of the OCBC scams, from her own DBS account.
Leong admitted to taking the money from the girl and using part of the sum to pay account holders who had sold their accounts to him.
RIOTING OFFENCES
Separately, Leong got into physical altercations on two occasions.
While he was a fighter with the Sio Kun Tong secret society, he and some friends went drinking on Nov 20, 2020.
A fight then broke out over a staring incident at Oriental Plaza along New Bridge Road, leading to three teenagers being injured.
Less than a month later, on Jan 9 last year, Leong joined his fellow gang members in assaulting a man who had purportedly made remarks that belittled their gang.
Leong's co-accused recorded a video of the victim kneeling and bowing 18 times as a form of apology to the gang, while Leong and some others continued to kick him.
LURED BY EASY MONEY
Deputy Public Prosecutors (DPPs) Lee Wei Liang and Jason Chua argued that Leong's offences warranted some form of deterrence, along with rehabilitation as he is considered a young offender.
They stressed that he committed "very serious offences" that warranted lengthy jail terms by themselves if he was sentenced as an adult, adding: "It's not an exaggeration to describe him as a serial and prolific offender."
While Leong did not perpetuate the scams, the DPPs argued that was not the point. They said that without Leong and the others handing over bank accounts, the syndicates would be "toothless".
Leong was also not a mere "cog in the wheel" and there was "significant planning and premeditation" involved, the prosecutors told the court.
Investigations into the 112 ATM cards seized from the suspects are ongoing, and the full scale of the scams has yet to be uncovered, they added.
Leong's lawyer, Ms Audrey Koo from Populus Law Corporation, told the court that he is currently waiting to enlist in National Service and plans to resume his studies at the Institute of Technical Education afterwards.
His relationship with his parents has also improved, Ms Koo said, and he spends more time with other friends rather than his co-accused.
"What he needs now is education and support from his family. The syndicate made use of young offenders — if it was not him, it would be another 20-year-old lured by easy money," the defence counsel added.
District Judge Soh said that he called for a probation report to understand Leong's background. No matter what sentence is recommended, the court will give the appropriate one, the judge added.