After Olympic title, Schooling sets new targets
SINGAPORE — All his life, Joseph Schooling had always dreamt of becoming an Olympic champion.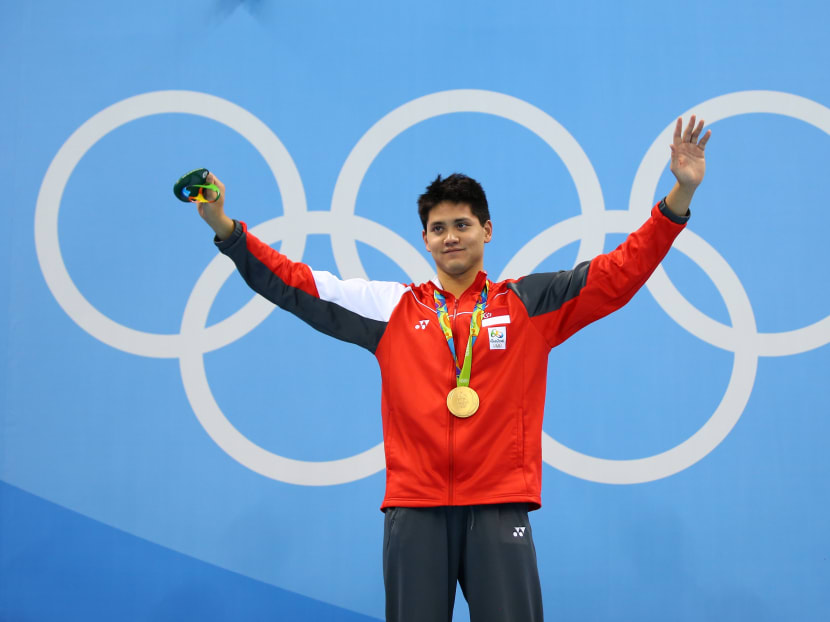 SINGAPORE — All his life, Joseph Schooling had always dreamt of becoming an Olympic champion.
And now, fresh off achieving that goal in the men's 100m butterfly at the Rio Olympics last Saturday (Aug 13, Singapore time) where he outswam American Michael Phelps to win gold in an Olympic record time of 50.39s, Schooling is already aiming to reach new levels of excellence in his swimming journey.
Speaking to students at a Q&A session during his visit to his former primary school Anglo-Chinese School (Junior), where he studied from 2002 to 2007, earlier this morning, the 21-year-old said that he now has his sights set on breaking Phelps' world record time of 49.82s in the 100m butterfly which was set in 2009.
"As a kid, when I was 6 or 7, I have always wanted to be an Olympic champion and that was my ultimate goal, aspiration and dream," Schooling explained.
"I moved to the US when I was 13 because I wanted to be an Olympic champion."
"In hindsight, I thought I would be content with being an Olympic champion and achieving my goal, but now I am looking forward to the next step, which is to try and be the world record holder in the event and break Michael's world record."
Schooling advised the audience, which was made up of students from the ACS family, including ACS (Independent) where he studied from 2008 to 2009, that hardwork and effort should not stop the moment one's goals are achieved.
"I have realised that you can't sell yourself short," he said. "It's great to achieve your goals but you can't be content with achieving your goal for too long."
"You have got to take the positives of what you have got and move on to shoot for bigger, better things, and those are the things that I know each and every one of you guys in this room are capable of."
"Don't be content or satisfied with achieving what you what you planned to do 10 or 15 years ago."
Schooling also revealed that he felt nervous before his 100m butterfly final on Saturday, although he certainly showed no signs of it.
"I was really nervous because it was an Olympic final and I have never been to one before," he recounted.
"You see Phelps, Chad le Clos and they have all won gold medals and been in that stage for longer than I have."
"So obviously, there were a lot of doubts in my head but I didn't want to let anyone down or else all my hard work would have gone to waste if I didn't achieve my goal."
But he quelled the butterflies in his stomach to eventually achieve his aim.
"While all those things were going through my head, I just told myself, "I am going do this and put myself in the best position possible to achieve my goal."
"And that's what everyone should do too."