Archer Syahidah Alim aims higher and further after 3rd APG gold
SINGAPORE — National archer Syahidah Alim has faced several challenges throughout her life: Because of her cerebral palsy, she was bullied as a child, treated differently in school, and was told that she couldn't do sports.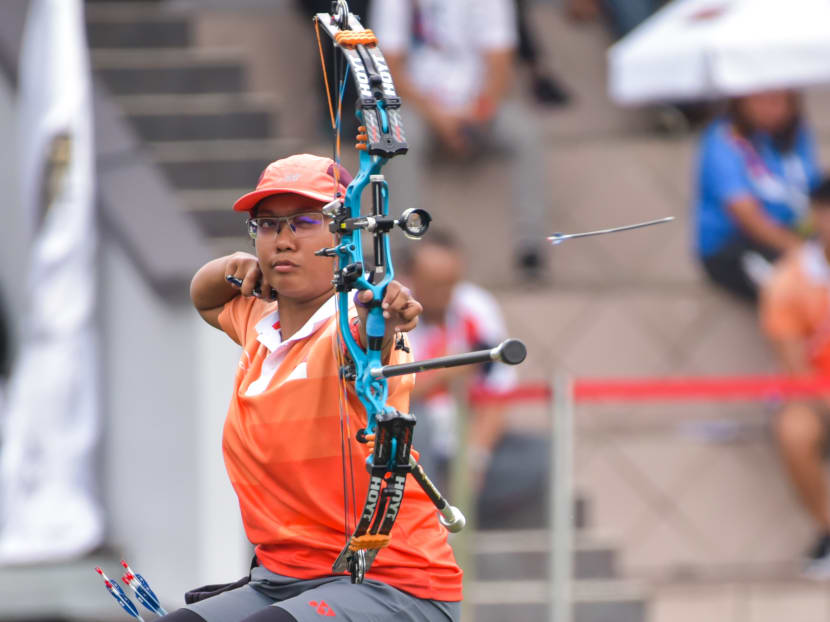 SINGAPORE — National archer Syahidah Alim has faced several challenges throughout her life: Because of her cerebral palsy, she was bullied as a child, treated differently in school, and was told that she couldn't do sports.
Today, however, she is a triple Asean Para Games (APG) gold medallist, has a fulfilling job at national sports governing authority Sport Singapore, and is even part of the national archery squad alongside able-bodied athletes.
Life has not been easy for Syahidah, but she has overcome all the odds to get where she is today.
"I believe that my past experiences and tough childhood have given me the perserverance and determination to succeed in anything I want to achieve," the 32-year-old told TODAY after defending her Women's Compound title at the 2017 Asean Para Games in Kuala Lumpur on Thursday (Sept 21).
"I want to do better and I'm very happy with my improvement from the last Games," the Spex Scholarship recipient added.
Syahidah pipped Malaysian Nor Sa'adah Abdul Wahab 140-132 on Thursday to clinch the gold medal. The showdown was a repeat of the 2015 final when she captured Singapore's first-ever APG gold in the sport.
In 2015, Syahidah had also teamed up with Robert Fuchs to win the mixed team compound gold. The duo will be hoping to retain that title again when they return to action on Friday at the KL Sports City.
Despite her condition, Syahidah is one of the best archers in Singapore. Last year, she beat five other national archers to top her category at the Singapore Archery Open.
That feat meant that she had met the qualifying criteria for the SEA Games, but she was denied the opportunity to compete against able-bodied athletes after the SEA Games Federation (SEAGF) rejected a proposal in March to allow Syahidah to shoot while seated on a stool and appoint another person to collect her arrows.
SEAGF president Tunku Imran Tuanku Ja'afar had told the media then that setting aside these provisions for Syahidah could have given her an "unfair advantage".
"We don't want to set a precedence... we must be fair to able-bodied athletes... There's no problem or issue if a para athlete wants to participate as long as they can compete with other able-bodied athletes with the basic conditions of the SEA Games," he said.
However, according to earlier reports, Syahidah has an international classification card which permits her the use of the stool that she sits on to shoot. And according to World Archery (WA), the sport's international governing body, an athlete can appoint another person to collect their arrows.
Syahidah told TODAY that while she was initially disappointed, she respected the SEAGF decision.
"The first time I received the news, of course I was disappointed... but I believe there must have been a reason for their decision, so I told myself to just move forward and there'll be other opportunities in the future."
The SEAGF council changes for every edition of the Games. It is made up of members from the host country. The next SEA Games will be held in Manila.
Syahidah says she still dreams of representing Singapore in the SEA Games one day, and has also set her sights on the Asian Games in Indonesia next year.
"My immediate target is the Asian Para Games in 2018 and the Paralympics in 2020, but of course I would like to test myself and compete against all athletes," she said.
After being excluded from sports as a child, the Syahidah of today is an active sportswoman with multiple endeavours. She takes part in 5km walks and is also an accomplished swimmer who has youth-level lifeguard swimming certification. She credits her mother for giving her the self-belief she needed to succeed today.
"My mum is the reason why I can walk, jog and swim today," she said in a previous interview.
"She made me go for physiotherapy regularly since I was four. Exercises were tough and painful, and I was often frustrated as a kid, but she believed physio was important for me to lead an independent life."
During Syahidah's childhood, her mother was integral in convincing others to give her equal opportunities. Syahidah recounted in an interview with Team Singapore how her mother persuaded a teacher to let her into the Girl Guides.
"My mother basically just walked up to the person-in-charge and went, 'my daughter's keen, she's sure she can do it, and all she needs is the opportunity. If she can't do it, fair enough. Just let her try.'"
The teacher eventually agreed, and Syahidah went to earn nearly all the Guides' badges, even taking part in activities like hiking and campfires. The teacher later admitted to Syahidah that she was wrong about her, and that Syahidah had totally changed her perception of people with disabilities.
"My biggest dream, away from archery, is definitely to grow as a stronger person and to inspire other people...My mum was a great inspiration for me, and hopefully I can be to others," she said.
The fifth day of APG competition in Kuala Lumpur also saw Team Singapore swimmer Toh Wei Soong taking gold too. He won the men's 50m freestyle S7 final in a new Games record, adding to the 100m freestyle title he won on Monday.
The 19-year-old Anglo-Chinese School (Independent) student Toh told TODAY that his next target is to test himself at the Paralympics.
"Definitely I will work on my plan for the Paralympics after my exams. That's always my goal and I hope to be there in 2020."
Meanwhile, Singapore's most bemedalled para-athlete at the APG Theresa Goh came in second in the women's 50m freestyle S5 final. Goh had been the defending champion but was pipped to the gold by Indonesia's Laura Aurelia Dinda Sekar Devanti.
Three-time Paralympic gold medallist Yip Pin Xiu, who was swimming three levels above her class, also competed in the race and finished fourth.