More turmoil at Sports Hub as it seeks to remove partner
SINGAPORE — Already affected by a slew of issues since its opening in June 2014, Singapore's S$1.33 billion Sports Hub is set for another major upheaval.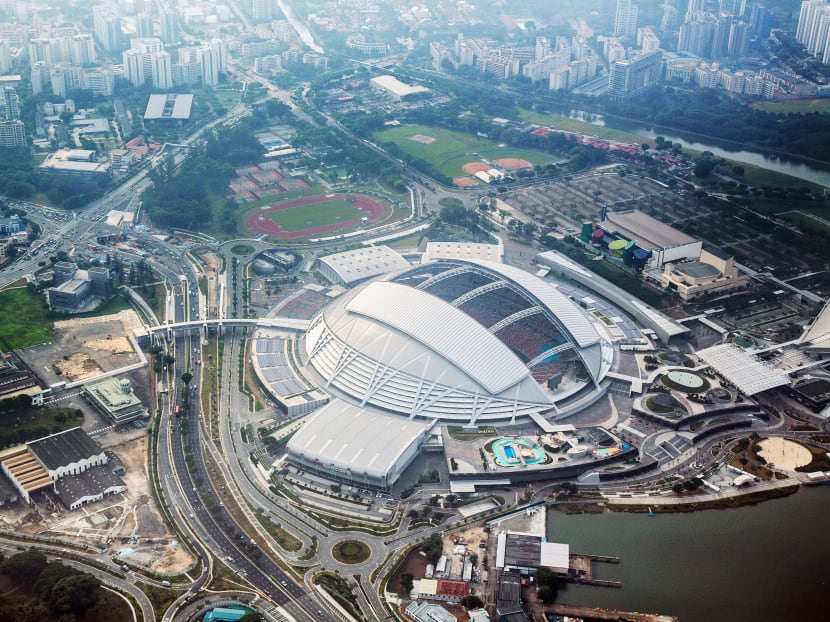 SINGAPORE — Already affected by a slew of issues since its opening in June 2014, Singapore's S$1.33 billion Sports Hub is set for another major upheaval.
TODAY has learnt that Sports Hub Ptd Ltd (SHPL) board, led by major equity partner InfraRed Capital Partners, is proposing to terminate the contract of its venue operation partner, Global Spectrum Pico at a meeting in the United States today (Feb 18).
Part of the Comcast Spectator Group — a sports and entertainment company based in Philadelphia, in the United States — Global Spectrum Asia had linked up with local event management company Pico for the Public-Private-Partnership (PPP) project. As the venue operating partner, they are responsible for booking and managing concerts and sports events, as well as marketing the facility to local, regional and international clients, and the Singaporean community.
According to sources, the SHPL board is unhappy with the commercial deals undertaken or signed by Global Spectrum Pico, which has resulted in costs and losses for SHPL. It is proposing for the consortium to take on the venue operator's role as part of a restructuring of SHPL.
SHPL has a 25-year contract with Sport Singapore to design, build, finance and operate the Sports Hub. The consortium currently comprises four equity partners: InfraRed Capital Partners, Dragages Singapore (design and building contractor), DTZ Facilities & Engineering (S) Limited (facility management partner), and Global Spectrum Asia.
TODAY understands that an audit conducted by KPMG in the past 18 months found a lack of alignment of interest between Global Spectrum Pico and the shareholders and government stakeholders.
Responding to queries from TODAY, SHPL Chairman Mark Woodhams said in a statement: "As part of the normal course of business, we regularly conduct periodic internal and external reviews, with a view to evolve the standards of our service delivery.
"This ensures that our structures, processes and service delivery are in-line with globally recognised operational and corporate governance best practices.
"Over the 25-year life of the project, it has always been envisaged that there would be continuous improvements that could be implemented to ensure best operational practice.
"This is particularly relevant as routine operations are settling down. The achievement of high operational efficiency and best service delivery is paramount to the successful long term operations of Sports Hub.
"The current review process with respect to aspects of the operations is ongoing, and therefore we are not in a position to give any further details.
In addition, we take our obligations of confidentiality with our partners seriously and, as such, are not in the position to discuss or respond further to these enquiries."
In a statement sent late last night, Global Spectrum Pico said it is dismayed at the manner in which SHPL has "without notice to Global Spectrum or without factual basis elevated an internal matter regarding the management of the Sports Hub to a public forum".
"Our interest and the interest of the Singapore Sports government are completely aligned and have always been," said Dave Scott, President and Chief Executive Officer, Comcast Spectacor.
"No wrongdoing nor contractual breach can be established by SHPL or InfraRed Capital partners and we strongly resent any implications to the contrary… We are confident that as this matter unfolds the focus will be upon our excellent performance as opposed to baseless allegations."
A Sport Singapore spokesperson told TODAY: "SportSG is aware that SHPL is reviewing its operations. We will continue to require that the terms and conditions of the Project Agreement are met."
While it remains to be seen how the proposal — if accepted by the board — will affect the operations and events calendar of the Sports Hub, observers will be keen to see what changes will be implemented for the billion dollar project.
Since it opened its doors in 2014, the Sports Hub has been plagued by a number of problems.
The National Stadium's hybrid grass pitch had previously come under fire for its sandy conditions, while event organisers had threatened to pull out their sports events from the stadium due to high costs and other factors.
Talks for hosting the 2016 National Day Parade had also hit an impasse in December over costs, but a deal was eventually reached between the parties.
The Sports Hub's calendar of events has also came under criticism. The Straits Times reported last year that at least two hospitality suite owners at the National Stadium were seeking legal action against the Sports Hub, with one claiming that they had not delivered on the promise to stage at least 15 public-ticketed events a year.
Last December, SHPL confirmed that Mark Collins and Daphne Letourmel, Global Spectrum's managing director and director of contracts and compliance, respectively, were "stepping aside" from their roles. Last week, TODAY reported that another two members of SHPL's senior management had resigned from their positions with the company, which has seen seven senior staff depart in the last six months.
Added Woodhams: "We are committed to delivering a vibrant and dynamic Sports Hub through a calendar of international, regional, national and schools events, as well as comprehensive community engagement programmes.
"The full Sports Hub team is fully dedicated to delivering on this strategy."