Delwinder's eager to repay Hougang United's faith in him
SINGAPORE — Given his commanding performance at the back for Hougang United in their 1-0 shock win over title-chasing Home United last week, it is hard to imagine that about a year ago, defender Delwinder Singh was left in the football wilderness without a club.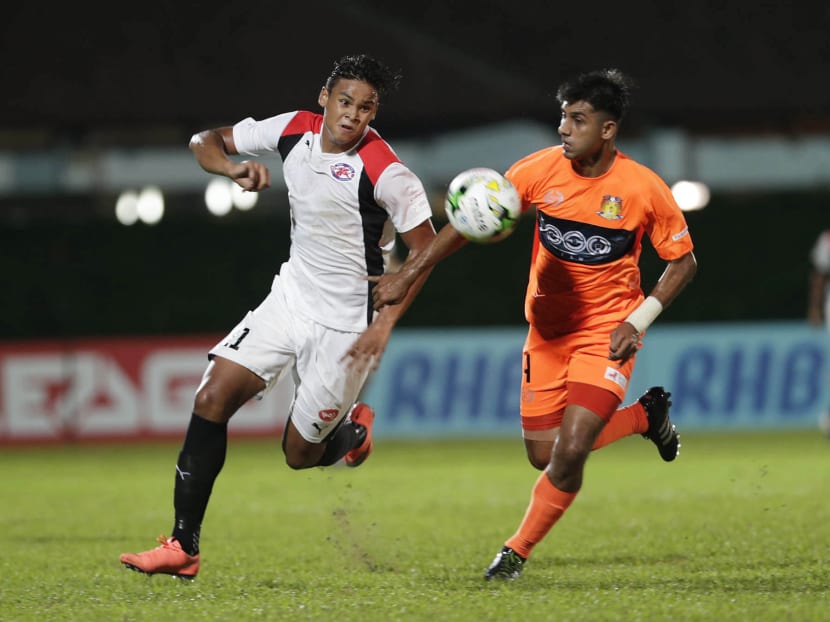 SINGAPORE — Given his commanding performance at the back for Hougang United in their 1-0 shock win over title-chasing Home United last week, it is hard to imagine that about a year ago, defender Delwinder Singh was left in the football wilderness without a club.
Back then, the 23-year-old had just began his National Service, and no club was willing to take a chance on him as his unpredictable schedule made it hard for him to attend training regularly.
Although he had shown enough promise during his stint with Tanjong Pagar United to earn a call-up to the national team in 2011, Delwinder's footballing future at that point of time looked bleak.
Recalling that dark period, Delwinder told TODAY that his failure to secure a club in time for the 2015 S.League season made him contemplate quitting football and pursuing a career in the army.
"The idea did cross my mind," admitted Delwinder. "Those were tough times for me and it was especially painful to be without a club to train and play football regularly.
"I seriously considered joining the army but eventually, my passion for the game was too huge. I've been involved in the game since I was six, and I've always loved it, so I decided to give my footballing career another shot."
Delwinder's decision bore fruit. In February last year, he was invited to train with the LionsXII to keep himself sharp and match-fit. And after impressing in a friendly match for the LionsXII against Hougang in the middle of last year, he was offered a contract to join the Cheetahs.
The former Singapore Under-22 player has not looked back since.
Throwing himself back into the game with renewed vigour and focus, he has now firmly established himself as an integral part of Hougang's backline, and played a key role in shutting out the Protectors last week.
And even though the 1.79m player is serving his NS full-time, he is now granted more leeway from his army unit, which allows him to train regularly with his team.
"I'll always be grateful to the LionsXII for giving me the chance to train with them, and to my unit for being understanding and supportive towards my footballing career," said Delwinder.
"My main focus now is to repay Hougang back with my performances on the pitch for the faith they have shown in me. I'm here together with a fantastic group of players, we're like a family, and I'm going to give my all, day in and day out, to ensure that we have a good season this year."
Hougang head coach K Balagumaran added: "I've known Delwinder since he was 16 and even back then I could see that he had the potential to go far in the game. He has a great attitude, works very hard and is very willing to learn. If he continues on like this, it will only be a matter of time before he becomes a regular in the national side."
The next big test for Delwinder will be big-spending Tampines Rovers who will host Hougang tomorrow at the Jurong West Stadium.
And with the wealth of attacking options – which includes ex-Arsenal and Liverpool winger Jermaine Pennant, as well as former Sarawk FA striker Billy Mehmet – at the Stags' disposal, it promises to be another busy day at the office for Delwinder.
"Yes, they are the favourites," Delwinder said. "But we've shown last week that does not mean anything. If all of us concentrate throughout the 90 minutes and work our socks off, I don't see any reason why we can't cause another upset."
TODAY'S MATCH PREDICTIONS:
Tampines Rovers vs Hougang United (Friday, 7.45 pm, Jurong West Stadium)
Tampines' attacking trio of Jermaine Pennant, Jordan Webb and Billy Mehmet will have to be at their best against a resilient Hougang backline. Delwinder Singh and Ali Hudzaifi impressed at the back in the Cheetahs' surprise 1-0 home win against Home United while hardman M Anumathan was a force to be reckoned with in midfield.
We don't expect a flurry of goals but we reckon there could be a surprise.
TODAY's prediction: Tampines 1-2 Hougang United
Garena Young Lions vs Geylang International (Tonigh, 7.30 pm, Jalan Besar Stadium)
After their shock 1-0 win over Balestier Khalsa in their opening match, the Young Lions were brought back to earth last Saturday as Albirex Niigata thumped them 5-0.
And things are not likely to get any easier tomorrow when they host Geylang International.
The Eagles have started the season with draws against two title favourites - Tampines Rovers (3-3) and Brunei DPMM (1-1). They will be further boosted by the return of captain Isa Halim after he served a two-match suspension carried over from last season.
However, they will be without striker Amy Recha, who was sent off against DPMM.
We expect Geylang to finally get their first win of the season with relative ease.
TODAY's prediction: Garena Young Lions 1-3 Geylang International
Balestier Khalsa vs Albirex Niigata (Saturday, 7.30 pm, Toa Payoh Stadium)
Balestier will be keen to banish memories of their shock 0-1 loss to the Young Lions but travelling fatigue from their AFC Cup mathc against New Radiant in the Malives, and the absence of foreign players, defender Emir Lotinac and forward Robert Pericic, because of injuries could exact a toll on them.
Meanwhile, Albirex are buzzing from their electric start to the season - a 3-2 win over DPMM and a 5-0 mauling of the Young Lions.
Frontman Atushi Kawata struck four times in that win and he will be one to watch on Saturday.
TODAY's prediction: Balestier Khalsa 1-3 Albirex Niigata
Brunei DPMM vs Warriors FC (Saturday, 8.15 pm, Bandar Seri Begawan)
Reigning champions DPMM have not got the start they wanted to the season, securing just one point from a possible six.
They were outplayed 2-3 by Albirex before being held to a frustrating 1-1 draw by 10-men Geylang last Saturday.
Warriors will still be without suspended centre-back Madhu Mohana buta fter their match against Tampines was called off due to a waterlogged pitch last Friday, foreign imports Nikola Rak and Jonathan Bebe should come out all guns blazing.
We expect goals in this one.
TODAY's prediction: Brunei DPMM 2-2 Warriors FC
LIVE ON TV:
Tampines v Hougang (StarHub Ch 112 and 205; 7.45 pm)