FAS at rock bottom, but that may not be a bad thing
Now that the curtains have finally come down on the Football Association of Singapore's (FAS) elections, I think that Fifa deserves a thank-you card from Singapore for ordering the polls to be held in the first place.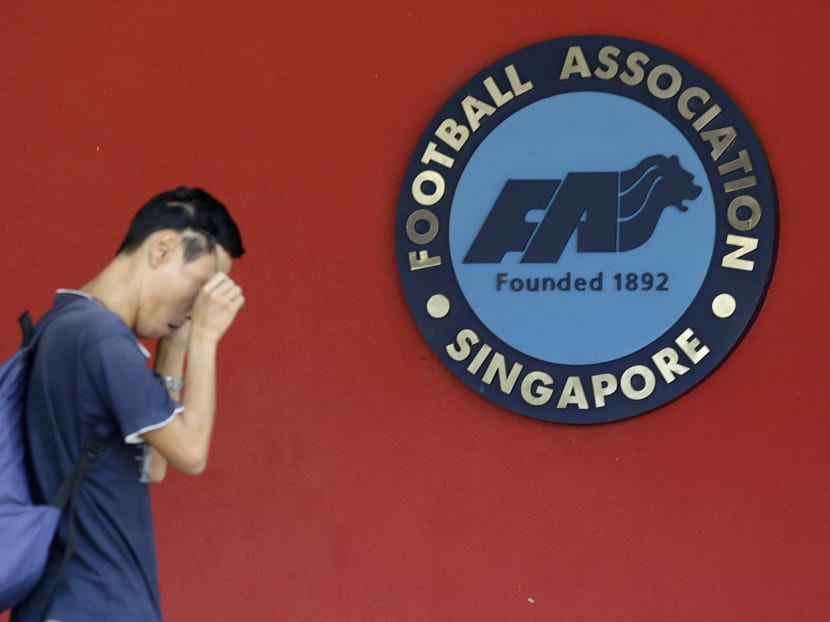 Now that the curtains have finally come down on the Football Association of Singapore's (FAS) elections, I think that Fifa deserves a thank-you card from Singapore for ordering the polls to be held in the first place.
Football's world governing body may be trying hard to repair its own office and image after the scandals of Sepp Blatter's era, but in forcing the FAS to ensure that its leaders are democratically voted in by its constituents, instead of being appointed by the Government, it also inadvertently shone a spotlight on how the FAS is actually run, and also caused a lot of skeletons to come tumbling out of the national sports association's (NSA) closet.
Thanks — or rather, no thanks — to a string of shocking revelations that emerged over the past two weeks, the reputation of Singapore football has now hit rock bottom.
It means that Lim Kia Tong's new FAS council will have a lot to do over the next four years to repair the national body's image and name, restore its stakeholders' trust and confidence in it, and at the same time, work on repairing the many dysfunctional areas of Singapore football.
The FAS used to boast constantly to the media that it is, according to a confidential study conducted by Sport Singapore, one of the top three best-run and governed NSAs in Singapore. We now know better.
We know that then-FAS president Zainudin Nordin had promised the Asean Football Federation money to support its Football Management System. Why he did that, instead of looking for money to develop Singapore football, remains a mystery to me.
We know that the FAS actually asked Bill Ng for money to support the LionsXII, and accepted S$200,000 that was meant for Hougang United. Which, sadly, is the clearest sign of how much regard the FAS really has for the S.League in its plans to build strong national teams.
We also learnt that FAS general secretary Winston Lee saw nothing wrong in not informing the FAS exco of the S$500,000 donation to the AFF because he reasoned that it was a private donation by a club to the AFF — never mind that he was well aware that his president had solicited the donation.
Nor did Lee think it his duty to persuade Zainudin to pump the money into Singapore football, or to inform the exco so that they could do so, if he thought it was not his place to voice dissent. Mind you, we did ask the FAS, Lee and Zainudin these pointed questions. They chose not to answer them.
We also discovered that Bill Ng's Tiong Bahru FC (TBFC) pays Polygon Ventures, a company owned by his wife, S$80,000 a month in rent for space for its clubhouse, or almost S$1 million a year. That works out to be about S$21 per sqft for a 3,500 sqft People's Park Centre basement unit where rates for similar units there range between S$2.91 and S$11 per sqft.
Finally, we learnt that there are football clubs running jackpot clubhouses that are not even involved in any football activities. So for now, never mind that TBFC ploughed just S$169,000 from its jackpot profits back into the club.
What about former S.League club Sinchi FC, which is no longer part of the S.League, nor even an affiliate of the FAS, but which reportedly still runs a jackpot operation at Sultan Plaza?
Before the elections, veteran football official S Thavaneson told the media that the FAS has no power to stop a club from running jackpot operations because it is the authorities who issue such licences.
I would have thought that it would be the moral duty of the FAS to write letters of complaint to the authorities about rogue outfits like Sinchi to get its jackpot licence taken away. But no, this never happened.
Still, despite all the despair and hand-wringing, let those among us who want to see a better tomorrow for Singapore football be grateful for these revelations.
It now means that the new FAS Council, Sport Singapore and the Ministry of Culture, Community and Youth now know what the problems in the FAS are. It also means that there will be acute pressure on the new council to fix and solve these problems.
Tough job, but I remain hopeful.
I am hopeful because of what I saw on Saturday night.
I attended a friend's wedding after a long day of covering the FAS elections. He used to work at FAS, so naturally among the guests were past and present FAS staff.
Lim also attended the wedding party. He had made time to do so after a long day at the polls, and he had not even been home yet.
During the course of the balmy night, I saw Lim deep in conversation with national football coach V Sundramoorthy. Sundram was telling him his plans for the national team, which will play its next Asian Cup qualifying match against Taiwan in Singapore on June 10, and what resources he would need to prepare for the game.
They spoke for almost 30 minutes. Lim kept nodding his head, and eventually he gave Sundram a pat on the shoulder. As they shook hands, Sundram looked pleased.
I was also with close friends that night. Most were former FAS staff — hardworking and competent people who gave a lot of themselves to football, only to end up leaving in frustration and sadness because of the way the FAS secretariat was run, and because of how some staff were allowed to politick, and make their colleagues' lives a misery.
My friends have moved on to better-paying jobs, but as we chatted, they all said the same thing: That while they were pained by all the revelations that emerged over the past two weeks, they are now hopeful of change in the way the FAS is run.
Many also expressed a wish to return to the FAS one day because they enjoyed their work at Jalan Besar despite the politics they endured, and because they always felt that they were doing more than just work — they were also serving Singapore football.
I am hopeful that these scenes will emerge: The new FAS Council will function transparently, constantly engaging and listening to its stakeholders and constituents, instead of being opaque and operating in its own world; the secretariat will be much more efficient and effective once competent people are finally brought on board.
Right now, that hope is all we have left from the pile of rubble that Singapore football and the FAS have become.
I wish Kia Tong and Bernard Tan and their new council all the best. They have a lot to do in the next four years.
Gerard Wong is the Sports Editor of TODAY