Fazrul out for up to seven months, to miss Suzuki Cup
SINGAPORE — V Sundramoorthy was at the Jurong West Stadium on Wednesday night to watch a number of his national team regulars from Tampines Rovers and Hougang United go head-to-head in a S.League match.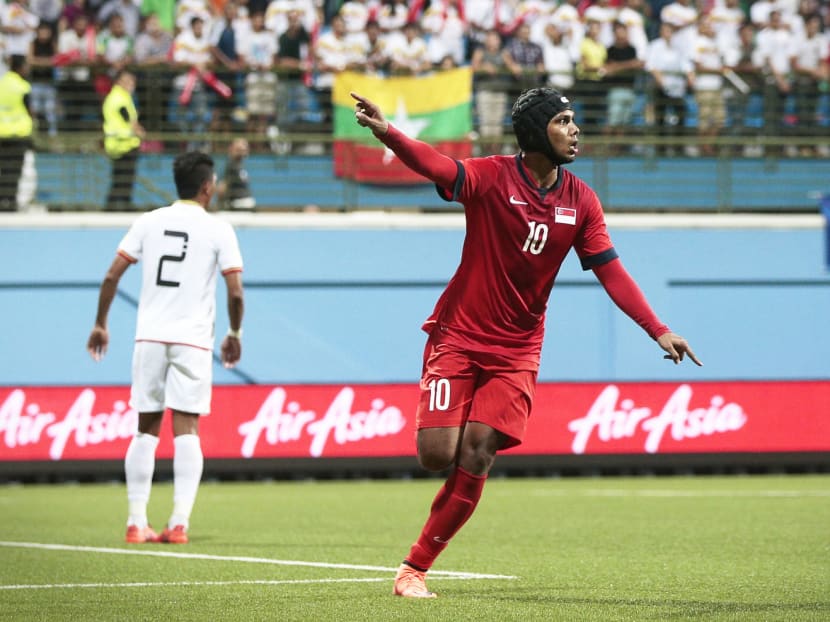 SINGAPORE — V Sundramoorthy was at the Jurong West Stadium on Wednesday night to watch a number of his national team regulars from Tampines Rovers and Hougang United go head-to-head in a S.League match.
But Sundram left with a look of concern on his face after Tampines striker Fazrul Nawaz was stretchered off injured late into the match when his studs were caught in the turf following a mistimed tackle. He was spotted limping heavily from the Stags' dressing room after the match.
The duo's worst fears were confirmed the following day when an MRI scan showed that Fazrul had torn the anterior cruciate ligament (ACL) in his left knee, putting him out of action for six to seven months. The diagnosis not only brought his S.League season to a premature end but has also effectively ruled him out of the year-end Asean Football Federation (AFF) Suzuki Cup.
This is the second time that the 31-year-old has torn his ACL. In 2008, he tore the one in his right knee. That caused him to miss that year's Suzuki Cup as well.
"Of course, this is disappointing and hard to take," Fazrul told TODAY. "It happened to me back in 2008 and now it has happened again. "I would have loved to play in the Suzuki Cup but I guess some things are not meant to be. But I am not going to dwell on this too much because this is a setback I can bounce back from."
While Fazrul's absence is a blow to Tampines' pursuit of the S.League title, the Singapore Cup and the AFC Cup, it could have even bigger repercussions for the Lions ahead of the Suzuki Cup as Fazrul is their first-choice striker.
A series of poor results and performances aside, one of Singapore's current problems is their inability to find the net regularly. Since the start of 2015, the Republic have played in 17 matches but have only scored more than two goals on two occasions — a 5-1 friendly win against Brunei, and a 4-0 thumping of Cambodia in the 2018 FIFA World Cup qualifiers.
Sundram, who could not be reached for comment as of press time, told TODAY in an interview back in July that he wanted his team to be more clinical and score more goals.
With Khairul Amri and Khairul Nizam only recently returning to action following lengthy spells on the sidelines, and captain Shahril Ishak currently injured and finding himself warming the Singapore bench for the last two years, there are fears that the Lions are badly lacking a genuine goal-scoring threat up front.
However, Fazrul, who has 84 caps for the Lions, is confident his replacements can come in and do a good job.
"We have a lot of quality up front and I feel everyone will step up for the Suzuki Cup," he explained.
"Players like Amri and Shahril are experienced and know what it takes to perform at such a high level."
"For now, I will just focus on returning in time early next year for both club and country because I am eager to contribute."
Who can replace Fazrul?
With Fazrul out of the Suzuki Cup, we look at possible strike partners for Khairul Amri
1. Shahril Ishak, JDT II, 132 caps
The 32-year-old is Singapore's most capped player and has won the Suzuki Cup thrice. However, he was cast into a reserve role during former Lions coach Bernd Stange three-year spell. If he can put his injury woes aside, this could be his big chance to prove the naysayers wrong.
2. Khairul Nizam, Home United, 16 caps
Nizam missed parts of the S.League season due to injury and has struggled to find the back of the net in recent weeks. The 25-year-old has a lot to prove in the coming months.
3. Iqbal Hussain, Hougang United, 2 caps
Despite limited playing time, the 23-year-old has chipped in with two goals and three assists in the S.League and impressed in the League Cup too. Speedy and bold on the ball, he could well earn a national team call-up
4. Jordan Webb, Tampines Rovers, no caps
The 28-year-old Canadian, who has been based in Singapore since 2010, has been yearning for Singapore citizenship and a subsequent national team call-up for close to two years now. Webb has been in fine form in the S.League this season scoring 10 times and providing three assists. He also told TODAY back in March that he wants to play in the Suzuki Cup. But the Football Association of Singapore, who had initially earmarked Webb for citizenship and signed him for the Young Lions, has not provided any news despite him regularly contacting them for updates.