Focus on fundamentals, football fun, scores success for White Sands Primary
SINGAPORE — Even before a ball is kicked on the field, a typical training session for White Sands Primary School's football team begins with cheers and high-fives all round.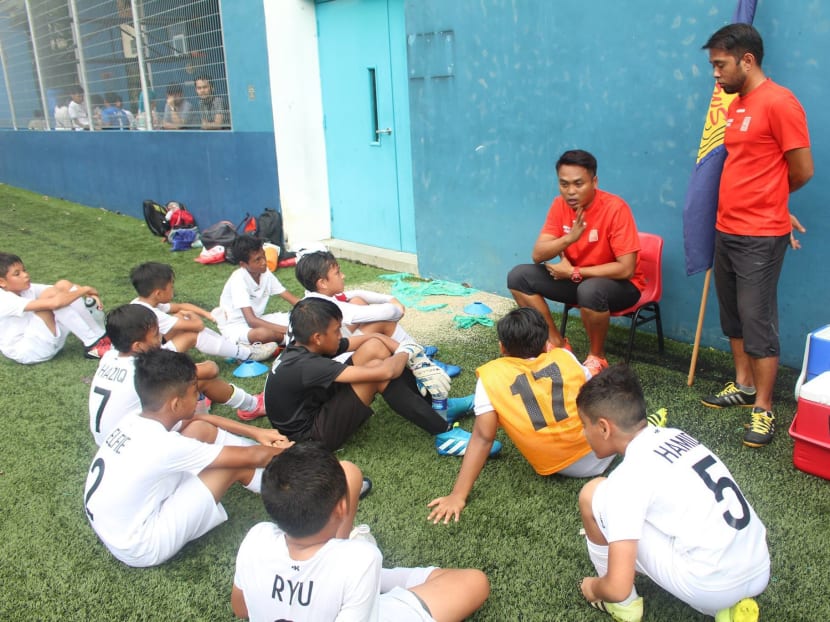 SINGAPORE — Even before a ball is kicked on the field, a typical training session for White Sands Primary School's football team begins with cheers and high-fives all round.
The play is intense, but the joy is evident, as the group of some 50 boys aged between nine to 12 participate in drills and fun games designed to teach ball control, possession and passing skills.
Throughout the two-hour long session, head coach Rizal Rais stands pitch-side, encouraging and educating his young charges as they go through their paces with his coaching team. It is not all about football skills though, as the end of each session sees the players gathering to exchange high-fives with their teammates and coaches. The gesture is something that Rizal insists on to help the boys build better interpersonal relationships and learn to respect one another.
A strong advocate of playing football "the right way" – on the ground, building from the back with quick, short passes and constant movement between players to get into space – Rizal has earned the respect and admiration of his peers through his work with White Sands Primary.
For some, Rizal is an exemplary youth coach to be studied and emulated as the community engages in some soul searching after a string of embarrassing defeats by Singapore's national age group teams at international competitions. Industry insiders and observers have pointed to the standards of youth coaches here as one of the many issues plaguing youth football development today.
While there are no quick and easy solutions to local football's woes, experts say that coaches like Rizal are crucial to developing footballers for the future, as they are the ones imparting crucial skills to children aged nine to 13, which is regarded by experts as the "golden age" of technical development.
According to the Football Association of Singapore (FAS) Grassroots Manual, which was updated by technical director Michel Sablon in 2015, children in the "golden age" should have fun while training to encourage more long-term participation. There must also be a high frequency of ball contact for them to develop their techniques and skills. The manual also espouses teaching children values such as teamwork, discipline, and a commitment to personal development.
Former national striker Aleksandar Duric, now principal of the Active Singapore Football Academy, stressed that Singapore needs to get its basics right first. "Football and sport, in general, is about patience and building up from the young generation," he had previously told TODAY.
"At the ActiveSG Football Academy, we have nearly 1,000 kids from all kind of age groups, both boys and girls...they need to enjoy football first, to love sport, and only then can we really see some improvement, slowly, and then some talents that can be groomed for the future. Only then can we really talk about the next five or 10 years."
Youth football expert Roger Bongaerts, who is head of youth development at Dutch second-tier sude VVV-Wenlo, had also previously pointed out that youth coaches should focus on performances of individual players, rather than results. "The critical age of development in terms of football intelligence, technical abilities and athletic development is between six and 12 years," said Bongaerts, who had helped groom players like Japanese internationals Keisuke Honda and Maya Yoshida.
"So there should be a lot of emphasis on these aspects in coaching and training. In my Total Soccer Method methodology, we also spend a lot of time on the cognitive development of the player. Training the brain of the player during this period is key in their motor learning. We should never over-emphasise athleticism over developing their footballing intelligence and technical abilities. A correct balance must be found."
WHITE SANDS' SUCCESS
The ABCs of football development is something that White Sands Primary School, and its coaches, have mastered well.
En-route to the final of the U12 Senior Division Nationals this year, the team won admirers for playing a slick and aggressive pass-and-move game, focusing on ball possession instead of lobbing long balls to build their play. As a testament to their success, five of their graduating Primary 6 cohort have been offered spots at the Singapore Sports School.
"I treasure the ball, and I make it known to the boys that they should treasure the ball too," said Rizal in a recent interview with TODAY.
"At the primary school level, it's easy to win by playing long ball and then having a tall boy wait in the box to score, but then what do the boys learn?"
At the U12 Senior Division Nationals final, White Sands Primary was beaten to the championship title after losing 2-1 to Nanyang Primary School. Both goals conceded by White Sands were through long balls from kick-ins, a controversial rule that was introduced by the FAS this year to replace throw-ins. The rule change was meant to promote possession play, but some teams worked it to their advantage by launching long balls into the box at every opportunity. An amendment to the rule for next season will stipulate that kick-ins must be played on the ground.
"Of course I was upset to lose in the finals that way because we were the hot favourites," said Rizal.
"I don't believe that (the teams that exploited the kick-in rule) were really motivated by the desire to win at all cost... but then it's the easier way to win, you skip a lot of processes, you don't have to do as much work with the boys, you don't have to work as hard in training.".
Despite the loss, Rizal counts himself among one of the "most blessed" football coaches at the primary school level. He works with two assistant coaches, and the school's principal and staff are fully supportive of his programme. Parents are also actively involved with the team, attending training sessions, and sometimes even bringing food for the team. A Facebook and Instagram page was set up specially for the team, allowing parents and teachers to interact and get updates of the boys' performances.
"Ultimately, they have given me two important resources: The time and the money," he said.
"I've got the opportunity to conduct more training sessions than what is usually afforded (three a week), I've also afforded the time to bring the boys to external competitions, and it also costs money to bring in additional coaches, buy equipment, and travel for competitions... and (the school) has committed to both."
Parents of the young footballers are also happy with the results of White Sands' football programme, as one parent who declined to be named said: "As a parent, it's good to see my son enjoying himself. Rizal's programme is definitely good because you can see the boys are all united and working together and you can tell their football skills are improving...I like that Rizal is an encouraging coach, and he also gets the boys to encourage each other."
While Rizal's football philosophy is clearly on the right track, not all primary schools are on the same page. Football observers whom TODAY spoke to said that while the FAS Grassroots Manual is a good guide for youth development, there are no guarantees that schools are adopting the methods as there is no concrete monitoring system.
Rizal remains hopeful that the FAS can help step in to improve standards at the youth level.Until that day comes, he will continue advocating his football philosophy at White Sands Primary.
He added: "We are here to raise them to be good human beings, good responsible young men, and football is just a medium.
"Football teaches teamwork, self-confidence, personal growth and development, and these are the values that can help the boys contribute to society in the future."