Let Wenger stay and build another great Gunners side: Lauren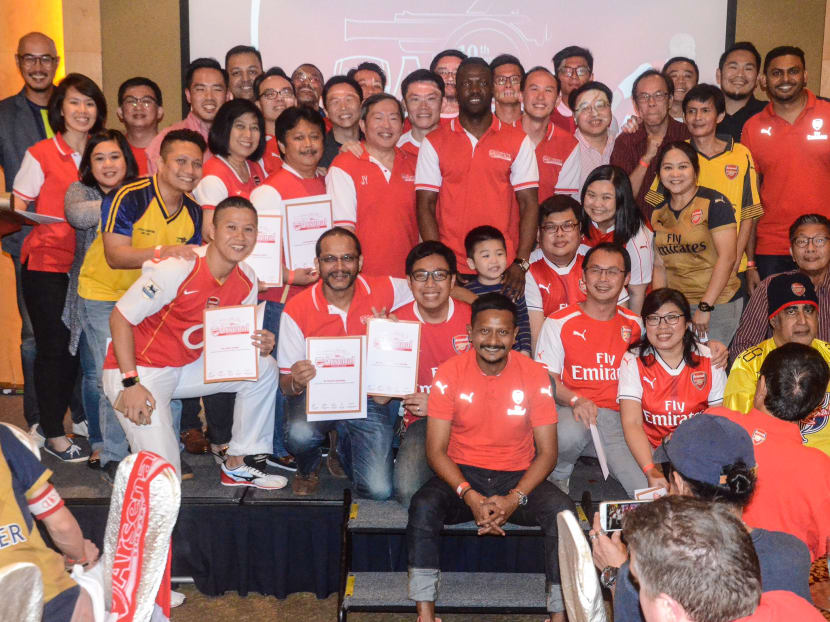 Former Arsenal defender Lauren, who was an integral part of the title-winning squad that went unbeaten in the 2003-2004 English Premier League (EPL) season, was in Singapore last weekend to celebrate the 10th anniversary of the Arsenal Singapore fan club. 
But back in London, it is a bad time for Arsenal, who have lost six of their past 10 games in all competitions, are currently sixth in the EPL and are in danger of missing out on a top-four finish for the first time in 20 years. 
The club's poor form has led to fan protests and calls for long-serving manager Arsene Wenger to step down. 
In an interview with TODAY, the 40-year-old Cameroonian shared his thoughts with TODAY on Arsenal's current state and the situation surrounding Wenger.
 
Question: How would you sum up Arsenal's season so far?
Lauren: At the beginning of the season, Arsenal were marvellous and it was a good start. They played high- quality football and were up there. 
Hopefully, they can reach that level again, because we know this team is capable of it, but there needs to be a bit more consistency. 
We have to be positive because the team has the possibility of winning the FA Cup and hopefully finish in the top-four so we can play in the Champions League again. 
So we have to back the team now because they need our support.
Q: What are your thoughts on whether Wenger should stay or leave the club?
L: As far as I know, there is already an agreement between the club and Wenger to be announced in the coming weeks, or at the end of the season. 
Hopefully, Wenger will stay and build a stronger team and sign better players during the transfer window.
Q: Can you understand why fans are protesting against Wenger?
L: We understand because we are all part of Arsenal. We're all frustrated, we want Arsenal to win everything, but we have to understand that it's not easy. 
If you look at Manchester City and the amount they've spent over the years, they still haven't managed to win the title every single year. 
So it's not easy — the rival teams are all much stronger now than before ... Chelsea, Manchester United and Liverpool have all strengthened greatly as well.
For now, let's see how the team finishes at the end of May and from then on, we can look at the bigger picture. But I think us fans must try to remain positive and give them our support. 
If we sign the right players, then next season I think the team will be able to make Arsenal fans happy.
Q: Having played under Wenger, please tell us what sort of manager he is.
L: He's the kind of manager who takes care of technical issues and guides players on how to improve. He'll give you confidence in yourself and the right advice at each moment. 
That makes a big difference, especially if the manager believes and trusts that you can progress and become one of the top players in that 
position. 
He's a great man manager. 
Also, it's clear that Wenger has helped modernise the club during his tenure, and now Arsenal are known for playing one of the finest styles (of football) around the world. 
He started that philosophy with which we now identify Arsenal, so I think, overall, if you look at what Wenger has done for the club, it's unbelievable. But I think we'll only value these things much more in the years to come. 
At the moment, though, everybody can't see it that way, and he's being criticised because everybody wants their club to win things. 
However, in the years to come, people will appreciate what he has done for the club.
Q: Both Alexis Sanchez and Mesut Ozil are coming to the final year of their contracts. How crucial is it to ensure that they remain at Arsenal?
L: Definitely, the club have to make a huge effort to keep these two players. Alexis is one of the best players in the world, and he has proved it from the minute he joined us. 
He's been very good for us every season. The only issue is that there must also be a balance ... there is no way that we can match up to some of the offers made by the clubs in the Chinese Super League, where some players are being offered £400,000 (S$700,000) a week. 
Arsenal are not in a position to do that, but they have to find something in between, because Alexis is one of the players they have to try their best to keep.
Ozil is a fantastic player too. Of course, his form has dipped in the past few months. 
He has quality and vision, is proficient at scoring and providing the final ball, but the only thing he's lacking is being consistent throughout the season, which is something he needs to work on.
L: He's already proven his potential and quality in a very short period of time, and if you look at how young he still is, I think he will greatly surpass all of Arsenal's previous right-backs. He will be better than Lee Dixon, me...better than everyone else. Sometimes, you got a player with potential, good technique and ability, but may not have a strong mentality. 
However, I think Bellerin has got the determination, he wants to improve year on year and he's managed to be consistent.